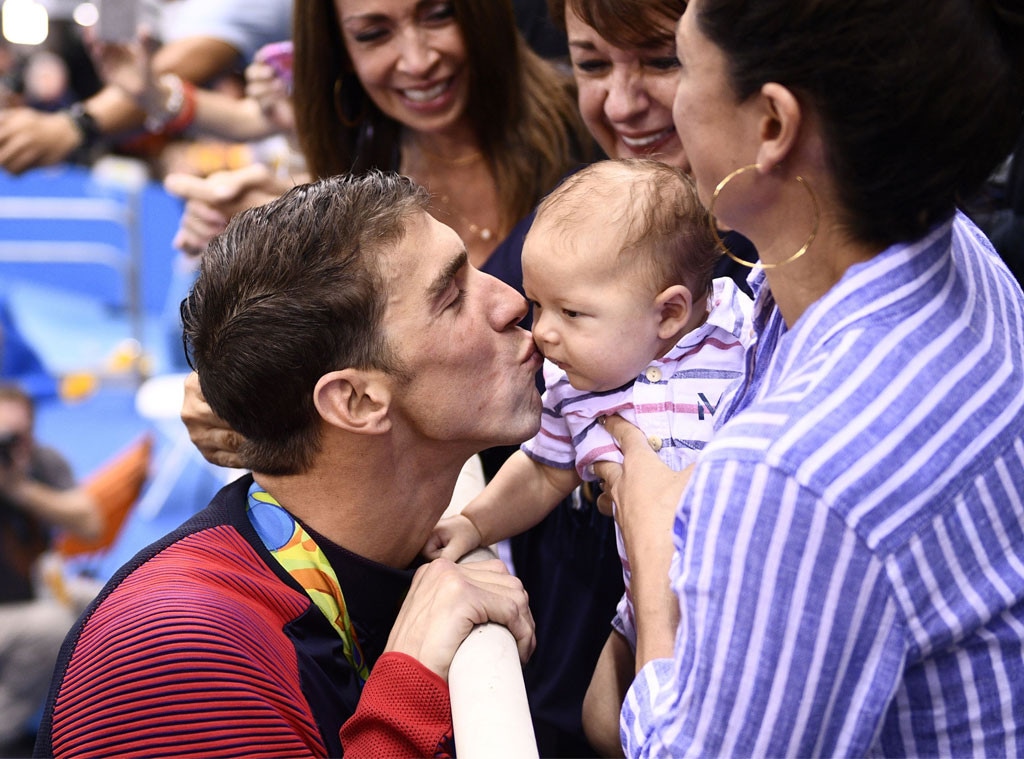 MARTIN BUREAU/AFP/Getty Images
As Michael Phelps continues his reign as the most decorated Olympian of all time, his infant son Boomer has a front row seat to history. 
After collecting his second gold medal of the 2016 Olympics in the men's 200-meter butterfly race Tuesday night, the 31-year-old athlete rushed to meet his biggest fan—his 3-month-old baby boy. After emerging from the pool, Michael immediately met Boomer, his fiancee Nicole Johnson and his mother Deborah Phelps in the stands. Photographers could not snap fast enough as the swimmer planted sweet kisses on his son's cheek—yet another viral moment in the duo's first Olympics together.  
The baby has garnered almost as much attention as his famous father, who has thus far won three gold medals this year and 25 medals in total, since he began popping up in the stands in Rio de Janeiro to cheer Phelps on.
Dressed up in America-themed attire, including a patriotic pair of noise-canceling headphones and a red and white star baby carrier with his father's initials embroidered on, it is always clear that Boomer is the son of a gold medalist. 
In the competitor's long Olympic history, this is the first time Michael has competed as a father. Judging by these five moments, dad Phelps definitely gets the gold, too. 
1. Baby's First Swim
With an Olympic swimmer as a father, it's never too early to take your first dips in the pool. 
2. #Twinning
Though they may years apart in age, Boomer and Michael proved they were definitely father and son with these matching facial expressions. 
3. A Digital Chat
Despite a busy schedule and worldwide travels, Phelps finds a way to make time for his little guy. 
4. Solemates
Even when they're not together physically, Boomer is never too far away from his father thanks to his footprint saved in the sole of Phelps' sneakers. 
5. Family Nap Time
There's nothing more adorable than seeing Phelps resume his dad duties on dry land. 
Watch E! News at 7 p.m. and 11 p.m. for the latest excitement from Rio!