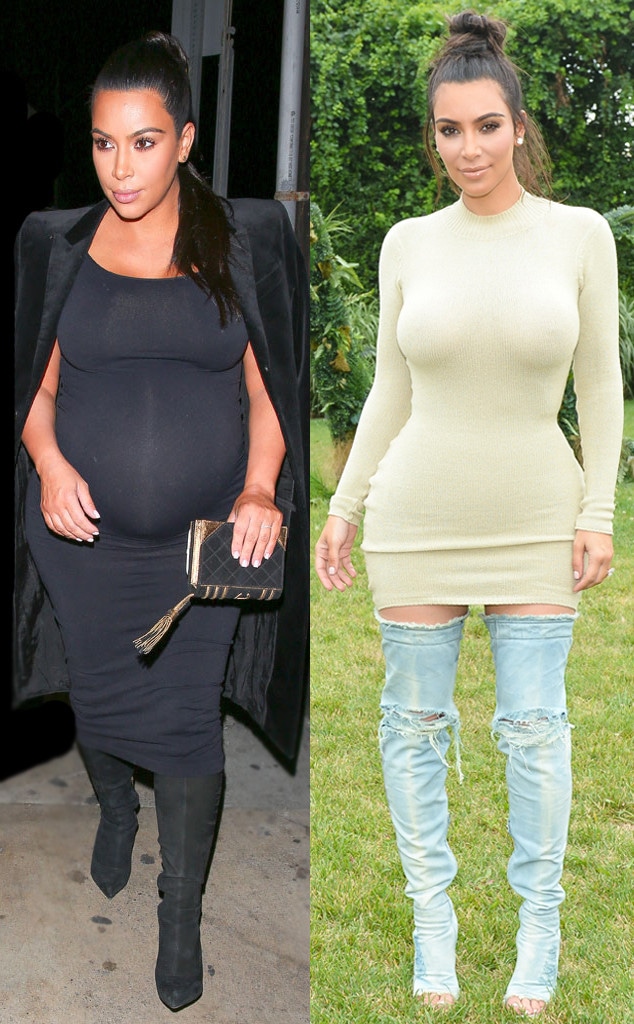 AKM-GSI; BFA
Watch:
Kim Kardashian West Reveals She's Lost 70 Pounds
Kim Kardashian says she has lost almost 70 pounds, more than seven months after she and husband Kanye West welcomed their second child, son Saint West.
The 35-year-old Keeping Up With the Kardashians star went on the Atkins diet, became a celebrity spokesmodel for the company and worked out regularly to try to lose what she gained while pregnant with the boy.
"I feel like I reached my goal for sure," Kim told E! News exclusively Saturday. "I've been doing the Atkins diet, which worked for me...this time I think I'm almost at 70 [pounds] down."
"So I've recently gone into extra gear, just staying more focused," she said. "You do get comfortable and then you start to get off track a little bit but I've kind of like pumped it up a little bit, just started to stay focused and follow the Atkins diet again. I feel like I lost another last few pounds that I really had to lose so that makes me happy."
Kim made her comments at REVOLVE Clothing's third summer fête in the Hamptons, a party she hosted and which was sponsored by Moët & Chandon. She struck a svelte figure in a REVOLVE body-hugging beige mini sweater dress, paired with light, ripped denim thigh-high toe-baring boots.
Kim has chronicled her weight loss journey on social media. The 5'3" reality star had gained at least 60 pounds throughout her pregnancy and revealed she weighed 135 pounds beforehand. In January, she revealed she had lost 30 pounds. In April, she said she had 20 more to lose and a month later, she almost reached her pre-pregnancy weight.
And Kim kept going. In late May, she shared on Snapchat a photo of a scale reading 132 pounds, saying, "12 pounds to go to reach 2010 Kim!"
Kim had also gone on the Atkins diet in 2013 after giving birth to her and Kanye's daughter North West. She had told E! News in April that she has been losing her pregnancy weight quicker with Saint because she "kind of learned how to eat better."
Watch Keeping Up With the Kardashians Sundays at 9 p.m. on E!