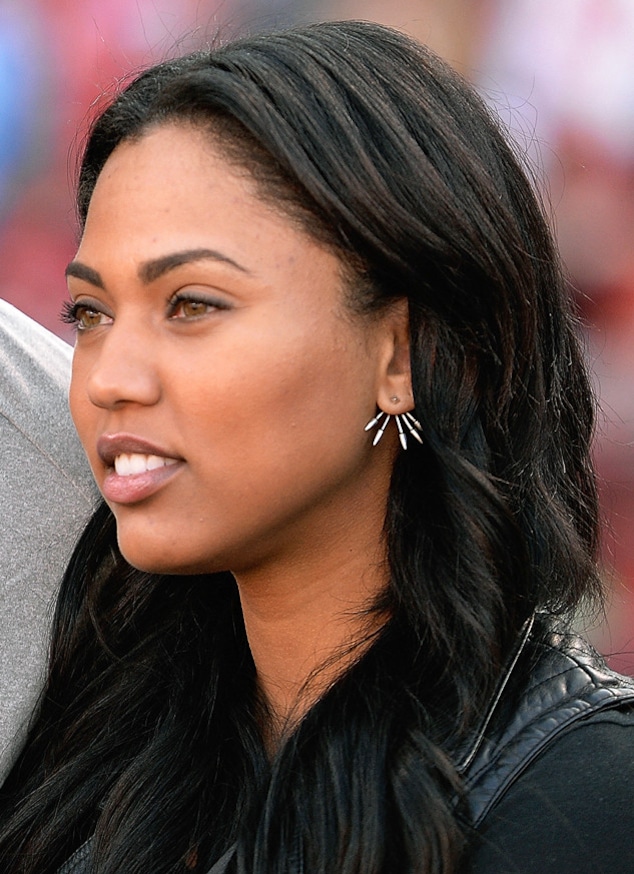 Thearon W. Henderson/Getty Images
Lord knows the wives of the men who play in the NBA, the NFL, the MLB, the NHL, the MLS, the ATP, the PGA, the UEFA, et al., have plenty of opportunities to get mad.
Every game is another opportunity for one's husband to be treated unfairly, to get a bad call, to be wronged or, simply, to lose.
Or, if you're Stephen Curry, be outright targeted by officials in a rigged game.
So raged Ayesha Curry, the reigning NBA MVP's wife of almost five years and the mother of his two children, in a tweet last night after her husband fouled out of Game 6 of the NBA Finals, sending the series back to Oakland for a decisive Game 7.
Ayesha, who's seen a few basketball games in her life, wasn't alone in thinking something smelled rotten in Cleveland. Warriors coach Steve Kerr said afterward that three of the six fouls called on Curry were "absolutely ridiculous," Curry had "every right to be upset" and he was "happy" the superstar angrily threw his mouth guard after fouling out. (Curry apologized to the guy he accidentally hit with his mouthpiece in the front row, who happened to be the son of one of the Cavaliers' owners.)
Unlike Curry and Kerr, who were both fined $25,000 for their conduct, Ayesha can't be penalized by the NBA for criticizing the officiating. But you can bet that her tweeted observation both inflamed Warriors fans and attracted plenty of backlash. And she had already had a long night.
Before the game she tweeted that security hadn't yet let the bus carrying the Warriors' family members into Quicken Loans Arena, 10 minutes before game time. "Interesting tactic though. Again," she wrote, before revealing they were finally allowed in at 9 p.m. local time, moments before tip-off.
And then, after her hubby was thrown out of the game: "I've lost all respect sorry this is absolutely rigged for money… Or ratings in [sic] not sure which. I won't be silent . Just saw it live sry," she tweeted then deleted.
"Tweeted in the heat of the moment because the call was uncalled for," she wrote about a half hour later, followed by, "Police racial profiled my father and told him to remove credentials and tried to arrest him. It's been a long night for me. I apologize." (Curry later confirmed to The Undefeated that Ayesha's dad was briefly and mistakenly detained while security was on high alert looking for a man who was repeatedly sneaking into sporting events.)
Then: "I'm okay that we lost… I just can't take people coming at my family for absolutely no reason. Something I don't understand or stand for."
While 99.9 percent of the time Ayesha holds back, considering what the on-court life of a professional athlete is like (almost every foul looks like a slight, judging by the expression on a player's face), she has proved a bit singular among basketball wives—and all pro sports significant others, for that matter—in the very fact that she does sound off about what goes on during games, just like a regular fan.
But as is the case with every other person who dares tweet an opinion, not everyone appreciates what she has to say. And that hasn't been limited to her thoughts on games.
In December she made waves when she tweeted, "Everyone's into barely wearing clothes these days huh? Not my style. I like to keep the good stuff covered up for the one who matters."
"I knew I didn't want you to speak," read one reply, while another annoyed soul wrote, "Girl bye! Do u and let others do them! Quit f--king preaching and let ur husband be great!"
But while one camp considered her observation a form of preachy condescension, plenty of others wondered what was so wrong about Ayesha sharing a simple opinion.
AP Photo/Marcio Jose Sanchez, Pool
Ironically, while Ayesha herself was being shamed for supposedly shaming other women, she was also being told to just keep her mouth shut and be a missus.
And that's a real thing in the increasingly diverse yet still predominantly male sporting world—the assumption that the players' wives or girlfriends should be seen and not heard, especially when it comes to matters on the court, field or rink.
"I got news for you, as beautiful as everyone wants to say Ayesha is, and she is, Savannah [James, LeBron James' wife] is something special," ESPN's Stephen A. Smith said on First Take this morning. "She's wonderful inside and out. She sits there. She doesn't bring any attention to herself. She never tweets and goes out there and calls out the league and stuff like that, and nobody is more scrutinized than her husband." 
"why are you putting two women against each other like that? You're the one that's out of pocket," Ayesha tweeted right away to Smith.
That seemed like a rather measured response, but Ayesha once again split Twitter right down the middle, with some entirely supporting her and slamming Smith for being sexist, and others pleading with her to stop engaging.
"She needs to stop tweeting immediately!!!! She is showing no class!!!!" tweeted one critic.
Is it being unclassy—or at least perhaps distracting—to speak out in defense of her husband in real time? Or does it bother people because she's breaking an unwritten rule that's been in place since the advent of professional sports?
Of course Ayesha Curry has every right to say whatever she damn well pleases on social media. Criticizing refs and charging that a game is rigged is serious business, but as mentioned before, she's not officially affiliated with the NBA. Players don't get fined if their wives speak out, but they can get distracted.
Gabrielle Union's been there. She railed against the officiating that closed out Game 5 of the Eastern Conference semifinals for her hubby Dwyane Wade and the Miami Heat—but that was in response to a ruling after-the-fact that a ref mistakenly called a foul on Wade, disqualifying what would have been a game-tying shot.
Who isn't livid just thinking about it?!
But perhaps also due to her husband's perch at the top of the NBA pyramid, Ayesha Curry's tweets are especially targeted for "what do you know?"-style backlash.
Last night she was mad and going to bat for her family—and it wasn't the first time she found the officiating hard to stomach.
On June 12 she tweeted, "High Road. Invisible bridge used to step over said person when open floor is available left to right." She was retweeted by a guy who added the hashtag "#PettyBetty." To which she replied, "never that… Just cracking jokes."
The next day she tweeted, "Can refs get fined?" And in response to the immediate profane pile-on, "It's amazing how quick you all are to call me out of my name and wish pain on my family and I've never used one obscenity or foul word back."
But since firing off a few tweets is the easiest form of criticism imaginable, you can also imagine what it would be like if every concerned party unleashed a Twitter rant after every perceived slight during a game.
Now that might break the Internet, considering the millions of fans already up in virtual arms every night, all over the world.
And Ayesha's husband is, technically, busy doing his job. He's got the most important game of the season coming up, and she's too savvy not to know how much attention her tweets would attract. That being said, professional athletes are also generally pros when it comes to being able to power through any controversy and we're thinking this barely registers as a blip on the drama radar for Steph Curry.
But really, the nature of the social media attacks on Ayesha Curry has also re-shined the spotlight on just how macho and, frankly, sexist the sporting world remains. Younger generations of players (and their significant others) have brought with them a more equitable approach to marriage, parenting and other off-court matters, but the old school of thought prevails: Ladies, don't trouble yourselves with your man's business.
Moreover, don't try to capitalize on your man's business, either.
That's right, last month Ayesha, a cookbook author and blogger, was also accused of piggybacking on her husband's name to grow her own lifestyle brand.
Read a screed screen-grabbed by The Root: "*Yawn* Inspiring women to… be the best wives/cooks they can be eh? Or make a profit of their 'husband's' success? Is this the most that you can achieve with your fame? How about inspiring women of ethnic minorities to pursue higher education/get degrees? Or build their empires/become entrepreneurs independently of the men they are married with? Use your fame wisely. Women around the world should strive to be more than just 'great' mothers/cooks..Tailor your marketing and partnerships to Inspire the next generation of doctors, lawyers, professors, public leaders, etc."
Ayesha replied, "my passion is cooking and food, I make people feel happy and comforted through creating delicious and exciting meals. Not sure why you're so bitter but I am an entrepreneur in every sense of the word. You can continue to make assumptions while I continue working in silence and let the work speak for itself."
Basically, she's damned if she does and damned if she doesn't. Welcome to the celebrity world.  The only way out is the high road, and even then, half the time it just leads you right back into traffic.
It's easy enough to say, when it comes to her game-related tweets, "Can't she just not? It's the NBA Finals." To note that people are rather particular when it comes to their sports teams, sports commentary, officiating, fan behavior and other related politics of the game is literally the understatement of the day.
But why does a wife getting involved (even though she's not really involved) bother people so much?
Staying out of the fray is a valid choice too. We assume Victoria Beckham knows that her husband played soccer. The world isn't any worse off because we don't know what Gisele Bündchen really thinks about Deflategate, or what Savannah James thought about LeBron maybe getting hit in the crotch by Draymond Green last week. Or what Steven Adams' girlfriend though about her man really getting kicked in the crotch by Green during the Thunders-Warriors series.
You can find Ayesha's comments annoying or unnecessary. It's sports. Most commentary online is utterly exhausting. You're perfectly welcome to disagree. It's a free country.
But to suggest that she's not behaving herself, or to say one player's wife is a more welcome presence than another because the former just sits there...
What year is this?