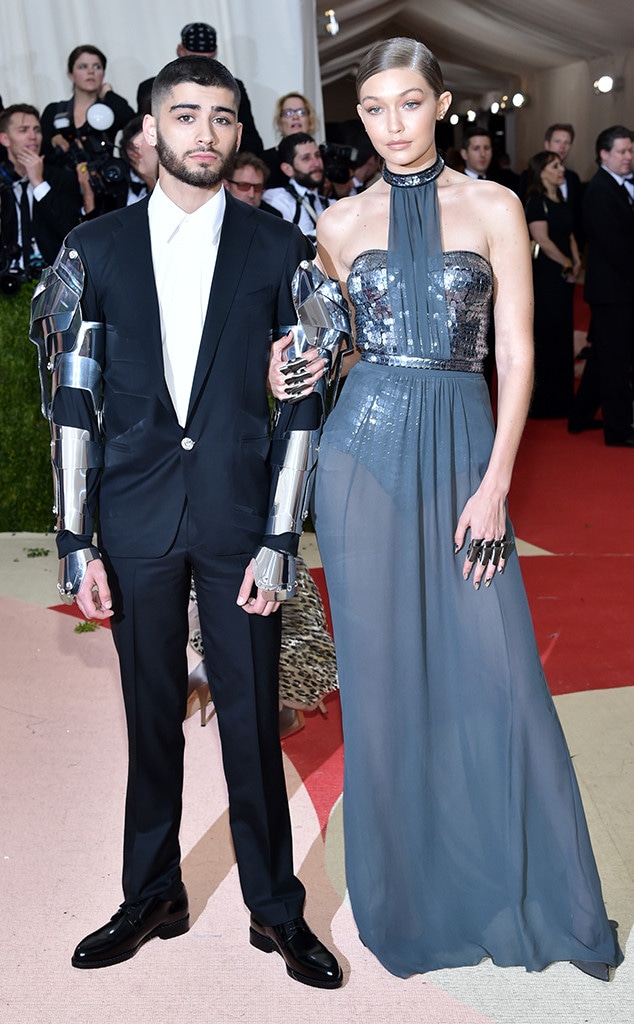 Jamie McCarthy/FilmMagic
Another young Hollywood couple has decided to call it quits.
­E! News exclusively confirms that model Gigi Hadid and singer Zayn Malik have broken up after dating for roughly seven months. While the reason behind their split remains unknown at the moment, a source tells us that there has been some rough patches within the relationship for a bit now.
"During her birthday they were fighting," an insider tells E! News, adding that they weren't doing well then, and have "broken up and got back together a few times."
Another source confirms the breakup, but also reveals that there may be a reconciliation in the near future, telling E! News, "Zayn and Gigi did break up, but they can likely get back together tomorrow. It's all very unclear what's going on between them now. They been having some issues lately that involved communication and getting along."
The source adds, "Gigi is really sad about this, though, and in a way would like to work it out. It's more about that constant contact with Zayn that she misses and they did get very close."
E! News reached out to both reps for comment.
The couple began sparking romance rumors after being spotted out and about together in November following the American Music Awards.
"Gigi and Zayn couldn't keep their hands off each other," a source revealed at the time, but the stars kept quite on their brewing relationship.
Despite not confirming their status publicly (yet), the pair indirectly proved that they were an item when Gigi starred in Malik's super-steamy music video for his debut single since leaving One Direction, "Pillowtalk."
The video showed the supermodel and singer tangled in each other's arms, and even stealing a few kisses. And as the saying goes, actions speak louder than words.Following that release, Zayn finally confirmed their relationship in February when a clever fan called into his radio interview to pose him this carefully worded loaded question: "Was it cool to have your girlfriend in the video?"
"Uh, yeah. That was cool. It was something different," he shared with Zach Sang & the Gang. "We enjoyed it. It was fun."
As for what it was like on set, a source told E! News at the time, "Gigi was so excited when Zayn asked her to be in his music video. They both acted very professional on set but it was very obvious that they were in love. They couldn't stop flirting with each other."
Once the pair became official, numerous of aww-worthy social media posts followed, and even some more professional work.
The former couple jetted to Italy to pose for Vogue's May issue with a series of truly beautiful (and enviable) shots.
"I wish I could be on set with him every day. It doesn't feel like work when he's there," Gigi gushed at the 2016 MTV Movie Awards in April. "It was really fun. We had the best time. It was an adventure to go where we shot it."
And despite photographing together all over the world for months, the duo didn't make their red carpet debut as a couple until the 2016 Met Gala in May.
Keeping with the Manux X Machina: Fashion in an Age of Technology theme, Gigi rocked a metallic bodice with sheer overlay, while her beau quite literally turned himself into part-machine with the armor on his arms.
Hadid continued to use fashion as a way to show her love for Malik when she wore a T-shirt with the words "lol ur not Zayn Malik" during Drake's Saturday Night Live after-party in New York City last month. "Thas ma girl," Zayn tweeted with a picture of his girlfriend inside the venue.
Hadid began dating Zayn shortly following her breakup from Joe Jonas.
The model got some heat for her new romance from a Twitter user, who wrote, "practise how to walk properly instead of having a new bf every 2 weeks."
Hadid fired back with the perfect response: "I've dated 3 guys in 3 yrs, hun. My walk can always get better; I hope the unrelated bitterness in ur heart can too."
Along with Jonas, Hadid's exes include singer-songwriter Cody Simpson.