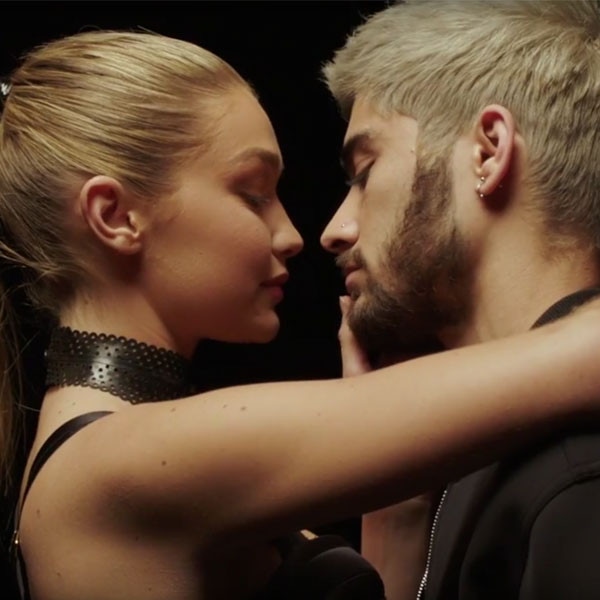 YouTube
The wait is over! Zayn Malik's first single as a solo artist has finally arrived and is undoubtedly well on its way to becoming a chart topper.
As for the music video, well, you'll be talking about that, too, because it's not only extremely seductive, but it's very artistic. Oh, and did we mention that it stars his girlfriend Gigi Hadid?
"Pillowtalk" is the 23-year-old British singer's first track since leaving One Direction in March of last year, and since his departure, Malik has been very candid about wanting his music to go in a different direction (pun totally intended). So when we heard his debut solo, it all made sense.
There aren't any crazy beat changes or drops. There aren't any insane vocals. It's steady. It's smooth. And it's super sexy. "So we'll piss off the neighbors/ In the place that feels the tears/ The place to lose your fears/ Yeah, reckless behavior/ A place that is so pure, so dirty and raw/ Be in the bed all day, bed all day, bed all day," he sings in the chorus.
"F--king you, and fighting on/ It's our paradise and it's our war zone/ It's our paradise and it's our war zone." Ooooh snap.
Earlier today, the crooner teased fans with the release of his upcoming single by tweeting, "So who's staying up with me tonight for this single and video?" Um, just about everyone, Zayn!
During initial press for his upcoming work, the former boy bander opened up about the song's racy subject matter to the British Sunday Times. 
"I think I'm pretty black and white what it's about," he shared before dishing that he's singing about something "so pure, so dirty and raw."
"Everybody has sex, and it's something people want to hear about," Zayn added. "It's part of everybody's life, a very BIG part of life! And you don't want to sweep it under the carpet. It has to be talked about."
Earlier this week, the singer got very candid about his 1D past in an interview for Apple Music's Beats 1 with Zane Lowe.
"I think I always wanted to go, from like the first year, really. I never really wanted to be there, like in the band," he admitted. "I just gave it a go because it was there at the time, and when I realized the direction we were going in—mind the pun—with the music, I instantly realized it wasn't for me, because I realized I couldn't put any input in."
Zayn added that his former band members couldn't talk him out of parting ways with the group.
"I already made my mind up, so I just left."
So now that the cat's out of the bag, will there be a tour in the works for Zayn in the near future?
"We'll see how the music does first," he told Zane. "If there's a demand for it, I'll tour."