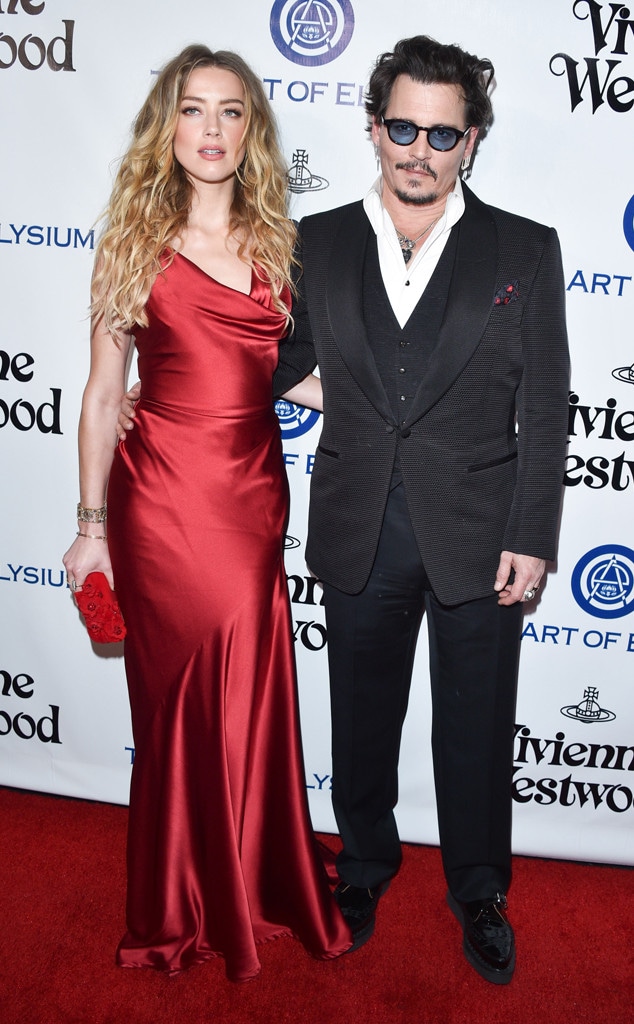 George Pimentel/WireImage
Amber Heard and Johnny Depp are calling it quits.
E! News confirms the actress filed for divorce from the Hollywood A-lister on Monday citing the ever-so-popular "irreconcilable differences," after being married for a little over one year. A source tells E! News the pair didn't have a prenuptial agreement in place. According to court documents obtained by E! News, Heard is asking for spousal support.
E! News has reached out to both reps for comment.
The filing states the date of separation as May 22, which comes shortly after Depp's mother, Betty Sue Palmer, reportedly passed away.
Depp showed no sign of emotional distress from his personal life in recent days, and instead, has gone about touring with his band Hollywood Vampires and promoting his upcoming film Alice Through the Looking Glass with his usual charm. In fact, E! News caught up with the actor on Monday at the movie's premiere, where he joked about how babies are made.
"Well it is the 21st century, and there are all kinds of strange digital…I don't know," he laughed while talking about his time away from Heard, who is busy shooting a movie at a distant location. "I think at this point babies are still made the same way—with the stork and all that, so we'll just wait for the stork."
Fred Duval/Getty Images for BFI
While their courtship—and that 22-year age gap—raised a few eyebrows at the time (news of their engagement broke in January 2014 just a couple of days after their first red carpet appearance together), they then waited another full year before swapping vows, marrying in a civil ceremony at home in front of a handful of family members days before they threw a larger—yet still intimate—wedding on Depp's island in the Bahamas.
"I try not to react to the horrible misrepresentation of our lives, but it is strange, and hard," the 30-year-old actress told Marie Claire for their December issue.
Stepmothering Depp's two kids, Lily Rose, 16, and Jack, 13, has been "an honor and the greatest, most surprising gift I have ever received in my life," Heard added. "I feel new flavors that I didn't know existed. New colors that I didn't know existed have been added to my life. I'm so happy."
"I also have to thank my wife Amber for putting up with me, for living with all these characters, which can't be easy," Depp said earlier this year while accepting the Desert Palm Achievement Award at the Palm Springs International Film Festival, referring to his variety of onscreen personae. "It's hard for me—it's got to be hard for her."
A source told E! News earlier this year that their first year of marriage wasn't entirely smoothing sailing, but while their intense personalities can cause conflict, its that very passion that helps them work through the rough patches.
Our insider describes the couple as both passionate, intense, opinionated and private people, the actors—who met on the set of 2011's The Rum Diary—in agreement when they started dating that they wanted to keep their relationship as private as possible before even tacitly confirming that they were a couple.
"We connect on a lot of levels but the first things that really got me was she's an aficionado of the blues," Depp told E! News in December 2015 at the L.A. premiere of Heard's latest movie, The Danish Girl. "I would play a song, some old obscure blues song, and she knew what it was." The Black Mass star added, "She's very, very literate. She's a voracious reader as I have been, so we connected on that as well and she's kind of brilliant and beautiful.
"I'm a very lucky man."
TMZ was first to report the news.
—Reporting by Holly Passalaqua