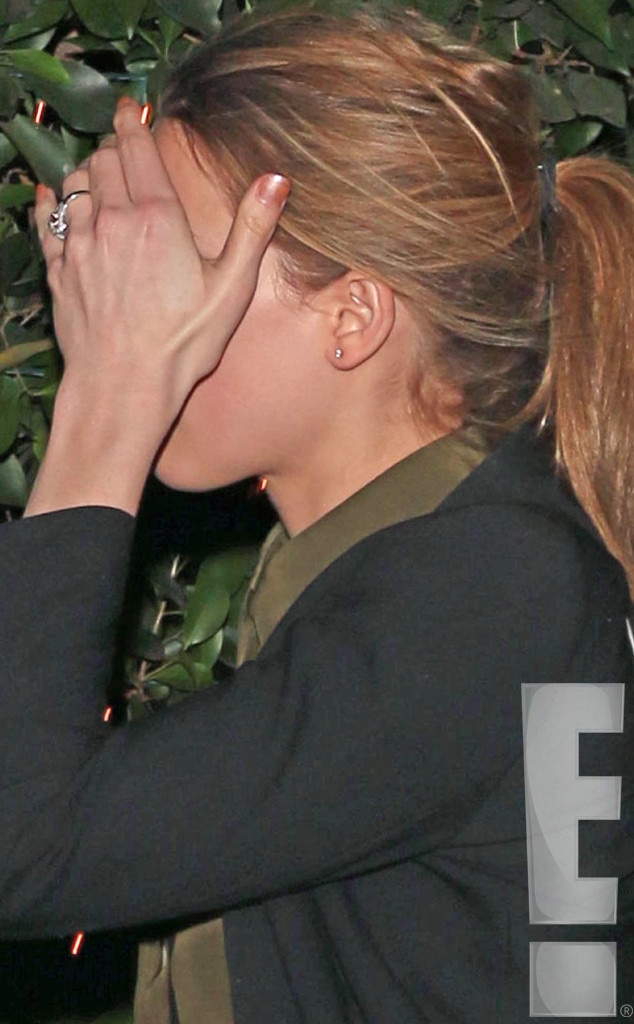 AKM-GSI
Is Johnny Depp planning to settle down with Amber Heard? Like, really settle down?!
Despite a good effort to keep her left hand covered, an eagle-eyed paparazzo got a bird's-eye view of what appeared to be a diamond ring on that ringer as Heard was leaving a restaurant last night in Los Angeles.
Reps for both Heard, 27, and Depp, 50, have not yet responded to the question this ring instantly brings to mind—is the handsome couple engaged?!
A source tells E! News that the couple are engaged, but the famously private couple likely won't be providing their own confirmation anytime soon.
Until this past weekend, the public side of their romance had been relegated to photos of the two out and about in various cities around the world and vague references to romance and privacy in interviews.
They finally made their official red-carpet debut as a couple on Saturday at the Art of Elysium gala at L.A.'s Skirball Center.
They also both presented at the Golden Globes on Sunday, so...presumably they enjoyed a little face-time before, during and after that.
Depp, who met Heard while they were shooting the 2011 film The Rum Diary, is making a cameo in her latest movie, London Fields.
Jason Merritt/Getty Images for Art of Elysium)
A source tells E! News, meanwhile, that Heard and another woman hit L.A. restaurant Ago for dinner last night and it was when she was first heading in that the intrepid photographer noticed her hand.
Heard was inside for about an hour and a half and, on her way out, she was doing everything to hide her hand, the source said. The actress also waited for the valet driver to open her car door for her, seemingly so as not to have to expose her hand for an extra second.
If Depp really did pop the question, this would be the actor's second marriage—he was previously married to makeup artist Lori Anne Allison from 1983 to 1985.
Depp and girlfriend Vanessa Paradis, the mother of his children Lily Rose and Jack, broke up in 2012 after 14 years together, calling the split amicable.
Before getting involved with Depp, Heard previously dated photographer Tasya van Ree for about four years.
Asked about her seemingly sudden preference for dating men instead of women, Heard said in the September 2013 issue of Flare that she found it "strange" that anybody cared about such things.
"Maybe you like blondes now, but maybe you'll be into a brunette in the future," she told the magazine. "I just don't understand this idea that we have to choose one or the other."
—Additional reporting by Michelle Falls