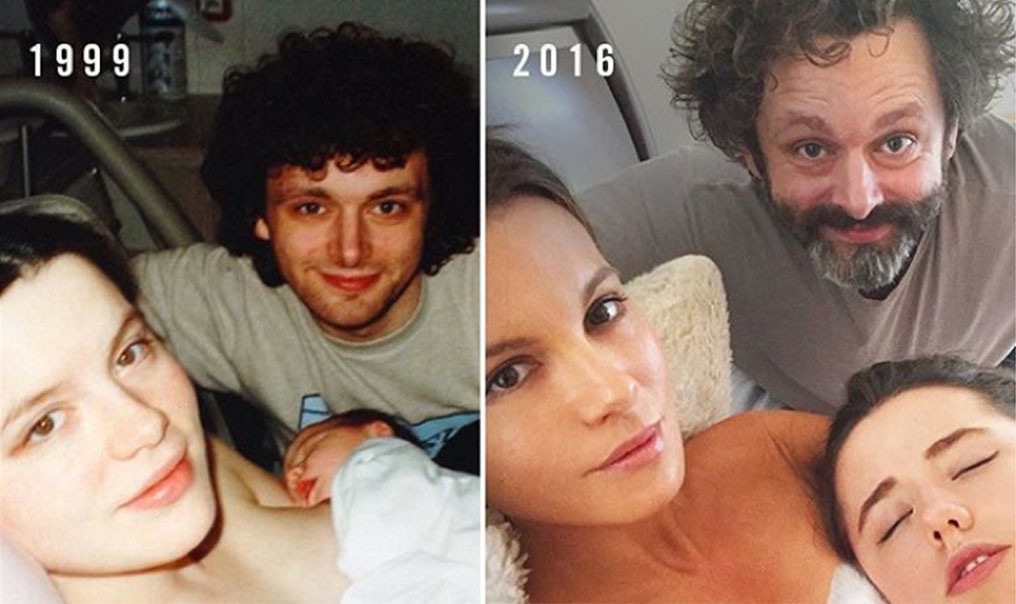 Instagram
See, you don't even have to wait until Thursday to get a gem like this.
In an effort to spice up your Tuesday Instagram feed, actress Kate Beckinsale posted one epic throwback picture, which was recreated by herself, ex Michael Sheen and their daughter Lily Mo Sheen.
The brunette beauty shared a split photo, with the left picture a snap of the couple from 1999 as she cradled their newborn baby girl, and the right picture hilariously showing the trio reenacting that precious moment when Lily was born. Their sweet post not only proves that these celeb exes are more than able to remain friends, but also gives us visual evidence that both Beckinsale and Sheen don't age.
Seriously, they still look amazing 17 years later.
"Always a baby to me #Lily," the star, 42, captioned her nostalgic snapshot.
Todd Williamson/Getty Images for Amazon Studios
Beckinsale actually told E! News recently that the former couple reenacted their daughter's birth for her sweet sixteen! Yes, seriously.
"We reenacted her birth and took pictures of it!" Beckinsale told us earlier this month.
"I wasn't naked!" the actress explained at the premiere of her upcoming Jane Austen film Love & Friendship (in theaters now). "I was actually in a very nice cigarette pant and a high heel. Michael took one of my legs [and held it up] and Lily came from behind and was diving between my legs."
Beckinsale and Sheen were together for eight years before calling it quits in 2003, but as you can see, the two remain extremely close, and Kate is more than happy to see Sheen with girlfriend Sarah Silverman.
"I love her. I love her. I love her," Beckinsale told E! News about Silverman. "I am so glad Michael found her so I don't have to spend the rest of my life looking for her!"
Watch:
Kate Beckinsale Dishes on "Love & Friendship" at Sundance