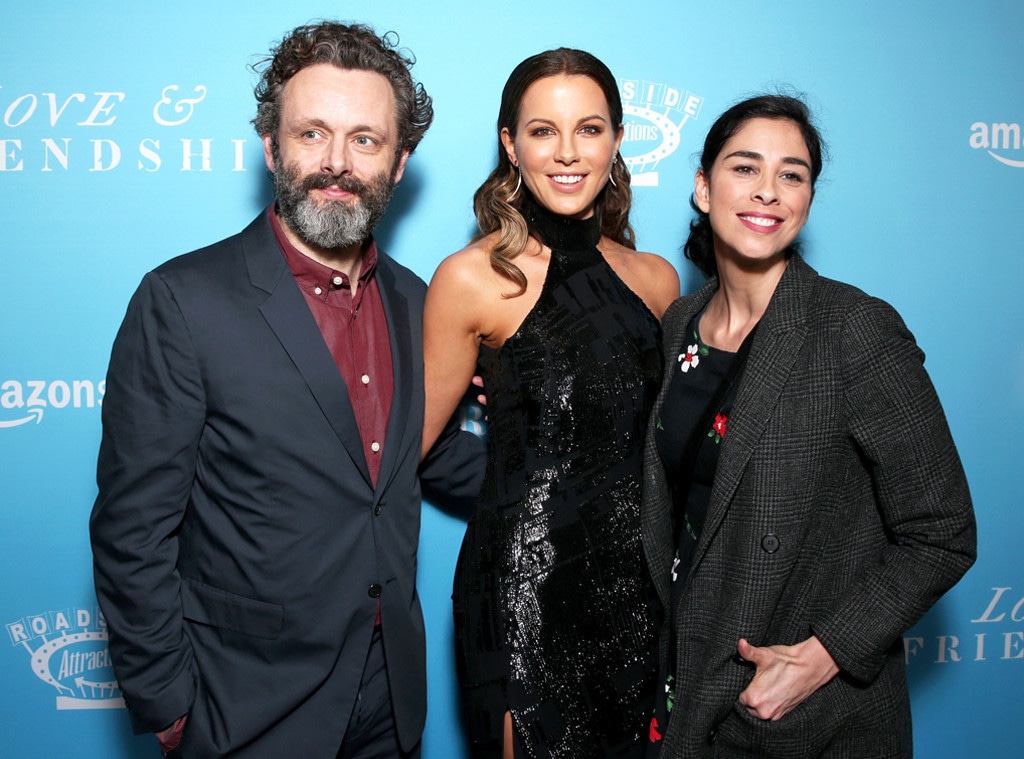 Todd Williamson/Getty Images for Amazon Studios
There was plenty of love and friendship to go around at tonight's L.A. premiere of Love & Friendship.
Kate Beckinsale, who stars in the adaptation of the Jane Austen comic novella Lady Susan, was joined at the screening by her ex Michael Sheen and his girlfriend Sarah Silverman.
"I love her. I love her. I love her," Beckinsale told me about Silverman. "I am so glad Michael found her so I don't have to spend the rest of my life looking for her!"
As soon as Silverman saw Beckinsale on the carpet, she turned to Sheen and gasped, "Oh, my God!"
We imagine it had something to do with how stunning Beckinsale looked in her body-hugging black Thierry Mugler dress and sky-high heels. (PS: Come back here tomorrow to find out what Beckinsale told me about how she and Sheen celebrated their daughter Lily's birthday last year—it's amazing!)
In Love & Friendship, Beckinsale plays Lady Susan Vernon Martin, a young widow in 1790s determined to land a new husband for herself and one for her daughter.
The film is a reunion for Beckinsale and her co-star Chloë Sevigny and their The Last Days of Disco director Whit Stillman.
Stillman wrote Love & Friendship with Beckinsale in mind to play Lady Susan. He did the same when he wrote Last Days of Disco back in 1998.
"I'll tell you what, he kept that quiet until afterwards which was a smooth and sneaky move so I never felt too comfortable because I just thought I was this random English girl and had no business being there," Beckinsale said. "I love that he has this love of dames [and] broads like Barbara Stanwyck and Bette Davis. He knows how to write those parts. They're those kind of women who you're like, 'She's terrible—but I want to see more of her.'"
Love & Friendship is in theaters on May 13.