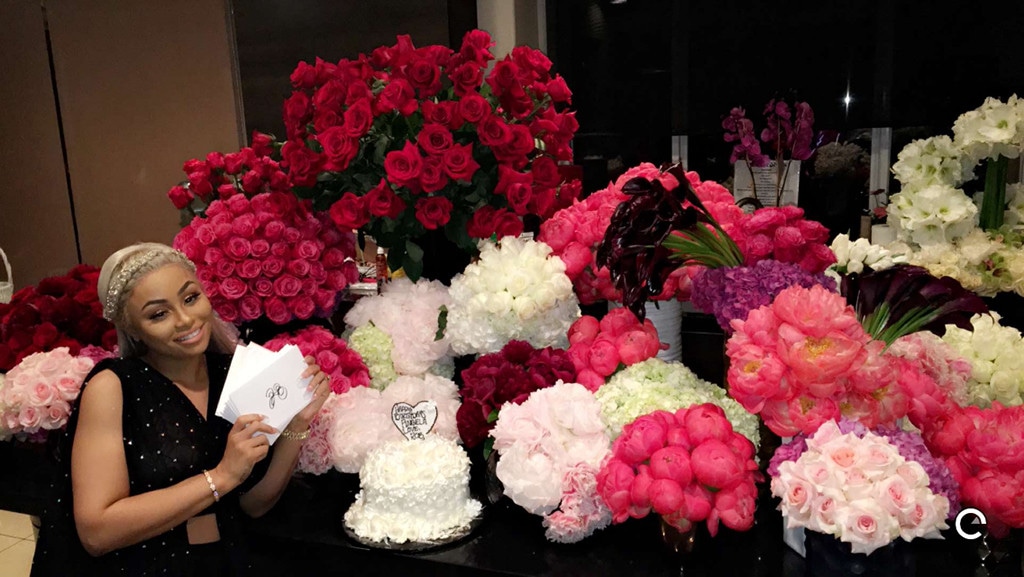 Blac Chyna / Snapchat
Blac Chyna got quite the lavish birthday present for fiancé Rob Kardashian!
The dad-to-be gave the pregnant star 28 bouquets of pink and white flowers in honor of her 28th birthday today. So sweet. 
But Rob isn't the first member of his famous family to pull out all the stops for a special b-day. The whole Kardashian-Jenner fam is known to drop hundreds of thousands of dollars on expensive birthday gifts for each other!
In honor of Blac's 28th, let's take a look at some of the most expensive and extravagant Kardashian birthday presents ever.
1. Kanye Proposes to Kim With 15-Carat Diamond Ring: On Kim Kardashian's 33rd birthday, Kanye West proposed with a 15-carat diamond engagement ring that costed over $3 million! It's hard to beat bling on your birthday.
2. French Gets Khloe 3 Major Gifts: For Khloe Kardashian's 30th birthday in 2014, her then-boyfriend French Montana dropped around $50,000 on a white Jeep for the Keeping Up With the Kardashians star. But that's not all. The rapper also bought her a diamond ring and a custom diamond grill which cost tens of thousands of dollars.
3. Tyga's Ferrari Frenzy: Tyga surprised Kylie Jenner with a $320,000 white Ferrari during her 18th birthday bash in 2015.
Michael Simon/Startraksphoto.com
4. Drizzy in the House: Kim and Kanye couldn't make it to Kylie's sweet 16 bash, but they made up for it in a big way: The duo got Drake to make a surprise appearance...and he performed! That's one priceless b-day present.
5. Nice Jobs, Kanye: Kim was pregnant with Saint West for her 35th birthday in October 2015, so Kanye surprised her by renting out an entire movie theater so her friends and family could have a private screening of the movie Jobs (not to mention guests wore fake baby bumps to make Kim for comfortable).
6. Kim's Lambo Love: Back in 2012, Kim dropped a whopping $750,000 on a fancy Lamborghini Aventador LP 700-4 for her man. These two...
7. Kylie's Birthday Birkin: Kris Jenner bought Kylie an Hermes Birkin bag for her 18th birthday and we know those can cost well over $10,000.
8. Kanye's Painted Purse: For Kim's 34th birthday, Kanye got Kim a Birkin bag, which North West painted all over to make the expensive bag even more special.
9. Kendall's Baby Blue Corvette: Kendall Jenner bought herself a 1957 Corvette Stingray for her 20th birthday in 2015. The classic car costs somewhere around $75,000. Love yourself, girl!
10. Kanye's Court-side Party: Kim K turned Kanye's 38th birthday into a basketball bonanza! She spent over $100,000 to rent out L.A.'s Staples Center so Yeezy could play ball with with NBA superstars Russell Westbrook and John Wall, plus  pals Justin Bieber, Tyga and Pusha T. John Legend even sang the National Anthem!