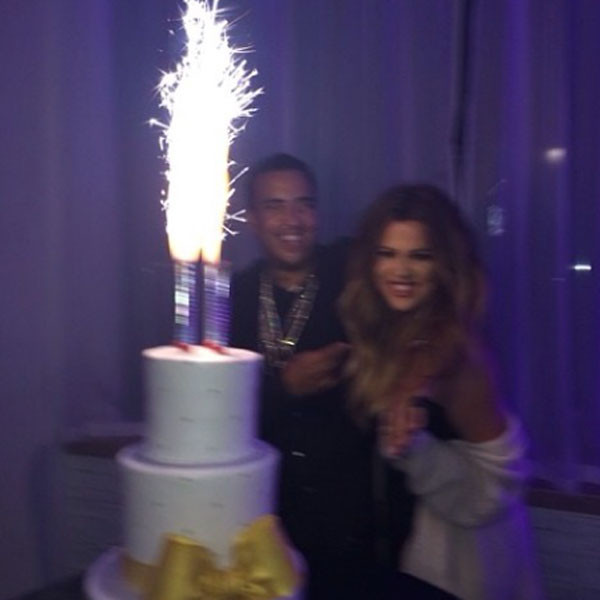 Instagram
Khloé Kardashian certainly had a memorable birthday bash!
The E! reality star was the recipient of not one, not two, but three lavish gifts from her boyfriend French Montana!
The rapper spoiled his ladylove with three pieces of serious bling, as well as a white Jeep—which he surprised her with at her family-filled party hosted by CIROC last night in New York.
E! News has learned that Montana approached Rafaello & Company's CEO Gabriel Jacobs about a few items for the birthday girl.
"He mentioned how much Khloé loves flexible finger rings and was drawn to the Rafaello Couture collection," Jacobs tells us exclusively.
The stunning 18k gold, natural green Colombian emerald sparkler also features yellow canary diamonds. Only the best of the best for KoKo!
And in case that wasn't enough, Montana bought her a customized diamond grill as well as a solid gold pair—you know, just in case she wants something more subdued, right?
So how did the brunette beauty react when she saw the stunning new items to add to her enviable jewelry collection?
"Khloé was ecstatic!! She gave French Montana a hug and a kiss and she gave me a big hug and said, 'Thank you so much!'"
The Keeping Up With the Kardashians star was snapped blowing out her birthday cake with her main man and celebrating with her closest pals.
Kim Kardashian, Kris Jenner, Kendall and Kylie Jenner and Kourtney Kardashian were also all on hand to ring in Khloé's special day.
Rafaello & Company/Instagram