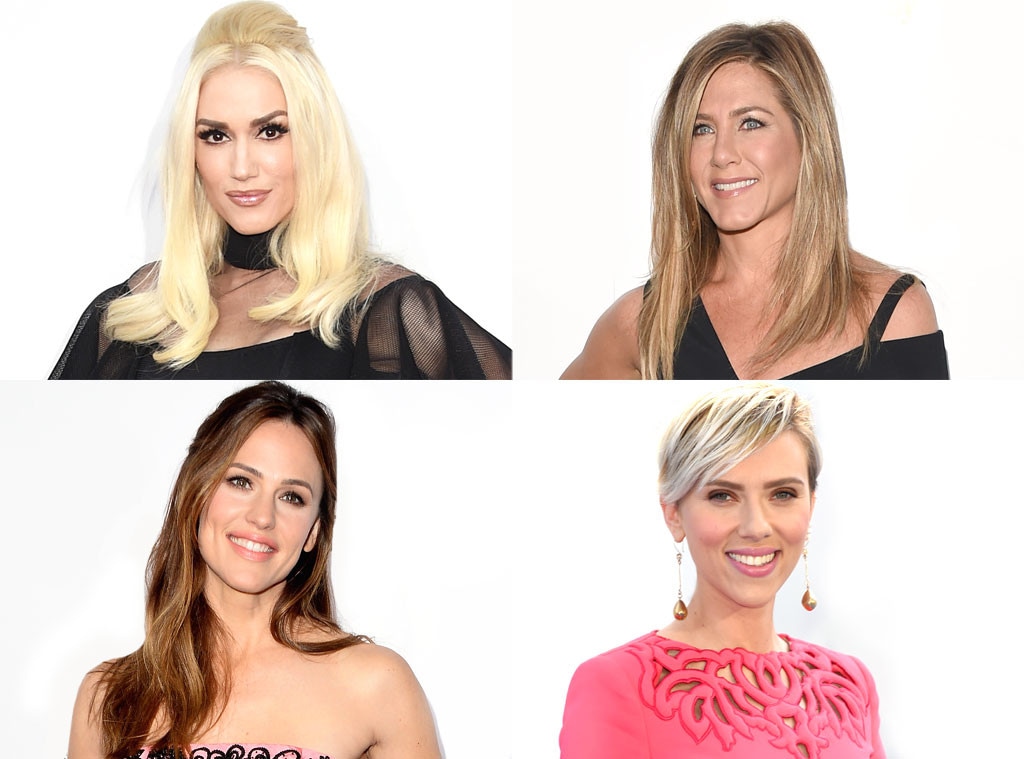 Getty Images
Gwen Stefani was dropping so many truth bombs, we didn't even attempt to run for cover.
Instead we soaked up every nugget of real-life wisdom to be gleaned from her bombshell New York Times interview, enjoying the rare moment of raw candor that comes when a celebrity has dusted herself off and emerges from her cocoon of self-reflection, finally ready to perform the postmortem on a marriage that is no more.
And judging by the pattern that has emerged over the past decade, that period can last anywhere from six months to five years past a relationship's expiration date.
Pascal Le Segretain/Getty Images
Gwen and Gavin Rossdale filed for divorce last August, so much chum for the summer of splits that gobbled up more than its fair share of longtime couples. And with Gwen's first solo studio album in 10 years due out March 18, and considering that album is called This Is What the Truth Feels Like...
We sensed her time to share was upon us, and once we read the words, "My life was literally blown up into my face," we knew we were in for a heartbreaking, engrossing and, ultimately, inspiring read.
Along with Gwen, whose self-effacing sincerity we appreciate, here are some of the other great post-breakup interviews from past years (and days) that reminded us that we're all in the same boat, and beauty, talent, wealth and fame can only protect so much—i.e. not really at all—from the experiences, good and bad, that make up a human life.
Jordan Strauss/Invision/AP
1. Reese Witherspoon: The Oscar winner told Vogue in 2011, four years after her divorce from Ryan Phillippe following seven years of marriage and two kids together, that she was "really blindsided" by the unexpected when she was younger. "I was always shocked about finding out things or behavior or people's attitudes toward things. You just realize that you don't know anything about love or relationships." While she doesn't say explicitly that she was blindsided by Phillippe, she also told Elle U.K. around the same time: "I was so, so young. I was, like, ridiculously young. I learnt a lot, though. It was an excellent opportunity for me to really find out what it means to be a partner and to be in a marriage and it's not anything that I thought it was."
Frazer Harrison/Getty Images
2. Jennifer Garner: Practically still warm from the presses, the March issue of Vanity Fair contains the actress' first major interview about the end last June of her 10-year marriage to Ben Affleck. The mother of three talked about the infamous nanny's alleged role in their split (negligible) and stressed that there was no reason for anyone to hate Affleck on her behalf. "Don't worry—my eyes were wide open during the marriage." But the real takeaway was her assessment of her soon-to-be ex-husband himself: "I always say, 'When his sun shines on you, you feel it.' But when the sun is shining elsewhere, it's cold. He can cast quite a shadow." Brrrr...
Axelle/Bauer-Griffin/FilmMagic
3. Jennifer Aniston: Probably thinking at the time that that would do it, that people would surely turn the page on her story in due time (try eight years), the Friends star opened up about her split from husband Brad Pitt in a landmark cover story for Vanity Fair's September 2005 issue. Landmark in that it was the rawest on-the-record account of the breakdown of a celebrity marriage in most people's memory, made all the more compelling because Pitt was already setting up house with Angelina Jolie, nine months after he and Jen announced their separation. "There's a sensitivity chip that's missing," Aniston said about her ex. And just as Jen Garner would say almost 11 years later that there was no point in hating Ben, Aniston also said, "I'm not interested in taking public potshots. It's not my concern anymore. What happened to him after the separation—it's his life now. I've made a conscious effort not to add to the toxicity of this situation. I haven't retaliated. I don't want to be a part of it. I don't have a halo that I'm polishing here; everyone has their personal thoughts. But I would much rather everyone move on."
Jordan Strauss/Invision/AP
4. Scarlett Johansson: The Hail, Caesar! star frankly called her divorce from Ryan Reynolds after barely two years of marriage "a very lonely thing" in the May 2014 issue of C Magazine. "It's like the loneliest thing you'll ever do, in some ways. I've had a fair amount of time to process the experience and go forward. I continue to get to know myself better as I get older, and that helps me in my relationships." Reminiscent of Reese, she talked about being unprepared for the issues that can pop up in a marriage. "I feel I know now more of what I need in a relationship, what I want in a relationship. And I know I have more tools to communicate, not just with my partner, but with myself. That's not necessarily any reflection of who I was married to or what was happening in my marriage, but really where I was in my life."
Chris Pizzello/Invision/AP
5. Sandra Bullock: Barely a month removed from her Best Actress Oscar win for The Blind Side in 2010, Bullock found out then-husband Jesse James was a serial cheater. Reflecting on that time, the mother of two said in the October 2015 issue of Vanity Fair, "I don't feel like I was an adult till about five years ago." And yes, because of "motherhood and divorce—and not just divorce but the onslaught. Again, I let it affect me. I heard it all. And I had to step back and go, 'I have the greatest gift in little Louis, and I'm gonna let him see the woman I want him to know.' So a child forces you to get your s--t together. In the best way."
Jason Merritt/Getty Images for W Magazine
6. Paula Patton: Robin Thicke's longtime sweetheart turned ex-wife also grew up overnight when she and the "Blurred Lines" singer split up, after being dogged for ages by headlines alleging bad extramarital behavior on Thicke's part. "I live in a place of gratitude and growing up in many ways, I think. I moved from my parents' house to moving in with Robin," the Baggage Claim star, 39 at the time, said on The Meredith Vieira Show in March 2015. "And now I'm like becoming an adult at this old age. I'm really like a real woman now." 
Jordan Strauss/Invision/AP
7. Amy Poehler: A lot of hearts broke when she and Will Arnett separated in 2012 after nine years together. And she admitted, a couple years later in her book Yes Please, that yes, getting divorced "really sucks." And even though it can be comforting to know you're hardly alone, that can kinda suck too! Poehler wrote, "When you are a person going through a divorce, you feel incredibly alone, yet you are constantly reminded by society of how frequently divorce happens and how common it has become. You aren't allowed to feel special, but no one knows the specific ways you are in pain." Yet another interesting perspective.
Frazer Harrison/Getty Images
8. Halle Berry: Trying to dispel the rumors that she and Gabriel Aubry, the father of her daughter, Nahla, were still in the midst of a messy breakup (they never married), the Oscar winner insisted to Vogue, "There is no discord, there is no fighting. So it came and went. Now we are back to how it was before: living apart, raising our daughter." As for what happened between them, she said in the mag's September 2010 issue, "It's just that you realize you are not meant to go the distance with everybody," she says. "We were meant to bring this amazing little person into the world. And I think that's why we came together. And because of that, we are going to be together forever, all three of us. We are a family until we are not here anymore...And while it was not a love connection for us, he was absolutely the right person to have this child with because she is going to have an amazing father."
Pierre Teyssot / Splash News
9. Gwyneth Paltrow: She talked the ins and outs of conscious uncoupling with Howard Stern in January 2015, about 10 months after she Chris Martin separated. We already sensed there wasn't much acrimony there, or at least they didn't radiate the palpable kind, but she confirmed as much during the in-depth radio interview. "The idea is you try to do it with minimal acrimony and you say, 'Look, we have kids, we're always going to be a family and let's try to find all the positives in our relationship, all the things that brought us together, the friendship,'" she explained. "We actually have a really strong friendship and we laugh and we have fun. But there are times when it's really difficult and things happen and you're like, 'I'm sure he doesn't want to hang out with me and I don't want to hang out with him.' But for the sake of the kids you do it. But you also don't do it all tense."
10. Madonna: Ultimately it doesn't matter if you're 24 or 44, sometimes a marriage just doesn't go the way you thought it would in the beginning. "Because when you start off, everything's great and lovely, and the person you've married is flawless, and you're flawless," the pop icon told Newsweek, discussing the end of her eight-year marriage to Guy Ritchie, in 2012—about four years after the split. "Then time goes by, and you share a life, you have children, and there are cracks in the veneer. It's not as romantic as it used to be. You think, 'This isn't what I thought it was going to be,' and 'How much am I willing to sacrifice?'"
That's where the maturity comes in, when you realize the answer is... "Not much."
Thank you, ladies, for your honesty.