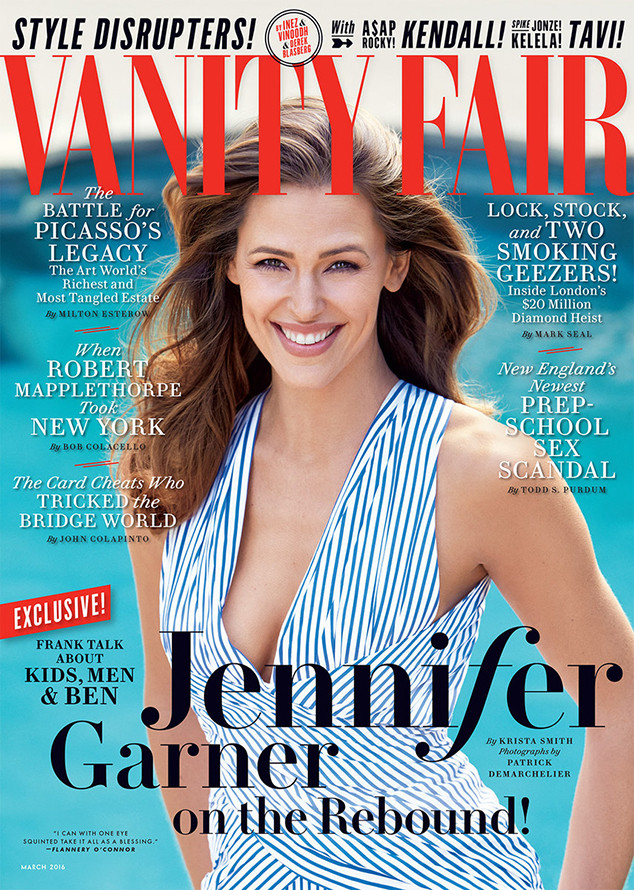 Patrick Demarchelier/Vanity Fair
At last, Jennifer Garner is addressing nannygate.
After maintain her silence for nearly a year, the Miracles From Heaven actress speaks candidly about the demise of her 10-year marriage to Ben Affleck in Vanity Fair's March 2016 issue. The exes announced plans to divorce in June 2015, after Violet Affleck, 10, Seraphina Affleck, 7, and Sam Affleck, 4, were finished with the school year. A month later, Ben was linked to his children's 28-year-old nanny, Christine Ouzounian; his rep adamantly denies they had an affair.
For the first time since the reports surfaced, Jennifer is sharing her side of the story. "Let me just tell you something. We had been separated for months before I ever heard about the nanny. She had nothing to do with our decision to divorce. She was not a part of the equation," she says. That said, she doesn't feel Christine was a good fit for her family. "Bad judgment? Yes. It's not great for your kids for [a nanny] to disappear from their lives." Months later, Jennifer is still picking up the pieces. "I have had to have conversations about the meaning of 'scandal.'"
By all accounts, the former couple remains on good terms. Unlike late-night hosts, for example, Jennifer is uninterested in trashing Ben—though she appreciates the public's concern. "People have pain—they do regrettable things, they feel shame, and shame equals pain," she says. "No one needs to hate him for me. I don't hate him. Certainly we don't have to beat the guy up. Don't worry—my eyes were wide open during the marriage. I'm taking good care of myself."