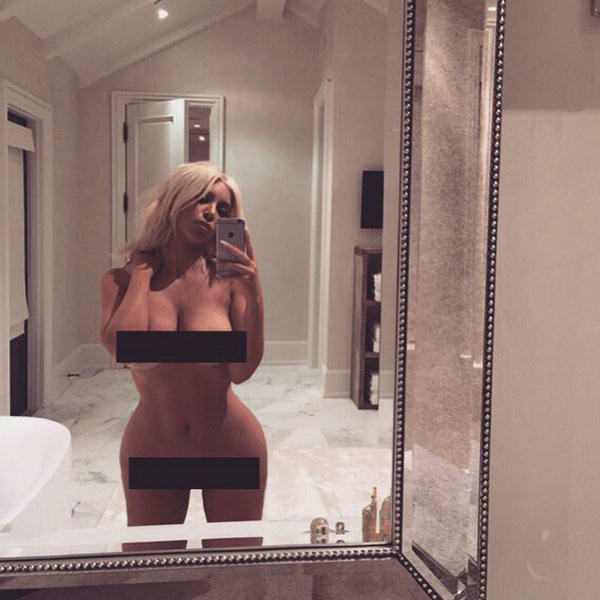 Twitter
Kim Kardashian might just break the Internet again.
The Keeping Up With the Kardashians star, 35, shared a nude selfie on Instagram and Twitter late Sunday night, just 13 weeks after giving birth to her second child, Saint West. Kim opted to censor her nipples and genitals by adding black censor bars to the picture. "When you're like I have nothing to wear LOL," the E! reality star joked in the caption. In less than six hours, the picture received 607,000 likes on Instagram and 44,614 likes on Twitter.
It's unclear when the photo was taken, however. Kim has blond hair in the photo, as she did when her husband, Kanye West, debuted Yeezy Season 3 and The Life of Pablo in February at Madison Square Garden in New York City. Some commenters have suggested that the full-length, full-frontal photograph may be from last year, when her hair was bleach blond for a bit in Paris.
This isn't the first time Kim has shared a naked picture of herself, of course. Most recently, when she was pregnant with Saint in August, she posted a nude selfie to her social media accounts in an attempt to silence people who body-shamed her. "First they said I'm too skinny so I have to be faking it...Now they say I'm too big so I have to be faking it...SMH! Some days I'm photographed before I eat & look smaller, some days I've just eaten & I look bigger," she wrote. "It's all a part of the process. I think you all know me well enough to know I would document the process if I got a surrogate. Everyone's body is different, every pregnancy is very different! I've learned to love my body at every stage! I'm going to get even bigger & that's beautiful too!"
"I'm blessed to even be pregnant & even luckier to not have preeclampsia as far as I know, so I don't have the swelling issue this time! They also say your body carries a boy different than a girl!" Kim wrote in the caption. "Whatever the case may be I'm grateful to God for this miracle & no matter what rumors or comments you throw my way this time they truly don't affect me!"
Kim added, "#NoFilter #NoPhotoShop #GoodLighting."