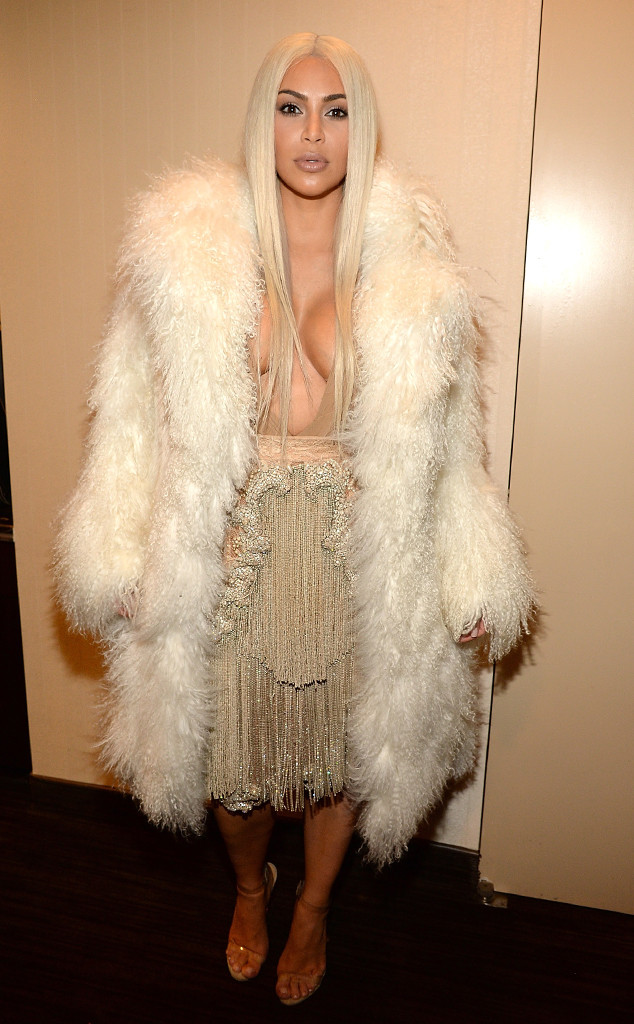 Kevin Mazur/Getty Images for Yeezy Season 3
When eyes weren't on the man of the hour (or few hours) himself, all eyes were on his famous in-laws.
Kanye West threw quite the event earlier today in Madison Square Garden to debut his collection for Yeezy Season 3, as well as share new music from his highly anticipated album The Life of Pablo, and although there was plenty to focus attention on (like all of the models showcasing this year's line), Kim Kardashian and her famous sisters continued to steal the spotlight with their dazzling looks.
Seriously, dazzling. They were bling from head to toe.
Speaking of head, Kim made the first OMG move by showing up with platinum blond hair that almost matched her white fur coat. It's unclear at the moment, but we're guessing she opted for a wig, considering the fact that she knows how difficult the up-keep is for such a drastic 'do. Aside from her extra light locks, North West's mama supported her hubby in a custom Yeezy and Olivier Rousteing creation that contained a mix of class and grunge by incorporating tattered and torn ivory cloth with elaborate fringe.
Aside from the aesthetic of her dress, there was one, OK two, things that demanded some attention...hello, cleavage!