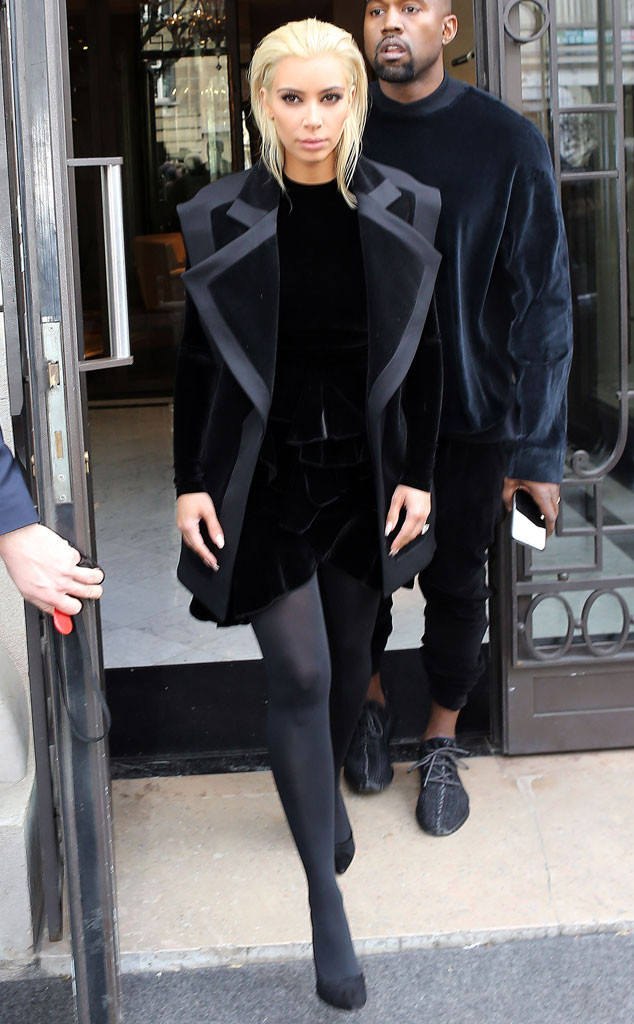 KCS Presse / Splash News
Kim Kardashian has blond ambition!
The Keeping Up With the Kardashians star debuted platinum blond tresses during Paris Fashion Week Thursday. The 34-year-old E! reality star has yet to reveal the reason for her mane makeover, but it's not the first time the natural brunette has crossed over from the dark side. However, when Kardashian went blond last summer, it didn't last long! "It's just a wig! Looks so real though right?" she said on Instagram.
And while Kardashian has dyed her hair blond in the past, it's never been this blond. According to a source, it's "just for fun. She wanted a change."
Kardashian, Kanye West and Kris Jenner sat in the front row at the Balmain fashion show. Kendall Jenner walked the runway along with Gigi Hadid, Karlie Kloss and Joan Smalls.
The last time Kardashian lightened her locks was in September 2013, three months after she gave birth to North West. At the time, Andy Lecompte Salon colorist George Papanikolos told E! News that her husband "loved" Kardashian's new look. "He was a big cheerleader for her to go blond," Papanikolos said.
The look lasted a few months. "She is constantly changing her look, so this is not going to be permanent, but I am sure we will have more great hair moments down the line," Papanikolos explained to E! News.