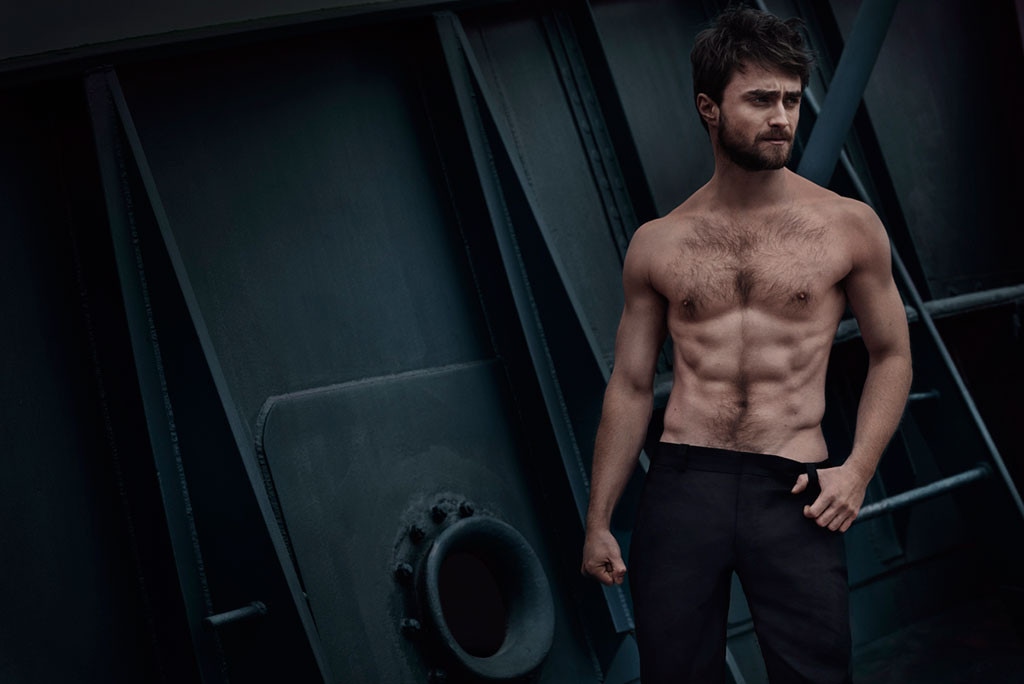 Charlie Gray
Harry Potter no more—Daniel Radcliffe is shaping up to be one grown-up hunk. 
The 26-year-old former child star is flaunting an impressively toned physique as of late thanks partly to his secret weapon—his girlfriend Erin Darke. 
"Since I started dating her, I put on a little more muscle," he admitted to Vanity Fair Italia. However, his regimen seems to be a bit of a mirage. 
"We can't go shopping or eat an ice cream without being captured by paparazzi," he continued. "It's not that we work out a lot, but when we do it, we always get photographed."
Still, as proven by this Vanity Fair Italia photoshoot, he still has the six pack abs to prove it, even if he admittedly hasn't kept them in pristine condition. 
"I did [the photoshoot] like months ago and I'm sure they're not that good anymore," he told E!'s Marc Malkin at the 2016 Sundance Film Festival. "I've been going to the gym a lot. I'll probably never look this good again—like why not?"
Watch:
Daniel Radcliffe Talks Sexy "Vanity Fair" Photos
It doesn't seem like anyone is complaining about seeing the buff actor. In fact, according to his new award for the UK's 2015 "Best Rear of the Year," fans want to see him entirely in the buff. 
"I just find it a bit strange," he said in reference to the award. The actor famously stripped down in the name of art for his stage performance in Equus in 2007. "I never showed my butt last year! But anyway, I'm grateful to those who voted for [sic] me and I'd be extremely flattered to be considered again next year."
He even gave E! News a preview of his faux acceptance speech for the highly coveted award. 
"Thank you to everybody who voted for me for Rear of the Year," he joked to Malkin. "It's a very prestigious honor and I promise to I guess to get it out a lot more in the future."
Still, if he had any intentions of showing his bum publicly again, don't look for it on a television series. 
"I can't watch a TV show for such a long time," he told the magazine. "They last too long. It is like asking someone 'Would you watch 40 films with me?' I also received some interesting offers from TV shows, but I said no. I've already been involved on a single project  for such a long time."
That single project—Harry Potter, of course—taught Radcliffe how to properly build the best silver screen momentum. 
"Each film was better than the previous one, and the last one was absolutlely the best. It's the way they were produced that made a difference. The movies earned a lot of money, but a lot of money was [sic]  also used to make them," he said.
"Today, if a producer finds out that a franchise works, most of the time they think that the audience will go see the whole saga anyway, and they don't invest in [sic] improving it."
Watch:
Daniel Radcliffe Receives "Rear of the Year"