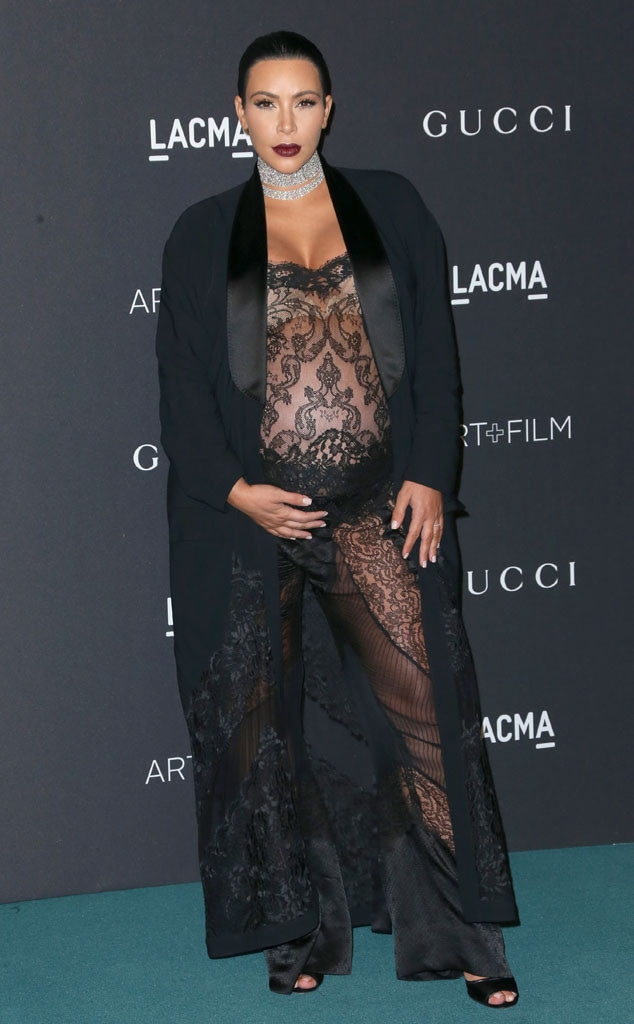 Frederick M. Brown/Getty Images
Kim Kardashian isn't afraid to talk about the weirder side of pregnancy, including her plans to eat her placenta after giving birth to son, Saint West, earlier this month.
The 35-year-old mother-of-two opened up on her app about the placenta-eating process and why she decided to do it.
"So, I'm really not this holistic person or someone who would have ever considered eating my placenta. I actually thought Kourtney would have soooo done this, but I don't think she did," Kim wrote, although Kourtney Kardashian did decide to consume her placenta as well. "And when I say 'eat my placenta,' I mean that I'm having it freeze-dried and made into a pill form—not actually fry it like a steak and eat it (which some people do, BTW)."
But this won't be the first time she's consumed her own placenta. Kim did the same thing after giving birth to North West in order to help prevent any postpartum depression.
"I heard so many stories when I was pregnant with North of moms who never ate their placenta with their first baby and then had postpartum depression," she explained. "But then when they took the pills with their second baby, they did not suffer from depression! So I thought, why not try it? What do I have to lose?
She continues, "I really didn't want the baby blues and thought I can't go wrong with taking a pill made of my own hormones—made by me, for me. I started researching and read about so many moms who felt this same way and said the overall healing process was so much easier."
Courtesy Donato Sardella/Getty Images for CFDA/Vogue
Several celebrity moms, including January Jones and Kim Zolciak, have opened up publicly about the benefits of consuming their placenta. Thus, Kim decided to join them and the results were just as positive.
"I had great results and felt so energized and didn't have any signs of depression!" Kim revealed. "I definitely had to do it again. Every time I take a pill, I feel a surge of energy and feel really healthy and good. I totally recommend it for anyone considering it!"
Kim gave birth to Saint on Dec. 5, revealing his name a few days later and so far things have been great for the newborn!
"Kim and Kanye are very hands on with the baby and want to be involved in the little things as much as possible," a source told us last week. "They take turns waking up and tending to the baby's needs. It's a lot of work, but they just feel very blessed for having a healthy baby boy."
As for Nori? Well, we were told she's "really excited to be a big sister" and the whole family is giving North lots of attention to help ease the transition of welcoming a new member to the family.
"They know it can take a little bit for a child to adjust" to a new baby, our source explained. "[North] is by Kim's side every day and daddy's little girl, so she seems to be adjusting great."
Can't wait to hear more about the family of four!
For more on Kim Kardashian's pregnancy, tune into an all new Keeping Up With the Kardashians on Sunday at 9 p.m. only on E!