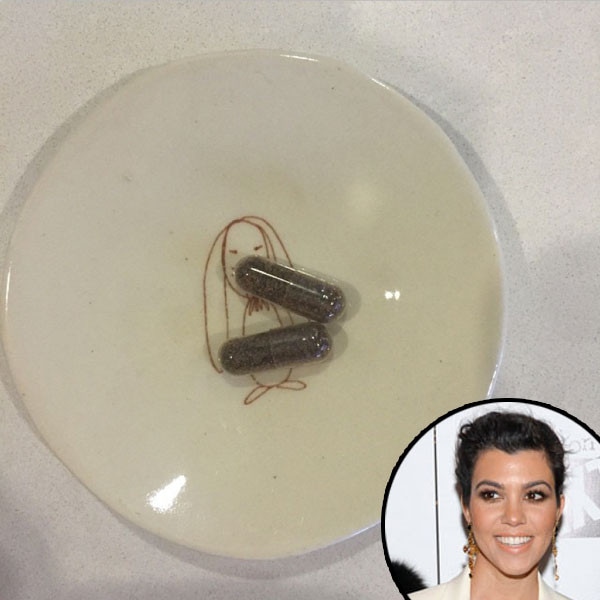 Instagram
"Yummy," is what Kourtney Kardashian describes the placenta pills she has been taking since she gave birth to her baby son Reign Aston about a month ago.
The 35-year-old reality star posted a photo of them on her Instagram page on Saturday. Reign, her third child with Scott Disick, joined 5-year-old brother Mason Disick, with whom he shares a birthday, and sister Penelope Disick, 2.
"Yummy...PLACENTA pills!" she wrote. "No joke...I will be sad when my placenta pills run out. They are life changing! #benefits #lookitup."
The placenta, also called the afterbirth, is a temporary organ that provides oxygen and nutrients to a fetus developing in a women's womb and is removed upon delivery of the baby.
Almost all non-humans mammals and primates eat their placentas. The practice first became a fad for women several decades ago and was also sometimes used in ancient Chinese medicine, but it is very uncommon and is not approved by the U S Food and Drug Administration.
One method of ingesting it is via capsules, made from a woman's dehydrated placenta, of which several dozen pills can be made from it to last a maximum of about two months. Its manufacturers boast benefits such as the easing of postpartum depression and an increase in nutrients. Critics of the practice say the organ could also contain bacteria.
On Keeping Up With the Kardashians in 2013, sister Kim Kardashian, pregnant with her and Kanye West's daughter North West, said she was interested in eating her placenta after she gave birth.
"I know it sounds gross, but I really want to do it," she said. "I heard you look so young."
Kourt and Kim were also shown on the show pulling a prank on their family, in which they had them eat mystery meat, then told them they had eaten human placenta ordered online and finally revealed that it was really beef brisket. 
Celebrities such as Girls and Uncle Buck star Gaby Hoffmann, who gave birth in November to her first child, January Jones ("It's not witch-crafty or anything!" said the Mad Men actress, mother of 3-year-old son Xander) and Alicia Silverstone, have also said they have eaten their baby's placentas.
The Clueless star, mother of 3-year-old son Bear Blu, called them her "happy pills" in her 2014 book, The Kind Mama: A Simple Guide to Supercharged Fertility, a Radiant Pregnancy, a Sweeter Birth, and a Healthier, More Beautiful Beginning.
"I had a smooth and vibrant postbirth because of how well I'd taken care of my body all through pregnancy, but every once in a while, I'd have a mini-meltdown," she said. "In my sleep-deprived, emotionally wonky haze, I'd start thinking about things like how my baby was going to grow up one day, and I'd just lose it. Then I'd have my placenta pill and feel better."
In 2010, the University of Nevada surveyed 189 women who ate their placentas. About 76 percent said they had very positive experiences, citing improved mood and lactation and increased energy. The most common reported negative aspects were unpleasant burping, headaches and...an unappealing taste and smell of the placenta.
Keeping Up With the Kardashians season 10 premieres Spring 2015!