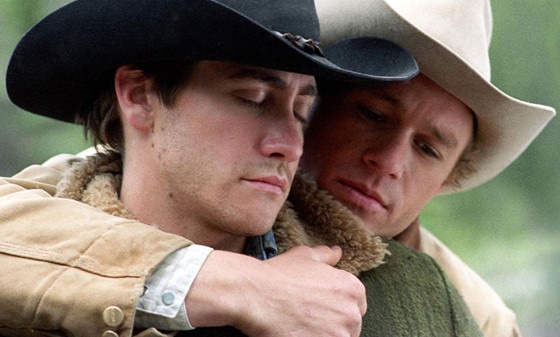 Universal Studios
Thinking about Brokeback Mountain today, 10 years after the landmark film opened in theaters, stirs up an interesting mixture of emotions.
Of course there's the blink of surprise when you think about the amount of time that's passed—it seems both not that long and so long ago.
There's the twinge in the heart that comes from just thinking about the film as a whole, how beautiful it is, visually and beyond; how it made us feel when we first watched it; and how it still stands up today as one of the great movie love stories.
Then there's the sadness, thinking about how Heath Ledger, who was so stunning in the film, would be gone a year and a half later. Watching footage of him and Michelle Williams running the publicity gamut together, Williams glowing with pride over her boyfriend's lauded performance—and pregnant with their daughter Matilda—at the 2005 Toronto International Film Festival, is simultaneously exciting and heartbreaking.
Watch:
See Heath Ledger and Michelle Williams in 2005
"It's just deserved, it's sort of obvious after you see what he does. I forgot he was my boyfriend when I was watching it, I really did," Williams told E! News at the film's press junket that December regarding the widespread praise for Ledger's immersive performance as Ennis Del Mar, a Wyoming ranch hand who has a decades-spanning suppressed relationship with another man, Jake Gyllenhaal's Jack Twist.
Ledger was just as complimentary of his real-life leading lady, who played his long-suffering wife in the film, telling us at the time, "She's a phenomenal actress. It's boring to say she's at a turning point—she's always been turning a corner and she'll continue to turn corners. She's incredibly talented and beautiful, and her performance in this movie is incredibly controlled and deep, and full of emotion. I'm incredibly proud of her."
They were both nominated for Academy Awards in 2006, as was Gyllenhaal. And en route to winning three Oscars, including Best Director for Ang Lee, Brokeback Mountain collected dozens of prizes, including the Golden Lion at the Venice Film Festival and the Golden Globe for Outstanding Motion Picture, Drama.
Steve Granitz/WireImage.com
In hindsight, the flood of accolades was a no-brainer, the film being about as epic as any Academy voter could ask for (though ultimately it was snubbed for Best Picture in favor of the ensemble drama Crash). But mainstream success wasn't guaranteed nor was it necessarily expected by everyone involved.
This was, after all, the "gay cowboy movie," as it was often flippantly called.
"Cowboys, you don't get any more macho than that, right?" said GLAAD President and CEO Sarah Kate Ellis while discussing the film's cultural impact with E! News as the 10-year mark approached. "The idea that even a cowboy could be gay was a new idea, because there was definitely still a perception in the culture...You were still seeing a lot of those jokey, funny roles; really flamboyant; very, very gay. I think this was the first time that we saw some real machoism in that, which was different for people to see."
Ang Lee admitted to E! News at the December 2005 junket that his first thought upon reading the material was that "this will be one of those great unproduced scripts." Burned out from making Hulk and Crouching Tiger, Hidden Dragon, he initially didn't pursue the project, but when it remained up for grabs, he jumped at the opportunity.
"I always [felt] the material belonged to me," he recalled. "I had no hesitation making it."
Lee was, of course, answering the inevitable question about the perceived risk factor in making the film, which was adapted from a 1997 short story by Pulitzer Prize winner Annie Proulx.
Another one of those feelings that the film's 10th anniversary has stirred up is relief that, today, no one would be asking Ledger, Gyllenhaal, Williams and Anne Hathaway (who played Gyllenhaal's desperate-to-maintain-appearances wife) about just how many reservations they had about signing up for what was then considered an extremely risque film.
Ledger half-joked to us at the junket that his usual reaction every time he secured a role was to "try and wiggle my way out of it." But overall he just saw a compelling, challenging part.
Asked at the 2005 TIFF if he thought about how taking on such a role at least used to be considered a huge career risk, Gyllenhaal said, "I didn't have any fear in the subject matter. I might be naive, but I really feel that a love story can only be told by being retold in a new type of way."
Regardless, while the actors and the director may have simply seen a love story that demanded telling, it was easily the most talked-about film of 2005 by the time it finally arrived in theaters on Dec. 9, 2005.
"The thing about this movie is that people usually enter the movie thinking one thing and they leave thinking another, and usually what they leave with ends up being not something that they expected to leave with," Gyllenhaal also told E! News in Toronto that year. "There are different groups who believe differently about the movie, some who know that it's controversial in some way, and some who totally agree with a love affair between two men and some who disagree—and I think both have left feeling differently about the subject as a result of the movie.
"So I can just hope it changes people's mind, whatever that may be, about the issue—more particularly than about sexuality, but about love."
Watch:
Jake Gyllenhaal on Controversial "Brokeback" Film in 2005
But despite the prizes upon arrival and the instant Oscar buzz, some of the oft-repeated things about the film were so just so much antiquated, phobic noise. While the Focus Features production was categorically considered an independent film and opened at first in limited release before going wide the following month, Hollywood was of course accused by some media outlets of pushing a gay agenda, and a host of conservative commentators let anti-gay slurs fly at will when mentioning the movie on air.
And even reporters who had no issue with the subject matter and couldn't praise the film enough were stuck asking Jake and Heath about their risky career move—and no one could get enough of talking about what it was like to shoot the love scenes.
Watch:
Heath Ledger Talks Love and Michelle Williams in 2005
Ledger took the questions in stride, joking about practicing kissing Gyllenhaal on the back of his hand, scrawling on stubble with a pen.
"I guess there is no real preparing," he told E!. "Unlike my character, I am a huge fan of love. I'm in love with love and I've investigated love. I'm very expressive. I know how to feel love, whether it's love that's trapped and unable to be expressed, I have a thorough understanding of that. And if it's kissing someone, I know how to kiss someone, I know how to make love to someone. You just kind of [do] the same thing but it's with a different person. It's just with a man. But you kind of know how to kiss someone, you just do it."
And though much was made of Michelle Williams' request that Heath and Jake kiss off-camera so that she could get the reaction scene down properly where her character first catches them kissing, neither she nor Anne Hathaway seemed at all fazed either.
"I never cared what anyone else thought, to be perfectly honest," Hathaway told us adamantly at the junket. "I've grown up, literally—and I'm not joking—with gay men in my life since the day I was born, so there's nothing strange about it to me and I never stopped to think about the people it might be strange for because, from my perspective, it's time for them to catch up."
Watch:
Anne Hathaway Talks "Brokeback Mountain" in 2005
At least now it's hard to imagine anyone asking Rooney Mara and Cate Blanchett how they prepared for their love scenes in Carol, which is vacuuming up honors this season and is predicted to be in the mix when Screen Actors Guild and Golden Globe Award nominations are announced this week.
"It was so offensive, saying, 'How did you prepare for that?' You would never ask a straight character how they prepared for it," Ellis told E! News, talking about the Brokeback hype. "You might make a joke, like 'Oh you got to kiss Angelina Jolie, what was that like?' in more of a 'wow, go you' type of way. But you wouldn't be asking those kinds of questions within a straight relationship, and I think we are getting it right more and more. There is a respect, and there is an understanding about that. That was for its time a very risqué move to show them in a physical way like that."
True, no matter how much the actors took it in stride, the love scenes—and the frank depiction of a tortured love affair over all that just happened to be taking place between two men—were part of what made Brokeback Mountain a game-changing film at the time.
"It was the first time that mass audiences—non-LGBT audiences—were rooting for the gay couple," Ellis said. "I think that was a pretty tectonic shift that we hadn't seen before. You wanted them to be together and you hated the fact that life and culture prevented that."
The movie was subsequently named Outstanding Movie, Wide Release, at the 17th Annual GLAAD Media Awards in 2006. Lee was there to accept.
As much as certain things in society haven't changed (or have gotten worse) in 10 years, not only the portrayal of same-sex couples in the media but the treatment of same-sex couples in actual life, by the government and under law, has improved to a point where it's mind-boggling to think that, when Brokeback Mountain came out, DOMA was still in effect and there was exactly one state out of 50—Massachusetts—in which same-sex marriage was legal.
But the most historic strides have been more recent. Gay marriage did not become legal in Wyoming—where Brokeback Mountain was set between 1963 and 1983—until Oct. 21, 2014, and the U.S. Supreme Court just ruled in June that states couldn't deny same-sex couples the right to marry.
And while Brokeback Mountain went where no major movie had gone before and ended up being an Oscar-winning box office hit, the big screen has since fallen behind the small (and smaller) screen when it comes to the inclusion of gay characters.
Ellis says she in no way means to diminish the work done on TV or by streaming services, but "in terms of wide release films, we still have a long way to go for LGLBT-inclusiveness. It's the other forms that kind of trick us" into thinking that mainstream Hollywood is further along.
Focus Features/Working Title/Kobal/Shutterstock
Carol opened in four theaters last month, as did The Danish Girl (like Brokeback, a Focus Features production), starring Eddie Redmayne as Lili Elbe, a transgender woman who was one of the first recipients of gender-reassignment surgery in the 1920s.
"They're hoping that the buzz will push it over to mass distribution," Ellis said. "I would have expected, considering how far we've come in policy, that we'd be further along. Hollywood sticks with the formula it knows...They worry about diversification within the content they provide, but when you look at streaming sites, or you look at television, people are dying for diversity and flock to it, whether it's Empire or Transparent. It's always interesting to me to see the big studios sort of lag in that respect."
But when you look back at what Brokeback Mountain truly set out to do, there's no doubt it succeeded.
"For me, this movie was saying something about love that's really true about it," Gyllenhaal told E! at the time. "It's complicated. If you have it, you hold on to it. It's full of obstacles, whether it's heterosexual or homosexual."
"You just try to be honest," said Hathaway. "And usually when you're successful in portraying the honesty, it's rewarded."