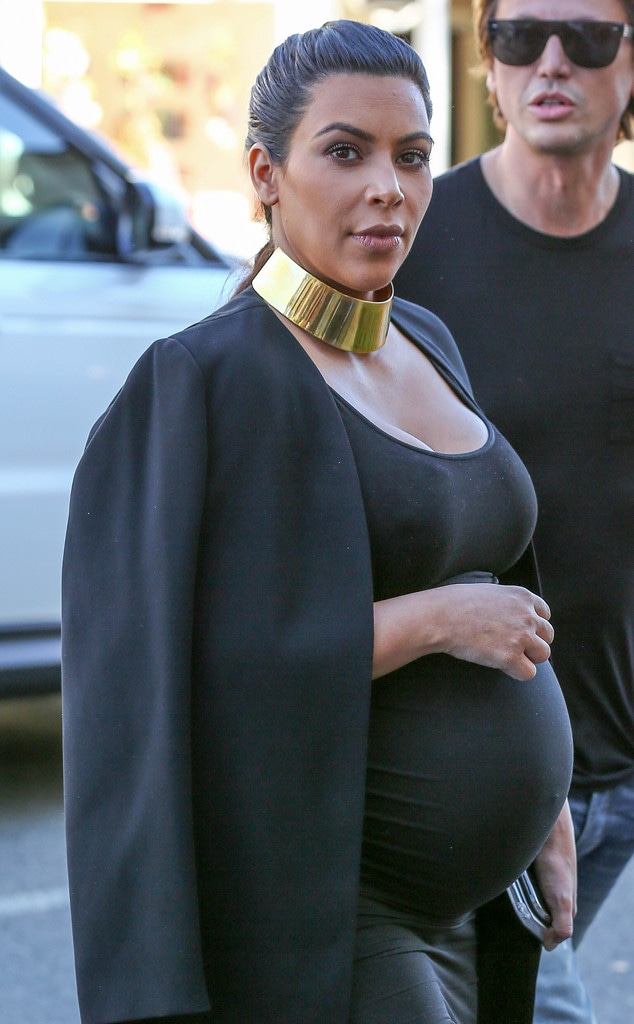 AKM-GSI
Kim Kardashian is in the final, final days of her second pregnancy!
Last week, E! News shot down rumors that the 35-year-old was moving up her Christmas Day due date so that she could deliver her son early around Thanksgiving. The final month of pregnancy is something the Keeping Up With the Kardashians star has never experienced since she gave birth to daughter North West six weeks early.
"I think the last month is just waiting," Kim tells E! News exclusively. "I didn't get to experience the last month last time. You know I delivered almost six weeks early, so they say you gain your most weight at the end."
Frederick M. Brown/Getty Images
Kim, who is up 52 pounds, says it's difficult to pick up North in the final weeks.
"She always wants me to pick her up and be with her and it's really hard to do a lot of the lifting and stuff like that, so that last month is not fun," Kanye West's other half revealed to us.
In addition to playing the waiting game, the final days of pregnancy will also be filled with deliberations about what Kim and Kanye will call their son! "I don't have names, which is so crazy," she said. "We just started talking about it and that was the last thing for us last time. So I feel confident obviously that we'll figure it out."
Watch:
Kim Kardashian Is Proud of Khloe's Sexy Photo Shoot
And it's no secret Kim is excited to be done with pregnancy. "I just don't think pregnancy and me really agree with each other," Kim told us last week. "You know it was really hard for me to get pregnant so I do feel really blessed that I am pregnant and at the end of the day it is a million times worth it."
"Every medical issue that you could probably have I feel like I get and I worry so much about it," she added. "This pregnancy I have a little bit more anxiety just because I know what's to come and it's really inevitable some of the issues that I'm going to have. You know I have a high-risk delivery and all of that gives me such anxiety…I do have access to amazing doctors that have been so helpful so I'm hopeful that everything will work out and be fine."
Watch Keeping Up With the Kardashians Sunday at 9 p.m., only on E!