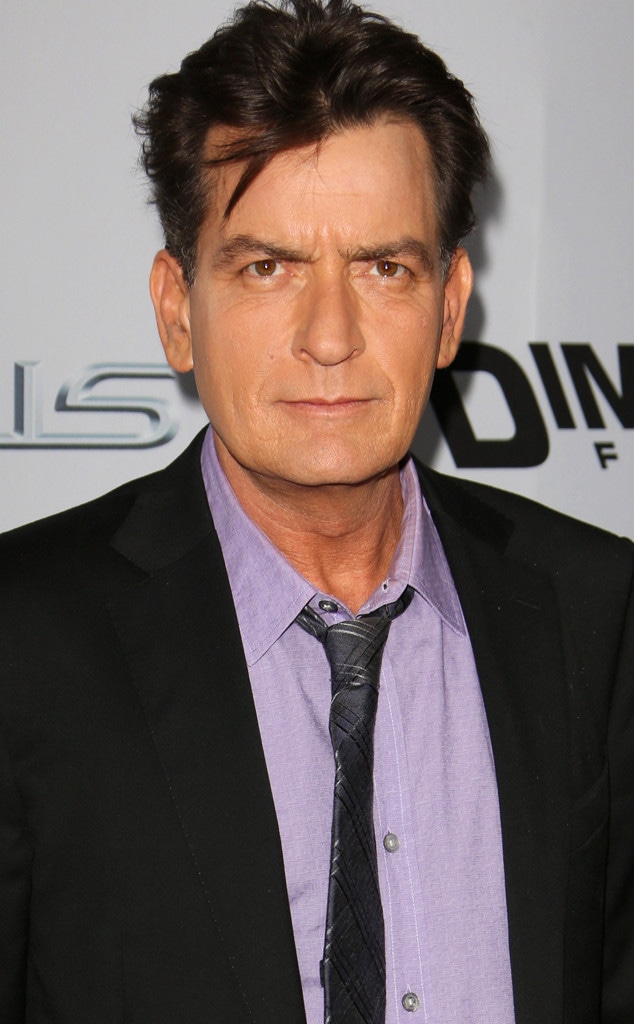 Matt Baron/BEI/Shutterstock
Although Charlie Sheen's HIV-positive diagnosis has only just been revealed, the actor has faced a variety of challenges throughout his life.
The Two and a Half Men star has had his ups and downs on and off the screen, but only now does it seem his hardships have come to a head. E! News is looking back at Sheen's life, starting with his first serious girlfriend and ending with his medical news.
1980s: Sheen launches to fame with his role in several movies such as Ferris Bueller's Day Off, Lucas and Oliver Stone's Oscar-winning war drama, Platoon. He later reunited with Stone in Wall Street, which he later admitted was hard to film. "Those movies were so hard to make," Sheen told USA Today. "You age a certain amount in a Stone movie."
1990: On the heels of blockbuster Major League, Sheen proposes to Kelly Preston, but it didn't last. Sheen accidentally shot her in the arm and the relationship crumbled. Later that year Sheen would check into rehab for drug and alcohol addiction and move on with porn star Ginger Lynn Allen.
1994: Sheen reprises his role in Major League II.
1995: Sheen testifies in Hollywood madam Heidi Fleiss' tax evasion trial in July where he admits he spent $53,000 on "sexual services" from prostitutes over a 15-month period between 1991 and 1993. The admission came before his three marriages.
Later that year in September Sheen marries model Donna Peele. They would go on to divorce in November 1996.
1997-1998: Sheen's personal life takes a sharp turn for the worse when he's arrested for battery when his girlfriend, Brittany Ashland, accuses him of smashing her face on the kitchen floor. The next year he would be arrested for a drug overdose, which violated his parole. In addition to probation he was forced to check-in to rehab for treatment.
2000: Sheen and Denise Richards tie the knot after meeting on the set of Spin City.
2002: Sheen wins the Golden Globe for best comedic actor for his work on Spin City.
2003: Sheen signs on to Two and a Half Men, CBS' megahit series that would eventually make the star the highest paid actor in TV, earning $2 million per episode.
2004: Richards and Sheen welcome their first child together, a girl named Sam.
2005: Pregnant with their second child, Richards files for divorce from Sheen because he gambled, abused prescription drugs and acted in a "very volatile" way during their marriage.
2007: Sheen moves on from Richards in 2006 with Brooke Mueller and proposes to her on a Costa Rican vacation.
2009: Sheen is arrested in Aspen after Mueller called police claiming her husband physically threatened her. He later pleaded guilty to a misdemeanor assault charge.
2010: Sheen is discovered to be highly intoxicated inside of a hotel room at the Plaza in New York City. Days later both he and Mueller file for divorce and she checks-in to a sober living facility for help with her own struggles.
2011: Sheen enters rehab after being hospitalized for abdominal pain. Two months later he has a public fallout with Two and a Half Men's Chuck Lorre and was ultimately fired from the CBS series. Ashton Kutcher went on to replace him while he rebounded with Anger Management on FX.
2014: Sheen finds love again with former porn star Scottine Rossi and proposes, but the wedding was called off in October, one month before the big day.
2015: Sheen goes on a Twitter tirade against ex-wife Richards in July, calling her a "washed up piglet." He also referred to her as the "worst mom alive" and "evil terrorist." The attack came only one month after he was hospitalized for "severe" food poisoning.
Sources confirm to E! News in November that the star is HIV positive.
To learn more about living with HIV/AIDS today and to contribute in the fight against the diseases, visit amfAR.org.
Look back at Charlie Sheen before his Comedy Central Roast.