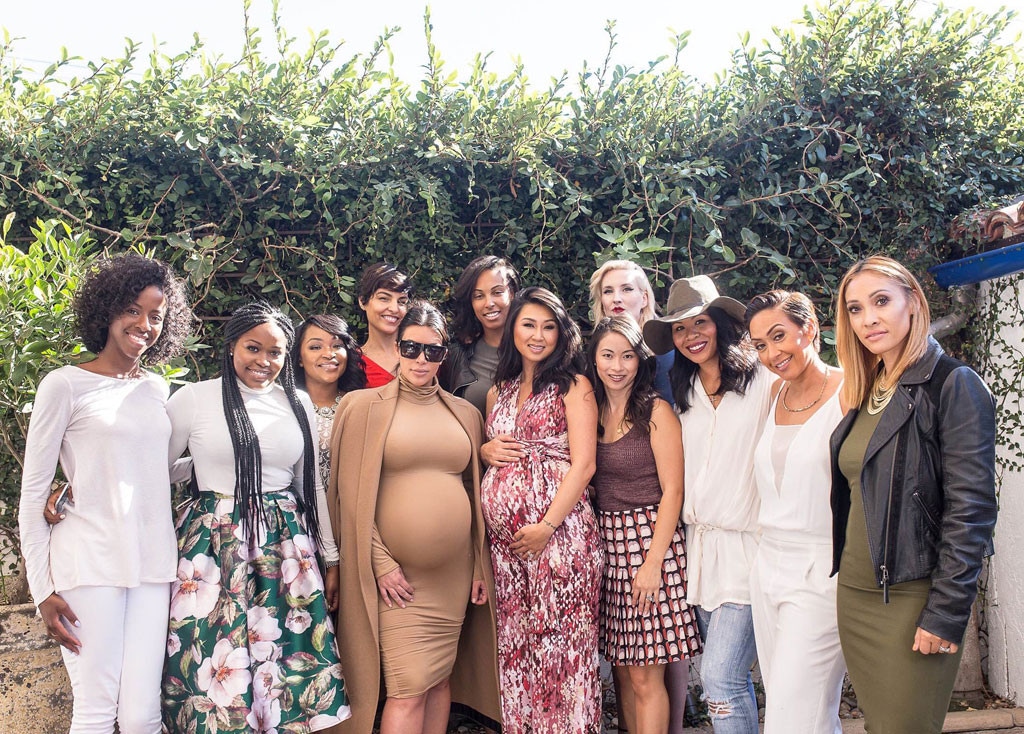 Lisa Marie Photographie
Kim Kardashian sported a familiar maternity look as she attended a baby shower brunch for her pregnant friend Tracy Nguyen Romulus.
The 35-year-old Keeping Up With the Kardashians star is expecting her second child, a boy, with husband Kanye West, 38. Kim and several more friends celebrated Romulus' upcoming arrival on Saturday at The Little Door, a French restaurant in Santa Monica. Both women are due in December.
Kim sported a nude, skintight, over-the-knee-length high neck dress and matching long coat, similar to an outfit she has worn publicly at least twice since the start of her latest pregnancy (even Kristin Cavallari, who is pregnant with her third child, appeared to draw inspiration from it).
Romulus sported a printed halter gown at her baby shower. She posted on her Instagram page a pic of the group, taken by photographer Lisa Marie, showing her standing right near Kim.
"Baby Brunch with my closest friends this morning!" Romulus wrote. "So nice having much needed girl time over yummy croissants, waffles and flourless chocolate cake before baby #2 arrives!"
Romulus and Kim also posed for baby bump pics at the reality star's mom Kris Jenner's Great Gatsby-themed, '20s-style 60th birthday party last weekend.
Kim celebrated with her sisters and friends at her own, Troop Beverly Hills movie-themed baby shower last month. She recently spoke to E! News about her pregnancy and revealed how much weight she's put on.
Watch the Keeping Up With the Kardashians season 11 premiere tonight at 9/8c!