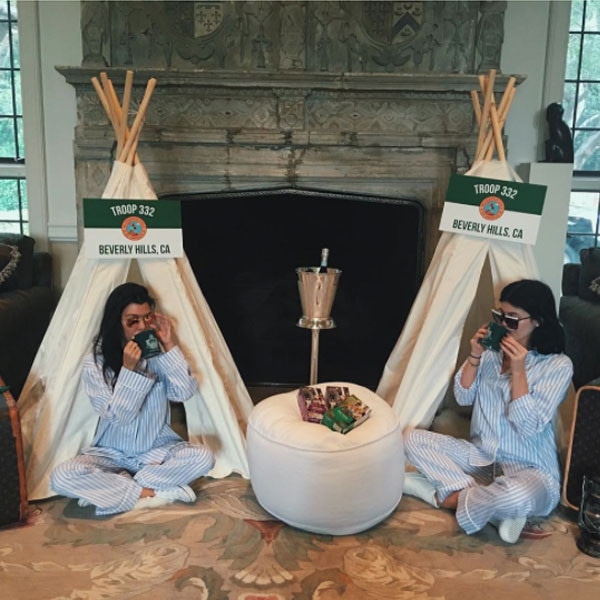 Instagram
As expected, Kim Kardashian's baby shower for her second child is nothing less than amazing!
She hosted her closest friends and family at the Azoff house in Beverly Hills on Sunday morning for a camp-themed party in honor of her soon-to-arrive baby boy. A source says the reality star—who had originally canceled the shower all together in the wake of Lamar Odom's scare last weekend—was convinced by a friend to hold it this weekend after the former NBA player woke up out of his coma.
Both Kourtney Kardashian and Kylie Jenner took to Instagram to share a few snaps from the occasion, which required a pajama-only dress code. The girls donned coordinating striped 'jammies as they sipped hot chocolate beneath some adorable teepees with a sign reading "Troop Beverly Hills." 
Kylie captioned the cute snap, "Just our usual morning routine #troopbeverlyhills #sipstea."
Kylie also posted a second photo showing all five sisters—including Kendall Jenner and Khloe Kardashian—cuddled up on a sofa wearing the same matching PJ's. "Baby Shower vibes," she captioned the cute pic.
This is one of Khloe's few outings since Lamar was found unconscious in a Las Vegas brothel. She has stayed by his hospital bedside for the last week and a half as he fights to get better after being in a coma for several days.
Kendall posted a similar picture with all five sisters, writing, "sister Sunday."
E! News learned that during the celebration, Kris Jenner delivered a really sweet speech and talked about how it felt like just yesterday when North West was born. Guests would later enjoy a complete brunch including pancakes, waffles, eggs benedict and omelettes. They even received a box of Girl Scout cookies to go with the shower's theme. 
Gigi Hadid, Serena Williams and Cara Delevingne also showed up to support Kim and close friend Kendall.
Kylie took to snapchat to share a photo of the supermodel, who didn't appear to get the pajama dress code memo! She looked perfectly done up in a pair of Louboutin high-heeld boots, a flannel and leggings.
Kylie, on the other hand, was much more dressed down. Wearing no makeup and arriving without her hair undone, she shared a video of herself getting a "casual Sunday up-do" sleepover style while hanging out at the shower.
Kanye West and Caitlyn Jenner were also photographed walking into the shower along as well as Malika and Khadijah Haqq and Brittny Gastineau.
Meanwhile, Kim announced that she was pregnant in May, and sources confirmed to E! News that baby No. 2—a boy!—is expected sometime around Christmas.