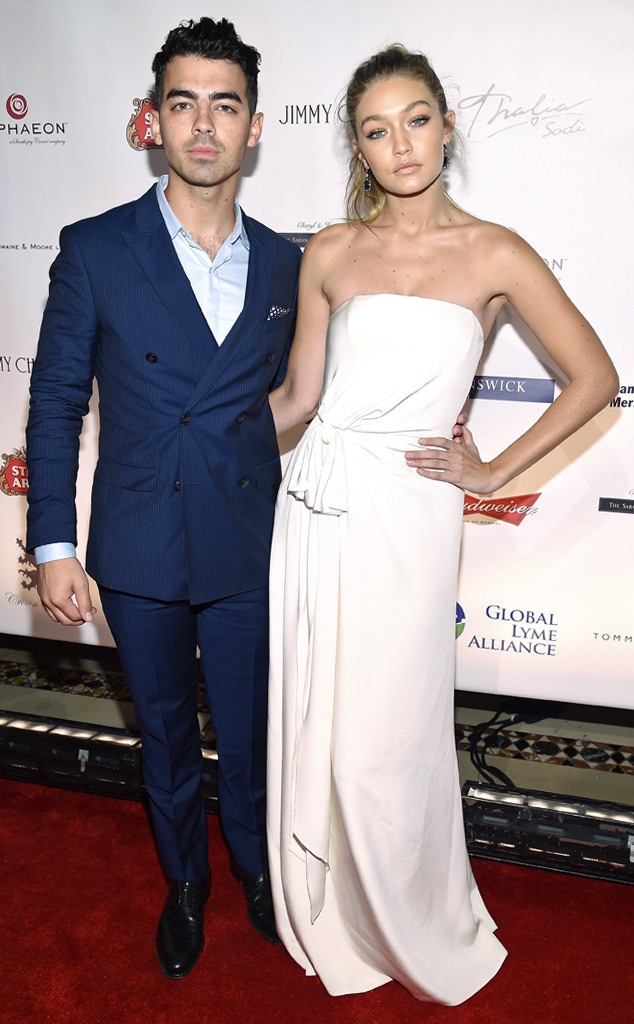 Dimitrios Kambouris/Getty Images for Global Lyme Alliance
Say it ain't so!
Gigi Hadid and Joe Jonas have recently broken up, E! News has learned. But thankfully, their breakup wasn't a messy one. "They still remain friends but their schedules started affecting their relationship," a source says of the amicable exes.
Friends for years, the supermodel denied dating reports that she was dating the pop singer in October 2014, telling E! News that Joe was merely "a really good friend of mine." Flash forward to June 2015, when Gigi and Joe took their relationship to a romantic level. As a source said at the time, "Gigi feels very comfortable with Joe and it's very easy to talk about everything that's going on in her life with him. He understands where she is at and they are not in any rush."
Joe first asked Gigi out in 2010. "We met at the Grammys when I was 13 years old," Gigi said during a Periscope Q&A in September. "And he asked me to a baseball game, and I said, 'No.'" Gigi attended the event with her music producer stepfather, David Foster, and her mother, Real Housewives of Beverly Hills star Yolanda Foster. "I was so nervous; I literally didn't even know what it meant to hang out with a boy," she said. "And also, Grammys are on a Sunday, and I didn't want to tell him that I had school the next day, so I was like, 'No, maybe next time.'" Joe persisted by writing his number on a piece of paper and giving it to Yolanda. "We've been friends ever since," Gigi said. "Except now, we're more than friends, obvs."
A month into their summer romance, Nick Jonas gave Gigi his seal of approval. "I like them together. It's a good thing," he told E! News' Carissa Loethen in July. "Joe and I are best friends. We're each other's support system and closest friends, so naturally I'm gonna see a lot of her because they're together and it's great. I'm really happy for them. I think they seem very happy together and it's good."
Gigi and Joe—nicknamed G.I. Joe—were not shy about showing off their affections in public. The two also worked together over the summer when Gigi co-directed Joe's band DNCE's "cake by the Ocean" music video. But as Gigi continued to travel the world for her modeling career and Joe was focused on his music, distance took its toll. "Joe and Gigi's relationship recently ended," a source told People, which first reported the hot young stars' split Wednesday morning. "Nothing serious happened...it wasn't a dramatic breakup. It was just hard to make it work with their schedules. They will definitely remain friends."
Ironically, what led to the stars' breakup may also be what gets them through it. Gigi, for example, recently fulfilled a childhood dream when she was cast for the first time in the Victoria's Secret Fashion Show. Joe, meanwhile, will soon embark on The Greatest Tour Ever Tour with DNCE.