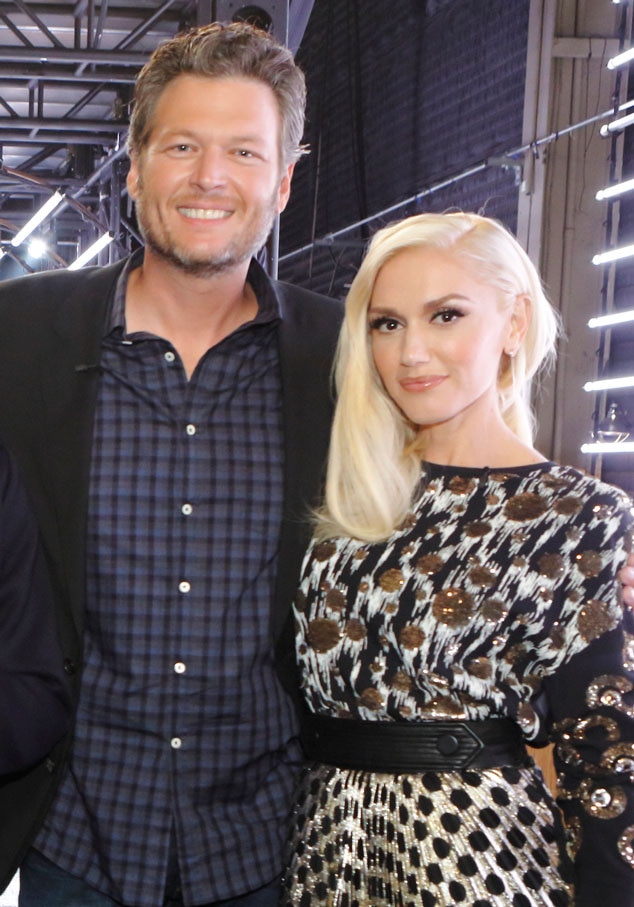 Trae Patton/NBC
After canoodling together throughout the Halloween weekend, it definitely appears that Gwen Stefani and Blake Shelton are a bit more than "just friends."
Not only did E! News reveal exclusive photos of the two with their arms wrapped around each other at Adam Levine and Maroon 5's Halloween party, but sources also tell us they were spotted holding hands at Jared Leto's shindig the night before and even ended up leaving together.
A source who works with the duo on The Voice says, "They are definitely flirty on the set and you can see they have fun together. There is something going on between them and they have spent time together off set. They don't want to label anything or define it, they just really like each other."
So how exactly did their relationship blossom into the cutest could-be couple we're currently obsessed with? Let's take a look back…
April 29, 2014: The Voice announces Gwen Stefani joins the coaching panel. The No Doubt singer joined Shelton and the other coaches—Levine and Pharrell Williams—after Christina Aguilera left the panel to give birth and take care of her baby. Stefani recently told Carson Daly that getting on the show was a "whole new, inspiring experience."
Trae Patton/NBC/NBCU Photo Bank via Getty Image
May 4, 2014: The duo was first photographed together for The Voice, looking a little less comfortable than they do today.
Sept. 17, 2014: Gwen battled Blake in a hilarious Lip Sync Battle on The Tonight Show with Jimmy Fallon and appeared to have the time of their lives.
December 2014: Gwen posts her first selfie with Blake, smiling ear to ear. She captioned the photo with an emoji heart that said "love him."
December 2014: Gwen and Blake look extra cuddly in the set of The Voice, sitting on his lap as they s trike a pose.
February 2015: Gwen admitted in an interview with Daly that her life totally changed in February of last year. "I got The Voice. And then I was on the show and that was just like a whole new inspiring experience to be on that show. And then, things went down, I think it was February where my life just, 'Woah!' It just changed."
She continues, "Before that, I couldn't really write. I wanted to, but my life was just so…I don't even know how to describe it. I'm trying to find the words. Please help me find the words! I couldn't write. It just wasn't happening and I was so insecure about it and then, it just opened up. It was like this channel just opened up."
June 10, 2015: The Voice announced that Gwen would return for her second season as a coach, joining alongside Shelton, Pharrell and Levine yet again.
Evan Agostini/Invision/AP
July 20, 2015: Blake and Miranda Lambert announce their divorce after four years of marriage.
The couple released a statement to E! News saying, "This is not the future we envisioned. And it is with heavy hearts that we move forward separately. We are real people, with real lives, with real families, friends and colleagues. Therefore, we kindly ask for privacy and compassion concerning this very personal matter."
Jason Kempin/Getty Images
Aug. 3, 2015: Gwen and Gavin Rossdale announce their divorce after 13 years of marriage.
They said in a joint statement, "While the two of us have come to the mutual decision that we will no longer be partners in marriage, we remain partners in parenthood and are committed to jointly raising our three sons in a happy and healthy environment," the couple said in a statement. "To that end, we respectfully request privacy from the media during this time."
John Shearer/Getty Images for iHeartMedia
September 2015: Blake made his first few public appearances after his divorce looking happier and thinner than ever.
Sept. 25, 2015: Gwen jokes about Blake's weight loss.  The singer told E! News at an event for her Harajuku Lovers fall collection that she hadn't seen him workout, joking that she'd only seen him drink.
Watch:
Gwen Stefani Jokes About Blake Shelton Working Out
Oct. 20, 2015: Blake tells the CMT Hot 20 Countdown that he's in a "good place" and has some exciting, new things happening in his life. He adds, "It's amazing how quickly life can turn around for you. I've had some pretty cool things in recent times that've happened and I'm loving it." Perhaps a budding relationship?
Oct. 27, 2015: While promoting The Voice, Pharrell challenged Gwen and Blake to sing "Hotline Bling" in a hilarious collaboration for a friendly competition of "Spin the Microphone" on The Tonight Show. Interesting that he picked those two to sing together, right?
@JDH Imagez / Splash News
Oct. 27, 2015: Blake was spotted arriving at the Four Seasons New York hotel, five minutes before Gwen showed up.
Oct. 30, 2015: Gwen and Blake joined up together at two separate Halloween parties. They were first spotted at George Clooney's Casamigos shindig before going to Jared Leto's party later that night. A source tells us they were spotted holding hands at Leto's soiree and eventually ended up leaving together.
Oct. 31, 2015: E! News exclusively released photos of The Voice coaches cuddling up during Adam Levine and Maroon 5's Halloween party, holding each other close throughout the evening.
Nov. 2, 2015: When asked about the photos and spending the spooky holiday with Blake, Gwen told Daly, "We're just trying to have fun, you know?"
Nov. 3, 2015: The No Doubt singer told Ryan Seacrest that she thinks Blake is really hot. When Seacrest asked if the rumors about them dating were true or not, she didn't deny them. "I'm not going to answer that right now, Ryan, I think I've given up enough of myself this morning to you." However, she couldn't help but add, "I think he's hot, don't you?"
So there you have it! At this point, all we can do is wait and see what happens as time goes on.
For more on Blake and Gwen's budding romance, make sure to tune into E! News at 7 and 11 p.m.