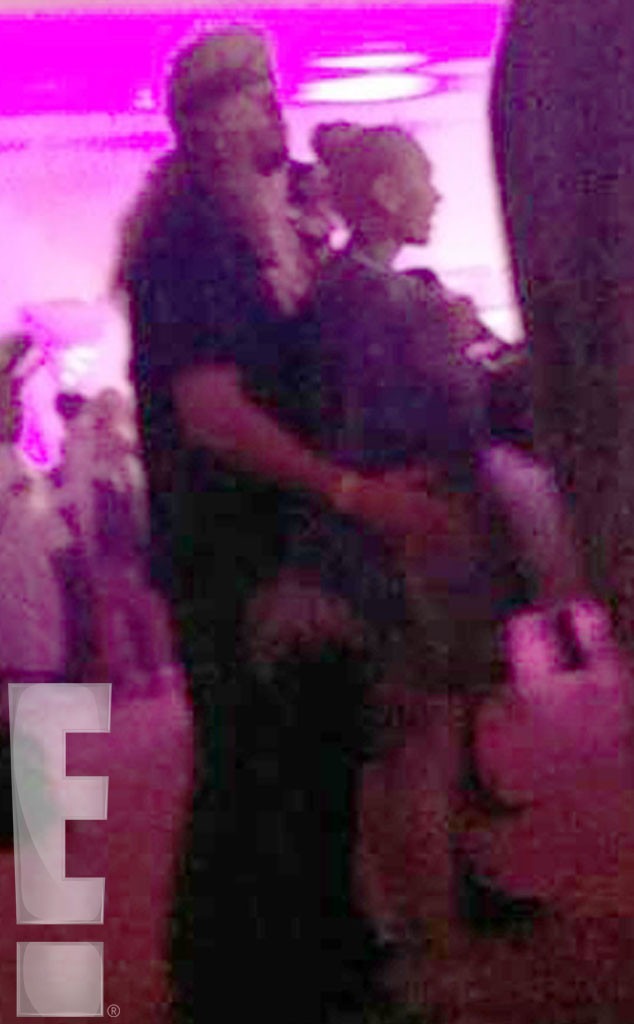 Splash News
As romance rumors continue to circulate around them, Gwen Stefani and Blake Shelton remain adamant about the fact that they're just friends.
However, E! News has obtained exclusive photos of the duo hanging out at Adam Levine and Maroon 5's Halloween party in Studio City, Calif., over the weekend that seem to show otherwise.
In the photos we see Shelton—wearing a rocker wig and headband—holding Stefani close with his hands on her shoulders, eventually moving them down to her waist. At one point he evens ends up with one hand on her backside!
In another photo, Stefani—wearing her hair in a bun on the top of her head—is spotted looking up adoringly at Shelton as they chat at the spooky shindig.
Sources confirm to E! News that The Voice coaches spent a majority of the holiday weekend together.
First, they were spotted at George Clooney's Casamigos party on Friday night. "Blake showed up at the Casamigos party right around the same time as Gwen. It was definitely strange for him to be there because he hadn't been in years past," our insider reveals. "They left right around the same time too. Although they were in separate cars when they left, they met up at the next party."
Though a second source tells us there was no PDA at Clooney's party, things changed as the night went on.  After leaving Clooney's bash separately, they reunited at Jared Leto's party later in the evening. Our insider says they were holding hands and eventually ended up leaving his party late in the night together.
However, according to another source who works with them on The Voice, this isn't too far off for the duo, who have been spending more time together as of late.
"They are definitely flirty on the set and you can see they have fun together," the source explains. "There is something going on between them and they have spent time together off set. They don't want to label anything or define it, they just really like each other and happen to be going through similar things in their lives. Gwen has spent time at Blake's house in the Hollywood Hills recently. They want it to stay under the radar and not make it a big public thing because who knows what will happen."
Meanwhile, romance rumors began swirling around Shelton and Stefani after they both made headlines this summer for their respective divorces.
Shelton and Miranda Lambert announced their divorce in July after four years of marriage. Then, just a few weeks later, Stefani shocked the world with news that she and Gavin Rossdale had filed for divorce after 13 years together.
Reps for both Stefani and Shelton did not return requests for comment.
(E! News and NBC are both part of the NBCUniversal family.)
For more on Shelton and Stefani's PDA-filled weekend, tune into E! News tonight at 7 & 11 p.m.