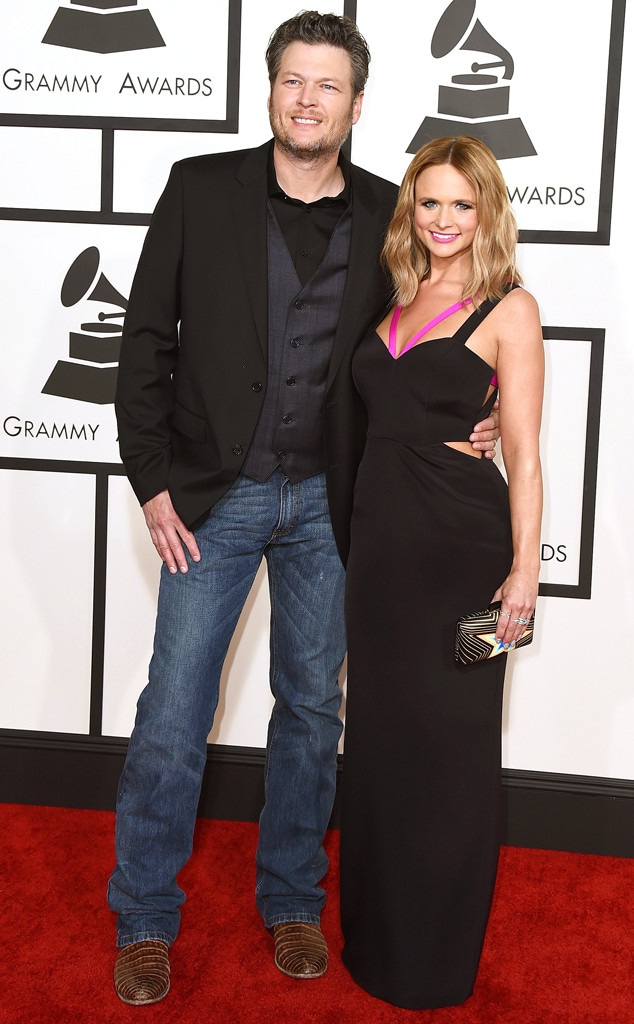 Jordan Strauss/Invision/AP
One of country music's cutest couples is no more.
Blake Shelton and Miranda Lambertare divorcing after four years of marriage, E! News has confirmed. "This is not the future we envisioned and it is with heavy hearts that we move forward separately," Shelton and Lambert said in a statement. "We are real people, with real lives, with real families, friends and colleagues. Therefore, we kindly ask for privacy and compassion concerning this very personal matter."
The 39-year-old Voice coach and the 31-year-old songstress tied the knot back in May 2011.
According to TMZ, who first broke the story, Shelton filed divorce docs a while ago (the pair were last photographed together at the 50th ACM Awards on Apr. 19 in Arlington, TX). The exes also reportedly have a prenup.
Frazer Harrison/ACMA2013/Getty Images for ACM
The breakup comes as a bit of a surprise for fans of the adorable duo. Just a few months ago, Lambert opened up to E! News about how they make their relationship work with two very busy work schedules.
"It's definitely a different way to live and to be in a relationship but I feel like our relationship started on going separate ways and we just made it work and we make sure that our time together really matters, so when we're apart, it's not really a big deal because we know when we're together, we're really together," the blond beauty said in April at the 2015 ACM Awards.
However, the country couple wasn't immune to tabloid breakup rumors. In 2013, the former lovebirds laughed off reports they were breaking up Twitter. "Hey @mirandalambert… I just read in a tabloid that our marriage is falling apart! FOCK!" Shelton wrote. Lambert responded with, "Oh no! Can't wait to read if we make it or not."
Shelton was married to ex-wife Kaynette when he first met Lambert during an awards show performance back in 2005. In 2014, Shelton said of his first divorce, "That was easily the toughest thing that I've ever been through. I put that, my divorce, up there with my brother's death, and that was a tough, tough call to make."
Shelton also said of keeping his and Lambert's relationship as private as possible, "We try so hard to keep people's focus on what we do and not our marriage...It's almost impossible to do that, and why open that door any further than it already is open by sitting down and doing interviews together rand giving every freakin' magazine out there a two-sentence quote that's turned into alien babies...There's no reason for us to do that. We do interviews [separately], I love talking about her, I'll talk about her all day if you want to. But for her and I to sit here together, it's just going to turn into something about our marriage and it's all we got left that's private, is she and I and our home. And we just want to keep it that way."
Shelton and Lambert do not have any children together.