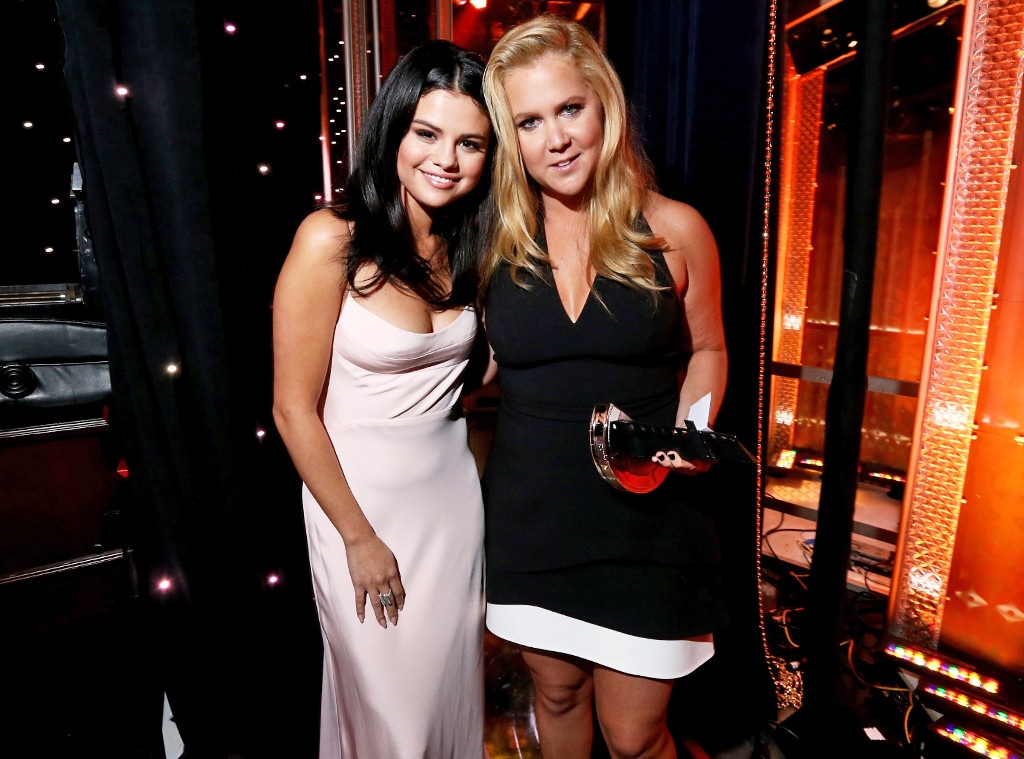 Christopher Polk/HFA2015/Getty Images for dcp
Add Selena Gomez to the long list of Amy Schumer's celebrity fans.
The "Revival" singer presented the Trainwreck star with the Hollywood Comedy Award at tonight's Hollywood Film Awards at the Beverly Hilton Hotel.
"I talk about her obsessively," Gomez said. "I've tweeted her often. I try to impersonate her and it doesn't really work. I actually just met her so basically what I'm saying is I'm really happy that clearly Jennifer Lawrence wasn't able to do this tonight because I love you."
Gomez praised Schumer for being the first comedian "to speak to the women of my generation."
"Amy, you've inspired me not take myself too seriously when I sit on my couch and I'm depressed about certain things," Gomez said. "You constantly made me feel I'm a bad ass even though most of the time I'm not. You say the things I wish I could say and you never ever make feel bad about anything I do in my personal life. "
After taking the stage, Schumer said, "I didn't even ask Jen—Selena, you were my first choice."
Schumer than proceeded to address fellow honoree director Tom Hooper for his earlier remarks gushing over Amber Heard, who plays a ballerina in his upcoming real life drama The Danish Girl.
"You know what, Hooper? Amber Heard may be your perfect girl but look at these thighs," she said as she lifted her dress. "I told you back stage I was scared I was going to pull up my dress. I did it, [but] it's not on TV. It doesn't leave this room."
Kevin Winter/Getty Images
The night's other honorees included Robert De Niro, Will Smith, Carey Mulligan, Benicio Del Toro, Jane Fonda, Alicia Vikander, Jane Fonda, Joel Edgerton, Saoirse Ronan, director Ridley Scott and the casts of Furious 7 and Straight Outta Compton.
Hosted by James Corden, the show's presenters included Ryan Gosling, Reese Witherspoon, Johnny Depp, Dakota Johnson, Jake Gyllenhaal, Laura Dern, Amy Poehler, Jamie Foxx, Armie Hammer and Russell Crowe.