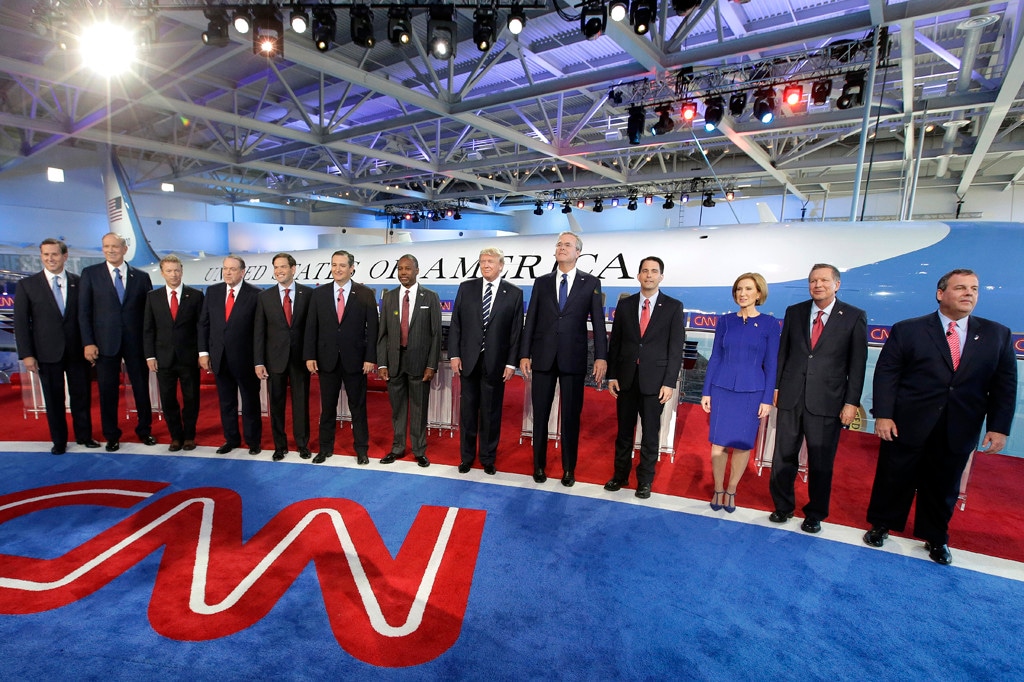 AP Photo/Chris Carlson
Pop & Politics contributor Judy Kurtz is the "In the Know" columnist for The Hill
__________________________________
The battle to win the presidency can sometimes resemble a big-budget thriller, with lots of action and plenty of twists and turns on the road to the White House.
But if the 2016 presidential race really was a movie or a TV show, who should play the current crop of hopefuls onscreen? 
We wanted an expert opinion, so E! News turned to casting director Corbin Bronson to get his take on which performers could fill the high-profile shoes of the most talked-about presidential candidates on both sides of the aisle.
"Definitely it starts with the lookalike thing to a degree, but you can have kind of this spitting image, and if they aren't the right actor, then you have a problem," says the founder of Corbin Bronson Casting, who's been casting for film and TV in Los Angeles for 15 years.
And casting for a part based on a real-life person can be tougher, Bronson, whose TV credits include Revenge and Monk, adds. "For me, it's 50-50 looks and acting."
Here's who should be ready for their phones to ring any minute:
Allen Berezovsky/WireImage, Mireya Acierto/FilmMagic, Laura Cavanaugh/FilmMagic, Brent N. Clarke/Getty Images
Dr. Ben Carson
"These are three lesser-known actors, but very fine actors," Bronson says of Joe Morton, Courtney B. Vance and Clarke Peters, his picks to play the Republican candidate, a retired neurosurgeon who's never held public office before.
Morton won a Guest Actor Emmy last year for his role as Olivia Pope's father on Scandal, while Vance snagged a Tony for Best Featured Actor in a Play for Lucky Guy in 2013 and "has the characteristics and mannerisms I think [could apply to] Carson," according to Bronson. The casting guru also praises The Wire's Peters, concluding, he "can do anything."
Lou Rocco/ABC via Getty Images, Francois Durand/Getty Images, Jon Kopaloff/FilmMagic
Carly Fiorina
The onetime Hewlett-Packard CEO turned White House hopeful "always had this long neck, this longer shape to her face. I feel like, look-wise, it's very important and specific," says Bronson. Both Frances Conroy and Patrick Clarkson, who played sisters on Six Feet Under, would power-suit the part.
Ethan Miller/Getty Images, Noam Galai/Getty Images, Peter Kramer/NBC, Erik Pendzich/REX Shutterstock
Donald Trump
The current GOP front-runner was one of Bronson's tougher casting assignments, he admits. "It's such a specific personality," he says, "but I really do think [Kelsey Grammer] embodies it."
Aside from the five-time-Emmy-winning Frasier star, William Shatner (two Emmys) or Craig T. Nelson (one Emmy) could also fit the bill.
Bronson calls Star Trek alum Shatner a "little outside-the-box" in terms of taking on a fictional version of Trump. He adds, "Craig T. Nelson, I think, is a great actor. He might do something funny with it."
Charley Gallay/Getty Images for The Weinstein Company, Jeffrey Mayer/WireImage, Jim Spellman/WireImage, AP Photo/Cheryl Senter
Sen. Bernie Sanders
The Vermont senator "is tough because nobody really looks like him, exactly," says Bronson. But his pick of Curb Your Enthusiasm star Larry David proved to be an inspired choice as he talked to E! News before David delighted with his spot-on Sanders impression on Saturday Night Live earlier this month.
If only David could tag-team with Bruce Dern and Richard Dreyfuss.
The Democratic candidate, Bronson says, "kind of reminds me of all three of these people put into one."
Dimitrios Kambouris/WireImage, Jason LaVeris/FilmMagic, AP Photo/Richard Drew
Jeb Bush
Big Love star Bill Paxton "just really came to mind," Bronson says. "He's the same build and also [does] the same kind of 'Texas thing' for me" as the former governor of Florida.
David Keith, who earned a Golden Globe nomination for 1982's An Officer and a Gentleman, isn't as recognizable but he too shares some of Bush's physical traits, observes Bronson.
Universal Pictures, Jordan Strauss/Invision/AP, EPA/THAIS LLORCA /LANDOV, MANDEL NGAN/AFP/Getty Images
Hillary Clinton
It might depend on which point in the Democratic frontrunner's life a potential film project would focus on before you could cast the ideal actress to play Clinton, Bronson tells E!.
"I think if you cast somebody like Emma Thompson, she could play Hillary up to 20 years earlier and still kind of pull it off when she's more modern-day," he says.
But Thompson (who pretty much did play Clinton in 1998's Primary Colors) is not the only one Bronson says could take on the role of the former secretary of State: "A lot of people think Meryl Streep would be the best choice. I don't think I'm alone there."                                            
He adds, "I think Edie Falco would do something interesting with it as well."
Justin Sullivan/Getty Images, Randy Brooke/WireImage
Sen. Marco Rubio
Danny Pino, who played a detective on both Law & Order: SVU and on Cold Case for seven seasons before that, pretty much has this role covered, according to Bronson.
Pino is "really kind of this ensemble actor in a lot of ways, but he's done some nice movie stuff and I know he could pull it off," he says.
Rubio is "a little lesser known to a lot of people so it's a little easier to take some liberties," Bronson says. And, with 16 Republicans still running in the primary at press time, the Florida senator's been relegated to ensemble player so far, too.
PAUL J. RICHARDS/AFP/Getty Images
Ted Cruz
Directors may be out of luck when they try to cast the Republican senator from Texas in their next project.
"I'll tell you, nobody in the world looks like Ted Cruz," Bronson says with a laugh. "He can play himself."
Watch:
Kate McKinnon Talks Playing Hilary Clinton on "SNL"
Kate McKinnon talks playing Hillary Clinton on Saturday Night Live