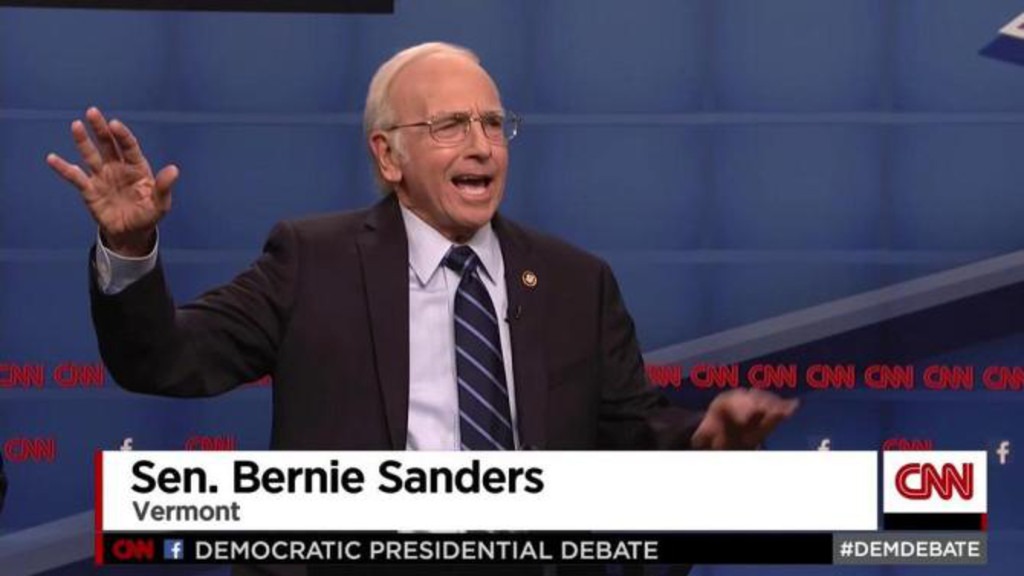 NBC
On SNL's cold open, Taran Killam played Martin O'Malley, Kyle Mooney was Lincoln Chafee and Alec Baldwin thought it was "about damn time" that Jim Webb got to talk (oh yeah, Alec Baldwin was on too!!!).
Then "Hillary" was introduced, followed by "Bernie Sanders." Cue the mad applause as people realized that SNL had taken the advice of everyone, ever, and cast Larry David. (No offense to Fred Armisen's previous portrayal of Sanders in the past, but this was just always meant to be.)
"Enough with the hellos, let's do this," he crankily but good-naturedly encouraged the crowd to cool it with the applause.
They of course took on the part of the real debate where Sanders asserted that he was sick and tired of hearing about Clinton's "damn emails." (Let's just say the epic handshake was a little exaggerated.)
"Hey, what's the deal with emails anyway?" David-as-Sanders continued, sounding a little...familiar. "I forgot my password the other day, so they say 'we'll email you a new one.' But I can't get into my email to get the password!"
And in addition to the hilarity, there was the nugget of funny-cause-it-could-be-true.
Gearing up for a big announcement, Sanders said, "Coming next November I will be… Hillary Clinton's vice president."
Kudos to SNL for the great get. And kudos to David, who just as Tina Fey did when Sarah Palin hit the scene in 2008, knew that he had a public service to perform.
And the night was already going to special—Tracy Morgan was hosting, marking his first return to the show since being critically injured in a car crash in June 2014.