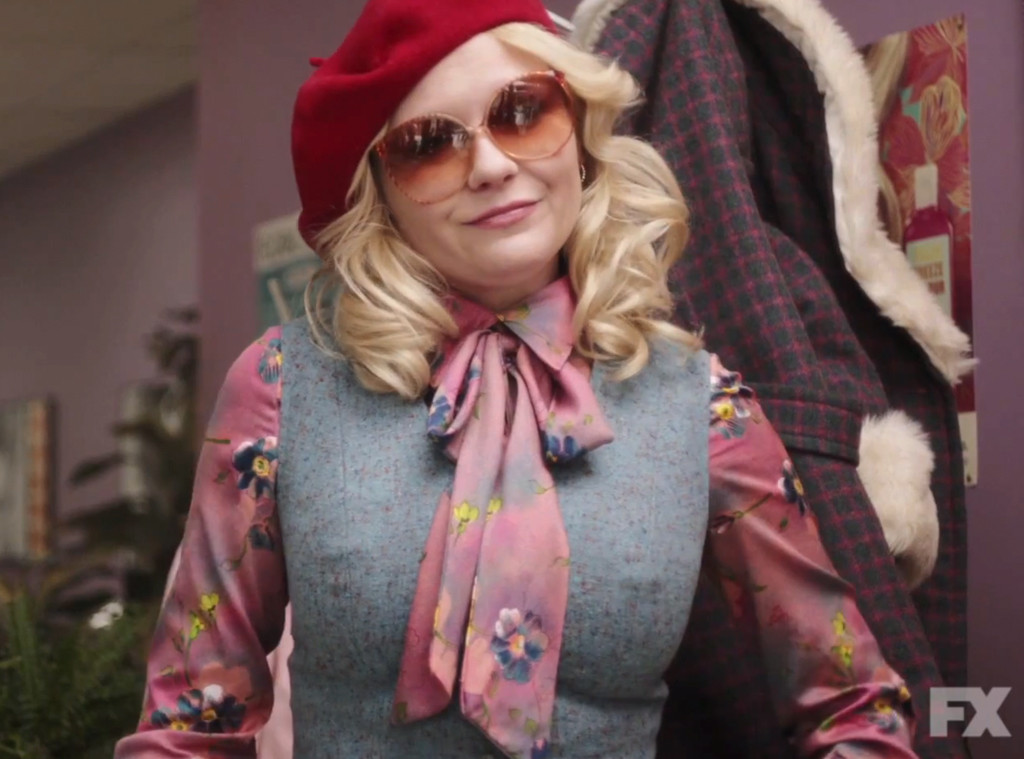 YouTube
Kirsten Dunst plays a sweet Midwestern beautician in FX's Fargo—a sweet beautician who might possibly be a sociopath. Or not very smart. One or the other!
"Peggy does something very dumb and very bad and then she tries to cover it up like nothing ever happened," the actress told E! News about her role in season two of the FX hit, which is set in 1979. "So you slowly realize there's a sociopathic streak in her to be able to do something like that."
The mistake Peggy makes will get her and her unassuming butcher's assistant husband, Ed (Jesse Plemons) involved in this season's mystery, something the bumbling couple isn't really prepared to handle. "They're kind of like the uncool Bonnie and Clyde to me—that's how I think of them," she told us at the Fargo season two premiere in Hollywood. "They're not cool at all."
Patrick Wilson plays Lou Solverson , the state trooper investigating the crime whom we met in the present day in season one. "My gosh, Keith Carradine is one of the most soulful, open, grounded actors so to step into those shoes was a little bit daunting at first," Wilson said of playing the younger version of Lou. "The events in this season shape a lot of who he becomes so that actually gave me a lot of freedom. A guy freshly back from Vietnam who's a state trooper with a wife and a young family is in a much different place than the wounded diner owner in season one."
As we learned in season one, the Sioux Falls murder that this season follows was a pivotal case in Lou's career.
"Lou is a great cop who, like many cops, is trying not only to solve the crime but keep those who are innocent out of harm's way," Wilson said of his character's crime-solving prowess. " And he knows—not unlike in No Country for Old Men, where Tommy Lee Jones knows people are in way over their heads—you've got bad guys, you've got really bad guys and you've got your super-villains, and you're just trying to keep everybody at bay and solve this crime and that's a lot of what Lou's trying to do throughout this."
That means there are a lot more moving pieces in this season of Fargo, something creator Noah Hawley is excited about. "It was so important to me that every character in every story grabbed you and that by the time you were done with that and you moved on you kind of didn't want to go," he told E!. "I love all my children equally. I do! Because they're all adding up to the one big child, you know what I mean? It only works if it ALL works."
Fargo airs Monday nights at 10 p.m. on FX.