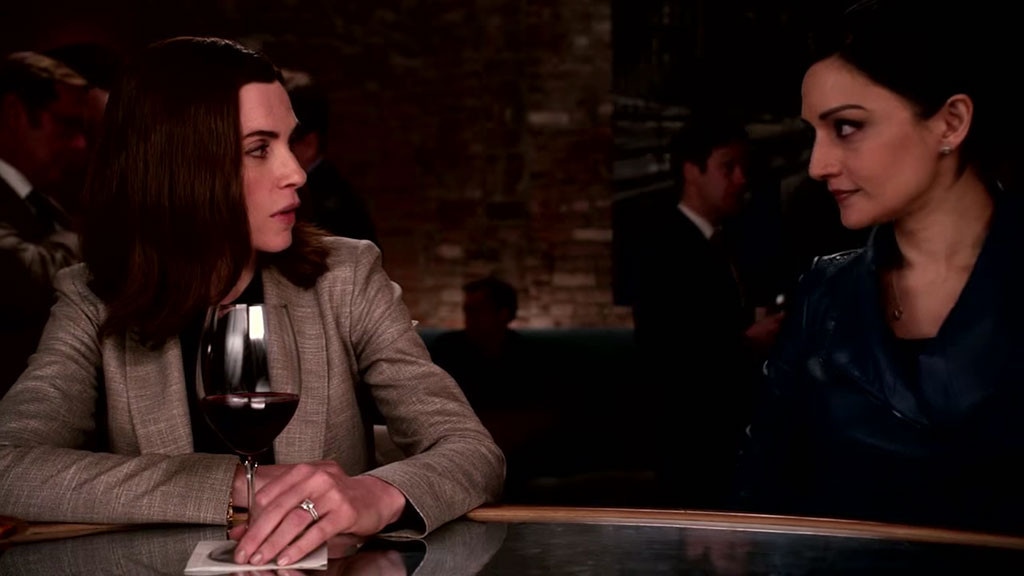 YouTube
Julianna Margulies has heard the Archie Panjabi feud rumors and theories and said that's all rubbish. The Good Wife star spoke about the perceived tensions between her and Panjabi, who left the series at the end of season six with a CGIed final scene with Margulies, during The New Yorker Festival.
"Right, I've heard about [the feud]. Who says that? It's totally gossip," Margulies said at The New Yorker Festival, according to Vulture. "I heard that question had been asked to [co-creator] Robert King. There's no story there, sorry … I actually had heard [that rumor] and I feel that it has been talked about and answered. I feel people just like to have gossip or make something into something that isn't there. There's no animosity on my part. It's a shame, because I wonder if it was two men, when one finds out that he f--ked his best friend's wife, if it would get that same attention, you know what I mean?"
Margulies is of course referring to what happened between her character Alicia Florrick and Panjabi's Kalinda Sharma. The two characters were pals up through season two when Alicia found out Kalinda had slept with Peter Florrick (Chris Noth) prior to knowing Alicia. The two characters eventually defrosted and shared scenes for the next season and a half before abruptly stopping halfway through season four. They sort of shared a final scene once again in the season six finale, but that was faked.
"It was shot the way Robert wanted to shoot it, and the story line, too," Margulies said, according to Vulture. "You also have to remember, there's difficulty … [Panjabi] was also doing another show, called The Fall. I went along with whatever Robert asked me to do and I did it happily."
Panjabi took to Twitter to share an interesting tidbit (along with the Vulture story): "@TheFallTV was not even in production at that time and I was in New York ready to film the scene!"
Panjabi previously told E! News  that "the decision process is something I'm not privy to," in regards to the final scene. "I'm just grateful to the powers that be that they made the decision to cast me."
CBS defended the final scene at the 2015 TCA summer press tour, saying it was a satisfying ending.
"Oh my god. What happened? They ended the relationship. I can tell you right now it's movie magic. The way a producer shoots their show, that's really all I care about. Did the relationships work, did the story work, did the audience feel like they saw the end of the relationship? And they did," Nina Tassler told reporters after her CBS panel. "I haven't really heard that [it affected the way the audience saw the show]. Honestly, from audiences, I've heard they loved the show, people are much more invested in Alicia's journey and that's where the show is going, forward and to the future. Rob and Michelle, they're around, be my guest, go talk to them."
Feud or not, The Good Wife is still going. Season seven kicked off with new additions Cush Jumbo, Margo Martindale and Jeffrey Dean Morgan with Margulies' Alicia continuing her journey Sundays at 9 p.m. on CBS.
Watch:
Can You Catch "The Good Wife" Stars in a Lie?