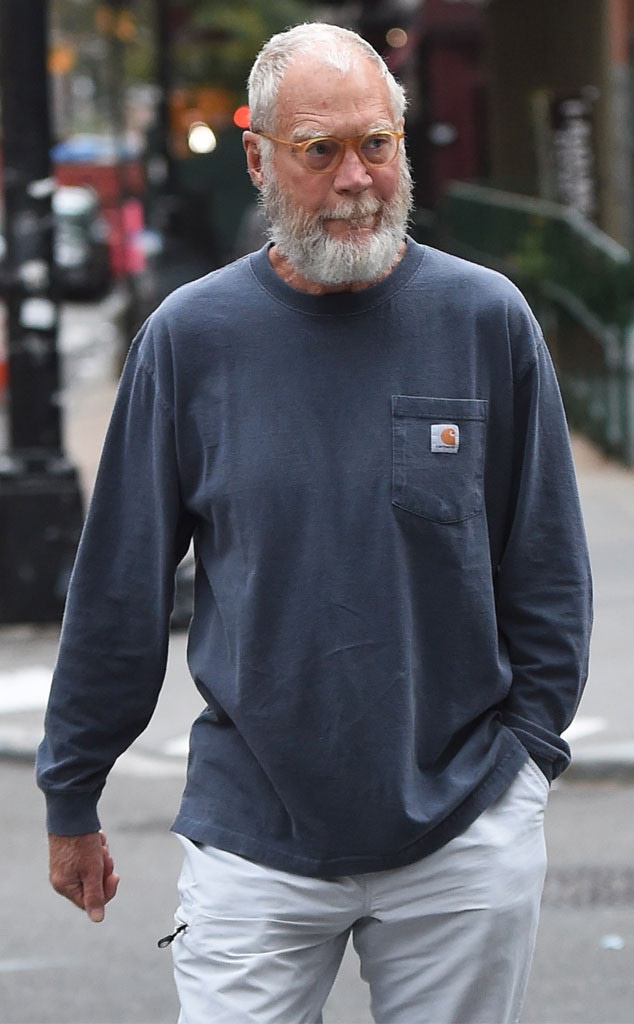 Ron Asadorian / Splash News
Is there an unspoken rule about growing a beard that we're simply not aware of? 
Taking a cue from his replacement Stephen Colbert, David Letterman stepped out in NYC with his son, Henry, on Sunday, where the former Late Show With David Letterman host was dressed down and sporting a scruffy beard, appearing completely unrecognizable (serious props to the paps—we had to do a double take). 
Wearing a long sleeved t-shirt, cargo pants and sneakers, the 68-year-old retired star looked nothing like the former host we were previously accustomed to seeing on late-night television for 22 years. 
Ron Asadorian / Splash News
Letterman, who left behind a 33-year late-night legacy, first debuted his beard weeks after retiring from The Late Show on May 20, and he seems to be a fan of his facial hair, as it has only grown longer (and much scruffier) since the last time we saw the father of one. 
So, what's he been up to since he passed his late-night baton to Stephen Colbert? Exactly what he's supposed to be doing: relaxing. 
"It's stunning what you find out about yourself when everything you've done for 33 years changes. It's like ice melting out from under you," Letterman said an interview with Indianapolis Monthly in June, after joking that he can no longer perform menial tasks on his own. 
"I wasn't born helpless, but when I first started doing the show, my manager said, 'You're going to need an assistant.' I asked why, and he said, 'Well, you'll need somebody to make phone calls.' And I thought, I can't make my own calls?" he explained to the magazine.
"As it turns out, after all these years of having someone make my calls for me, I can no longer operate a telephone," he continued, adding, "I don't know what to do with my hair, either."
Now that he's no longer on air every day, Letterman noted that he'll "never wear makeup again," and he's been filling his time by hanging with his son and brushing up on his fisherman skills. 
"Any kind of trout fishing where you can stand in the river is just delightful. I don't know what I'm doing, but I can stand in the river," he told the publication. "I'm pretty good at that. And isn't that 90 percent of it?"
You do you, Dave. 
Watch:
Bruce Willis Shares Bizarre "DWTS" Story on Letterman