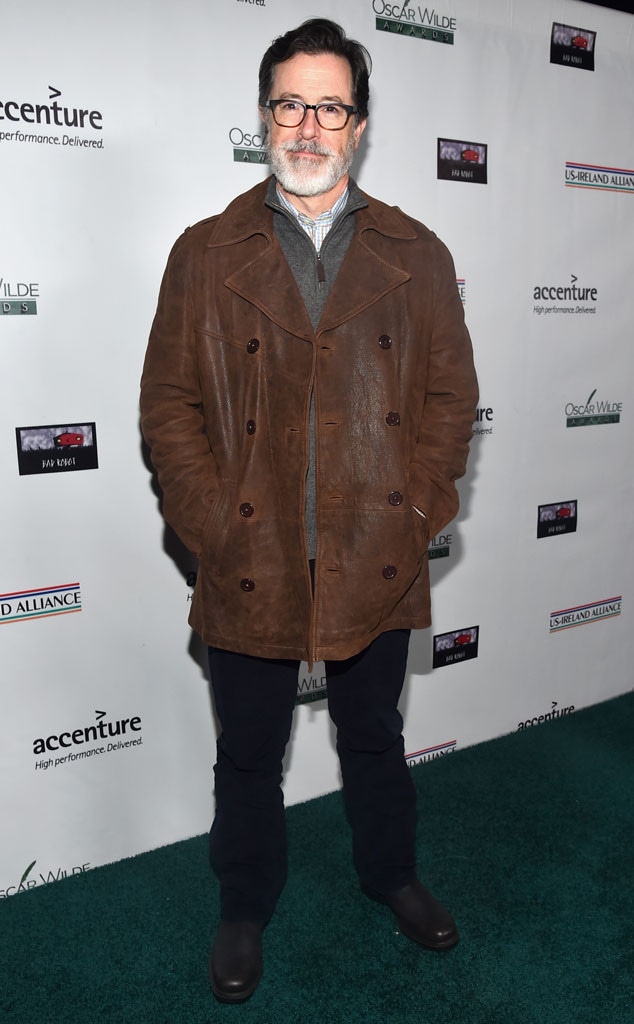 Alberto E. Rodriguez/Getty Images for US-IRELAND ALLIANCE
Let's be real, you guys, Stephen Colbert is one handsome man.
But he just upped his appeal when he decided to join the beard brigade and revealed that his hunky facial hair is silver! Sigh, he's so distinguished.
Colbert, who was honored tonight at the 10th annual Oscar Wilde Awards, tells E! News his new fuzzy feature is part of his time-off look (the former Colbert Report host is currently in between shows as he prepares to takeover for David Letterman in September), and adds, "I was curious what I actually looked like and it turns out it's this."
We're a fan, Stephen! But what does his wife Evelyn think about her hubby's hairy situation?
"My wife has gotten used to it now. At first she wasn't sure who this man in bed with her was," he joked. "She likes it OK, so I guess I'm OK with it."
Vince Bucci/Invision for the Television Academy/AP Images
The nonprofit U.S.-Ireland Alliance created the casual soiree, which took place at J.J. Abrams' Bad Robot production company in Santa Monica, to recognize the contributions of the Irish in film and television.
"I love this event and all it stands for and the U.S.-Ireland Alliance," Abrams told the audience upon introducing the funnyman to accept his accolade. "Still, I cannot f--king believe Stephen Colbert agreed to accept this award. I cannot believe it!" 
"I'm honored and do not deserve what has just happened to me tonight…," the 50-year-old comedian told the crowd before poking fun at his new look. "I haven't been on stage in two months, my show ended two months ago and I'm technically—for the record, I'm not in character, this is me, right now—and it turns out, a lot of people don't know this, but the real Stephen Colbert had a beard the whole time. I was just so deeply in character for ten years you never noticed, that's how good of an actor I am." 
Unsurprisingly, Colbert brought the laughs during his speech, which ignited a number of cheers from the crowd as he praised the Irish people in addition to playfully poking fun at their legacy. 
"When one thinks of Ireland, one thinks of Los Angeles," Colbert, whose middle name, Tyrone, is of Irish origin, quipped. "Very much the same only in Los Angeles the grass is brown, the sheep have implants and people starve themselves on purpose." 
And in case that wasn't enough to remind you just how much the satirist's humor is missed on the boob tube, he then hilariously called the potato famine the "original Atkins diet." 
Touché, Colbert. Can't wait to have you back on air!