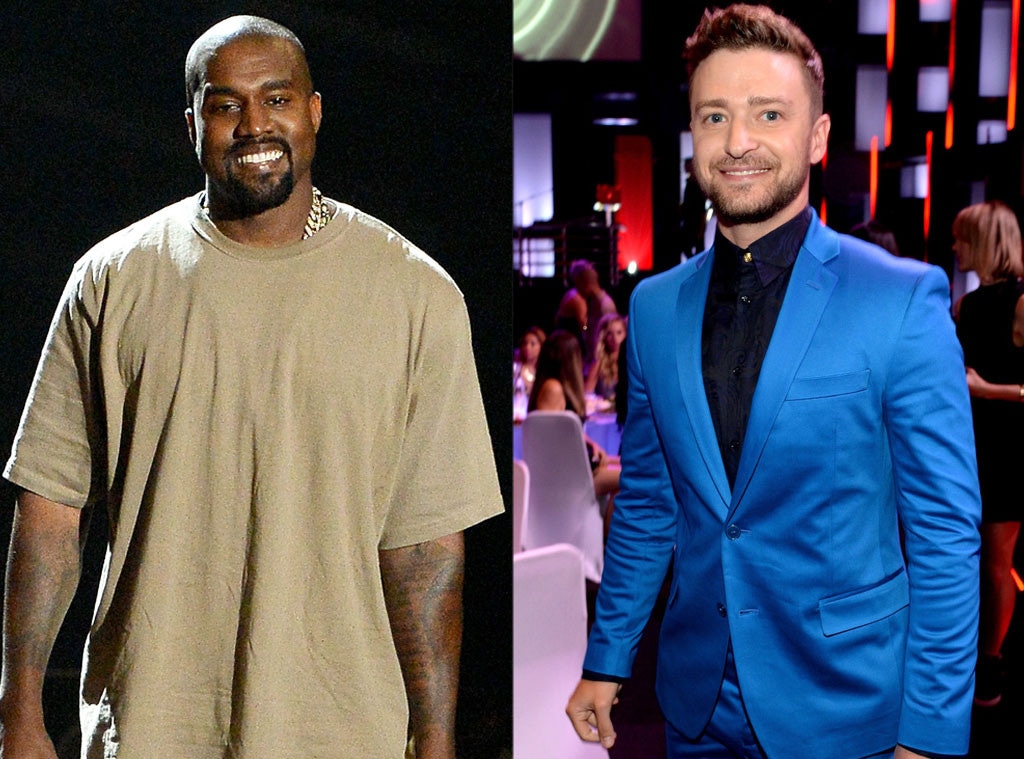 Kevin Mazur/Getty Images for iHeartMedia, Lester Cohen/WireImage
It wouldn't be a Kanye West speech without some jabs thrown in, right?
Even when 'Ye was trying to apologize for his remarks about various artists in the past, he still managed to insult one during his acceptance speech for the Video Vanguard Award at the 2015 VMAs Sunday night: Justin Timberlake. Yeezus called out Justin, who lost Album of the Year in 2013, for crying.
"The contradiction is: I do fight for artists, but in that fight I somehow was disrespectful to artists. I didn't know how to say the right thing, the perfect thing," Kanye said onstage. "I just...I sat at the Grammys and saw Justin Timberlake and Cee-Lo lose. Gnarls Barkley and the Future Sex album...Justin, I ain't trying to put you on blast but I saw that man in tears, bro. And I was thinking like, he deserves to win album of the year."
But the 'N Sync alum fortunately had a good attitude about it. The "Strawberry Bubblegum" crooner tweeted, "Kanye is so cute, y'all."
When people started to see it as jab, JT added, "Jokes, you guys... Jokes. #chill." Justin must have seen only the portion about him at the time because he later tweeted that he finally saw Kim Kardashian's husband's speech in its entirety. "Btw...I JUST watched my man 'Ye's FULL speech... He always has a point. And I support it. #truth," he finished.
We can see his "point," but the rest of Kanye's garbled, 13-minute speech was insanely tough to follow, that is until he ended it by declared his presidential run in 2020. Even crazier than his announcement was social media's reaction! The Internet had a field day with Kanye's big news, memeing him and tweeting up a storm about his news. Whether or not he was kidding remains to be seen.
What did you think of Kanye's speech? Sound off in the comments below!
Don't miss the highly anticipated return of Fashion Police tonight for the VMA special at 8/7c featuring hosts Melissa Rivers, Giuliana Rancic, Brad Goreski with special guests NeNe Leakes and Margaret Cho!