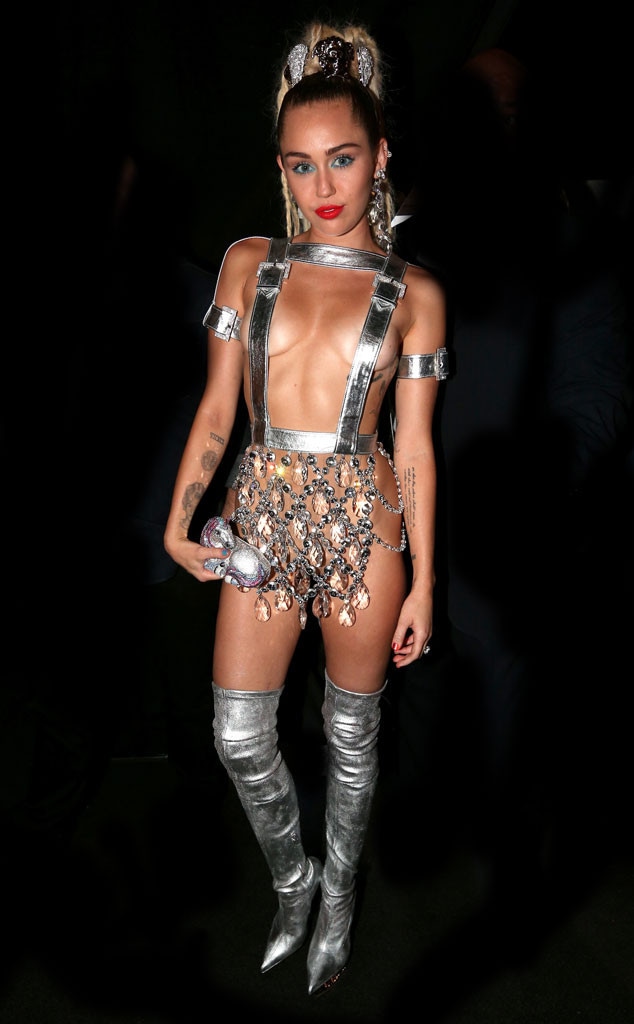 Getty Images
Miley Cyrus obviously heard our "What will she wear next?" question and raised us with, well, nothing.
The 2015 MTV VMAs host took to the red carpet in a look that's almost indescribable. Almost. The star donned two strategically placed silver straps over her chest and a crystal-effect miniskirt—and we use the word "skirt" loosely, because it's essentially just two pieces of blinged-out macramé barely covering her front and butt. What we're trying to say is that Miley's basically naked.
And this is a designer look, y'all. Yup—Miley's rocking Versace.
Frazer Harrison/Getty Images
We're not super surprised, of course: This is post-Bangerz Miley and she is hosting music's wildest night. Not only that, but the star gave us a preview of her boob-baring VMA looks to come when she stopped by Jimmy Kimmel Live! on Aug. 26. Miley sported a pair of heart-shaped pasties (all the better to go with her glimmering rainbow get-up), leaving host Jimmy Kimmel almost speechless.
"To be honest, I'm a little cold. You know, I would have worn a shirt—actually, I wouldn't have," she quipped to the funnyman. Not to worry, she also revealed that she travels with "a lot of tape," so we don't think the slim straps she's wearing tonight will slip out any time soon. (And if they do, there's likely a pasty in place to come to the rescue…or she can borrow Selena Gomez's pair).
If this is Miley's red carpet look, we can't even imagine what else is to come on stage. (Really, full-blown naked would be less shocking than actual clothes.)
Frazer Harrison/Getty Images
But c'mon: She's just being Miley!
What do you think of Miley barely-there red carpet look?
Don't miss the highly-anticipated return of Fashion Police this Monday for the VMA special at 8/7c featuring hosts Melissa Rivers, Giuliana Rancic, Brad Goreski with special guests NeNe Leakes and Margaret Cho!