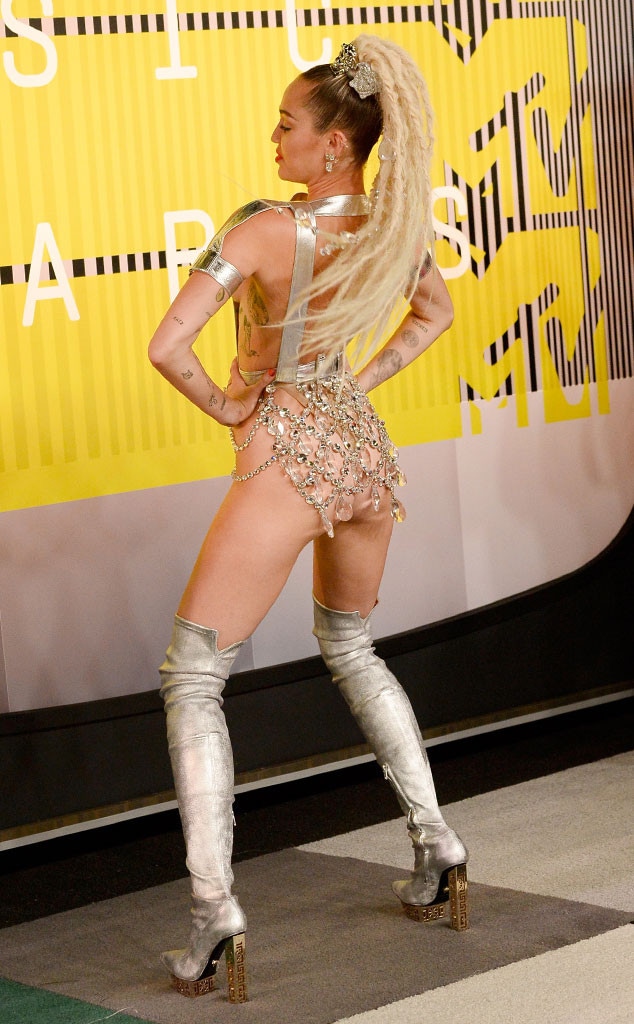 Frazer Harrison/Getty Images
One of these days, Miley Cyrus will learn to come out of her shell.
Just kidding, she was straight bonkers during the 2015 MTV Video Music Awards and we loved every minute of it. Her outfits, her beef with Nicki Minaj that played out live in front of everyone…it was all gold. But yeah, the people who were responsible for censoring her probably got carpal tunnel from slapping the button so much.
At least Miley knew right from the beginning that she might never be asked back, because she said at the top of the show that she was sure this would be the last time MTV would let her host.
But if this was her one and only time hosting the VMAs, at least she went out with a bang. Here are the 17 craziest moments from Miley's hosting gig:
1. When she admitted that Donald Trump had her vote. Yeah, she was throwing support towards Kanye West when he runs for president in 2020, but why in the hell would she ever give her vote to Trump in the first place?!
2. When she arrived on the red carpet wearing essentially what dangles off chandeliers
3. When she got high with Snoop Dogg who was really a pig. Actually, we still don't know what happened with that skit
4. When she had to hear Nicki Minaj call her a "bitch" live onstage in front of everyone and the night got real awkward real fast
5. When she asked "are my t--ts out?" during her quick change and the world had to say, "Yep, they sure are."
6. When she slid onto the stage and our drug trip in award show-form was off and running.
Kevin Winter/MTV1415/WireImage
Kevin Winter/MTV1415/WireImage
Jeff Kravitz/MTV1415/FilmMagic
11. When she tried to out-do Ellen DeGeneres' Oscar selfie with the strangest, most random assortment of humans we've ever seen
12. When she tried to remain incognito after that Nicki confrontation but she just couldn't hide in the shadows
13. When she introduced Jared Leto as both "the woman who I had my first lesbian experience with" and "Jay Leno!"
Kevin Mazur/MTV1415/WireImage
14. When she told Justin Bieber to call her when he's legal. A: he is legal and B: we really don't think he's your type, Miley.
15. When she ended the night with a performance surrounded by drag queens, singing lyrics like: "Yeah, I smoke pot. Yeah, I love peace. But I don't give a f—k. I ain't no hippie!"
17. And finally, whatever she did to..whatever this thing was.
Kevin Winter/MTV1415/Getty Images For MTV
And that's it! G'night, everyone!
Don't miss the highly-anticipated return of Fashion Police this Monday for the VMA special at 8/7c featuring hosts Melissa Rivers, Giuliana Rancic, Brad Goreski with special guests NeNe Leakes and Margaret Cho!