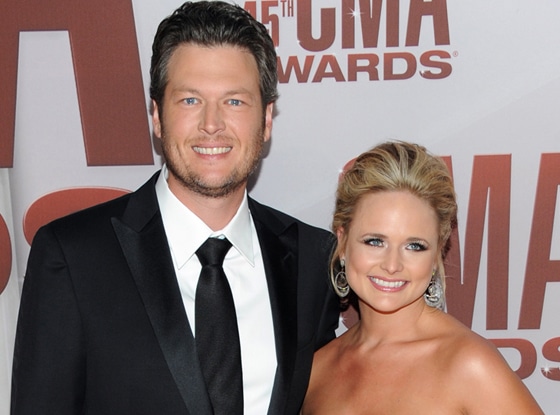 ABC/JASON KEMPIN
When Miranda Lambert took to the stage on Saturday, she couldn't hide her heartbreak anymore.
She choked up as she started singing "The House That Built Me." With the headliner overcome with emotion and unable to get the words out, the huge crowd ended up finishing the song for her. They tried to comfort her, almost chanting in solidarity, but it was no use.
Weeks of keeping her broken marriage a secret had finally caught up with her. Lambert knew that, thanks to a joint statement that would released within days, the world would soon know that her fairytale romance with Blake Shelton was over. They were getting divorced.
From the outside, Blake and Miranda seemed to have everything: more money than you could ever spend, celebrity friends, fame and a huge Oklahoma ranch that served as their retreat from the craziness of their jam-packed lives. And most of all, they had each other.
But underneath the veneer of the perfect marriage, country's golden couple were leading increasingly separate lives.
Here's why we think that they were cursed from the start:
1. They Couldn't Escape Their Pasts: When Miranda and Blake first performed together in 2005, it was love at first sight. But the sweetness of their meet-cute was tarnished by the fact that Blake was married to somebody else at the time—a fact that would shadow them ever after.
After their wedding day in 2011, they were besieged by rumors of extramarital flirtations, the stories reaching fever pitch in 2013 when Blake was forced to deny he was romantically involved with singer Cady Groves.
Through it all, Blake and Miranda seemed to remain strong, even joking about split rumors on social media. In a 2013 interview with People, Blake admitted honesty was how they fought back. He told the magazine: "[I tell Miranda], 'I have nothing to hide from you.' That's always been our policy: 'Here's my phone. Go through it'... That's really the kind of trust we have...There are no secrets. [I'll say], 'Go dig through my drawers or my computer if you feel like you need to.' And that's been a really good thing, because I don't want her to ever have any doubts."
But the rumors wouldn't stop. And while we as fans might have become immune to the stories (if you believed everything you read about them, they had already separated many times over), they obviously had not.
Blake's candid admission about allowing Miranda access to his text messages and emails ultimately gave us a glimpse as to what was really going on behind closed doors: Miranda was starting to question whether the cheating rumors were true.
An insider told E! News: "Trust was an issue for both of them. It went along with having to spend a lot of time apart. Rumors of his infidelity put stress on them. Despite denials, even just rumors of cheating are still hard to hear."
Evan Agostini/Invision/AP
2. Success Was Tearing Them Apart: In their joint statement announcing their divorce, Blake and Miranda said, "We are real people with real lives with real family and friends and colleagues."
But no matter how much they tried to live a low-key life on their farm during rare moments of downtime, the reality is, they were living anything but regular lives.
When Blake and Miranda met they were both enjoying a moderate amount of fame but neither was considered a super-star. Together, however, they became an explosive mix. Their star status rose rapidly, and they soon became a powerhouse couple.
In 2011, Hollywood came knocking and Blake signed up to be a judge on The Voice. It was an opportunity for him to appeal to a much wider audience than before—and it worked. His effervescence radiated off the screen and his back-and-forth with friend and rival Adam Levine became the stuff of TV bromance legend. But the demanding two-seasons-a-year schedule meant that he would have to spend a significant amount of the year in California. It was becoming obvious that as Blake and Miranda became more and more famous, it was going to be harder to find time to see one another.
Watch:
E! Looks Back at Blake Shelton and Miranda Lambert
So they came up with a rule to never spend more than two weeks apart. In an interview, Blake explained, "….if it wasn't for her we probably wouldn't be able to keep that promise because you can't just up and leave a live show, you know, and because she's mostly a touring country artist and that's where her heart and soul is it's easier for her in between tour dates to jump on an airplane and come out and see me and she's been really good about doing that, and I thank God because that's what keeps me going is when she comes out here."
Even with private jets on standby, the number of days spent together started to dwindle.
Last year Blake and Miranda had combined earnings of over $50 million dollars and they were forecast to pocket even more this year. But money can't buy happiness.
A source tells us, "Their busy schedules were a big issue for them. They both worked a lot and had to spend a lot of time apart. The less time they spent together, the more they grew apart."
3. They Simply Weren't Compatible: Blake is known to be fun-loving and always the joker while Miranda is much more serious. As she told 60 Minutes last year: "He has taught me how to have a sense of humor and how to have fun."
His vivacious personality could be a blessing and a curse. At first the differences between them helped Miranda look at the world in a different way. "I'm not sunshine and roses, " she told Marie Claire late last year. "Blake's the happiest person on the planet. He pulls me out of my darkness... Literally, everything is the best about being married."
But that same charm might have also helped fan the flames of those rumors about Blake's life on the road. Here was a man who made a living out of writing songs about loving a drink and liking pretty girls.
In some ways Miranda encouraged the gossip. She told 60 Minutes, "He really is what he sings about...listen to his music, he lives what he says he is..."
Meanwhile, it hadn't gone unnoticed that Blake and Miranda had not been photographed together for months. We hoped it was just a phase because otherwise it would just be another case of those who had protested too much.
Watch:
Blake Shelton Calls Miranda Lambert His "Stage Mom"
4. Their Body Language Was on the Fritz: Before Miranda walked up to accept her 2015 Grammy for Best Country Album, she gave Blake a hug. Watching it now, their embrace looks cold. As he kisses her on the head, they resemble old friends, not lovers.
And on April 19, when Miranda won three big honors, including Album of the Year, at the 2015 Academy of Country Music Awards, she thanked Blake zero times. Oh, and they didn't walk the red carpet together.
Ultimately, there was no one thing that led to the end of Miranda Lambert and Blake Shelton's marriage.
The odds may have been stacked against them, but there are plenty of couples you can say that about. Headlines come with the territory and sometimes, with no apparent rhyme or reason, one famous duo sets sail for Cutest-Couple-Ever Land while the next one ends up aboard the Trouble-in-Paradise Express. Sometimes a couple can power through and other times, where there's smoke, there's fire.
Blake and Miranda kept up the united front for as long as they could. But while insisting that everything was all right, they couldn't help but let on that things were anything but.