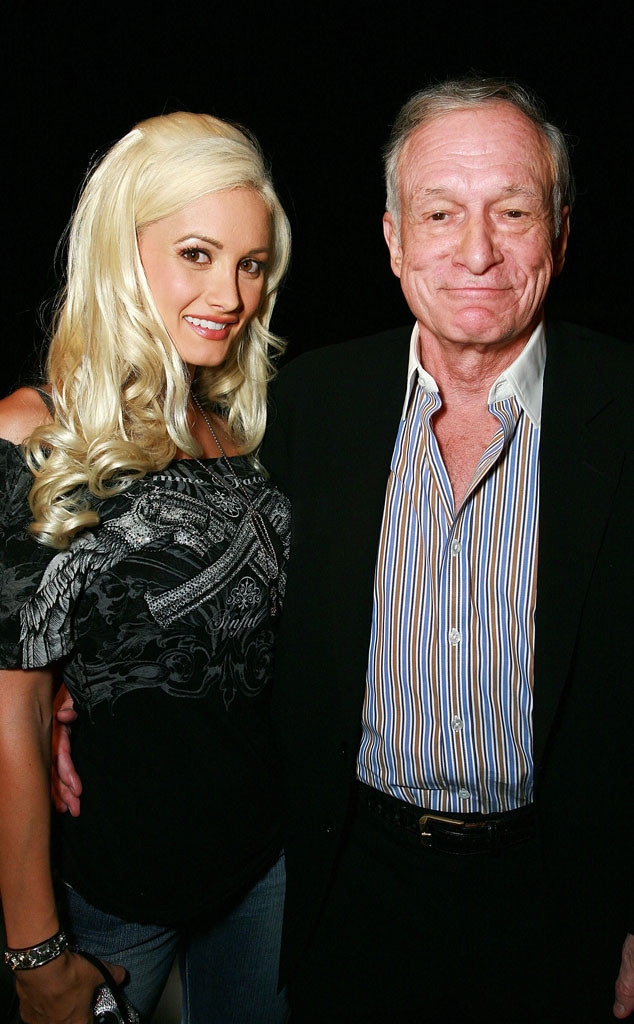 Tiffany Rose/Getty Images
While fans often rooted for Holly Madison and Hugh Hefner's relationship on the E! series Girls Next Door, the 35-year-old blond beauty has confessed life in the mansion wasn't all it was cracked up to be. 
In her new memoir, Down the Rabbit Hole (as excerpted by Us Weekly), the Playboy star recalls the horrible way she was treated by then boyfriend Hugh Hefner, who is now 89. 
"I learned Hef was the manipulator and that he pitted us against one another," Madison, who moved into the mansion in 2001, recalls in the latest issue of Us Weekly of the revelation she first had in 2008. "I realized I wasn't treated well." 
During one of her first interactions with Hefner at a Los Angeles nightclub—back when Madison was a struggling actress and waitress at Hooters—the mother of one, who is now happily married to Pasquale Rotella, claims the Playboy mogul offered her drugs. 
"'Would you like a Quaalude?' Hef asked, leaning toward crumpled tissue," Madison writes. 
His reply when she declined? "'Okay, that's good,' he said, nonchalantly. 'Usually, I don't approve of drugs, but you know, in the '70s they used to call these pills thigh openers'" 
While Madison looks back at that time and asks herself today "What the hell are you thinking?" it wasn't long after that the television personality moved into the mansion—and quickly found the environment amongst the various girlfriends to be extremely competitive. 
"There were always different political alliances with the girls," she explains. "Hef liked to play the main girlfriend off the youngest one to try to create competition."
Elayne Lodge/Playboy Enterprises
At the time, a woman named Tina was Hefner's No. 1 girlfriend and she says the other ladies lied, telling her they didn't have sex with Hef. 
"They didn't want the judgment that came with it," she reveals. 
Later, Hefner's flame Vicky "recruited her for a romp," which she accepted, getting a graphic taste of life in the Playboy mansion. 
"As [Hef's girlfriend] Tina led me into the bedroom, I stumbled over and weaved through massive piles of junk covering the floor. Ceiling-high piles of videotapes, stuffed animals, art and gifts littered the room. It was like an episode of Hoarders. But perhaps in his case it would be more appropriately titled Whore-ders," she writes. 
Ethan Miller/Getty Images for BASE Entertainment
"Two huge television screens projecting graphic porn lit up the otherwise dark bed," Madison continues. "In the middle, a very pale man was tending to his own business (if you're catching my thinly veiled innuendo) and puffing on a joint before passing it around to the nearest blonde. The girlfriends, in various stages of undress, were sitting in a semicircle at the edge of the bed — some kneeling, some standing, some lying down." 
Madison says she became Hef's main girlfriend in 2002.  "I tricked myself into thinking I had feelings for Hef," she admits. "He had this gentlemanly veneer, he was intelligent, and I loved watching old movies with him. I focused on the positive things, not the negative." 
Madison also tells the mag that Hef wanted his girlfriends to look "uniform with long, white hair" and says she was vehemently reprimanded by her boyfriend when she chopped off her locks. 
Elayne Lodge/Playboy Enterprises
"'What did you do?' he spat at me. Instantly, I was taken aback. 'I got a little makeover,' I said sheepishly, giving a slight pat to my new hair. Any shred of confidence I found over the last few hours was quickly evaporating. 'I thought you would like it.' 'Well, I don't,' he hissed, taking a moment to analyze my new makeup and hair." 
In response to her red lipstick, she says Hef told her to never wear that shade again, calling her "old hard and cheap." 
Ultimately, Madison says her breaking point came after she spent a platonic evening with Las Vegas with illusionist Criss Angel in 2008 (the two later dated) and was accused of cheating by Hefner, at which point she vowed to leave the mansion only to have her boyfriend bribe her with his will. 
Elayne Lodge/Playboy Enterprises
"It was there, in black and white. The will stated that $3,000,000 would be bestowed to Holly Madison at the time of his death (provided I still lived at the Mansion). At the time, it was more money than I'd ever know what to do with. . . . But I didn't want it. I actually pitied him for stooping to that level. I couldn't help but be offended. Did he really think he could buy me? I put the folder back on the bed just as I had found it and never breathed a word of it." 
That is, until now. 
"I'm done being afraid of people," Madison tells Us Weekly. "I don't have any loyalty to Hef. I haven't talked to him in four years, so there's no reason to reach out now. Besides, it's the truth."
Down the Rabbit Hole hits shelves June 23.