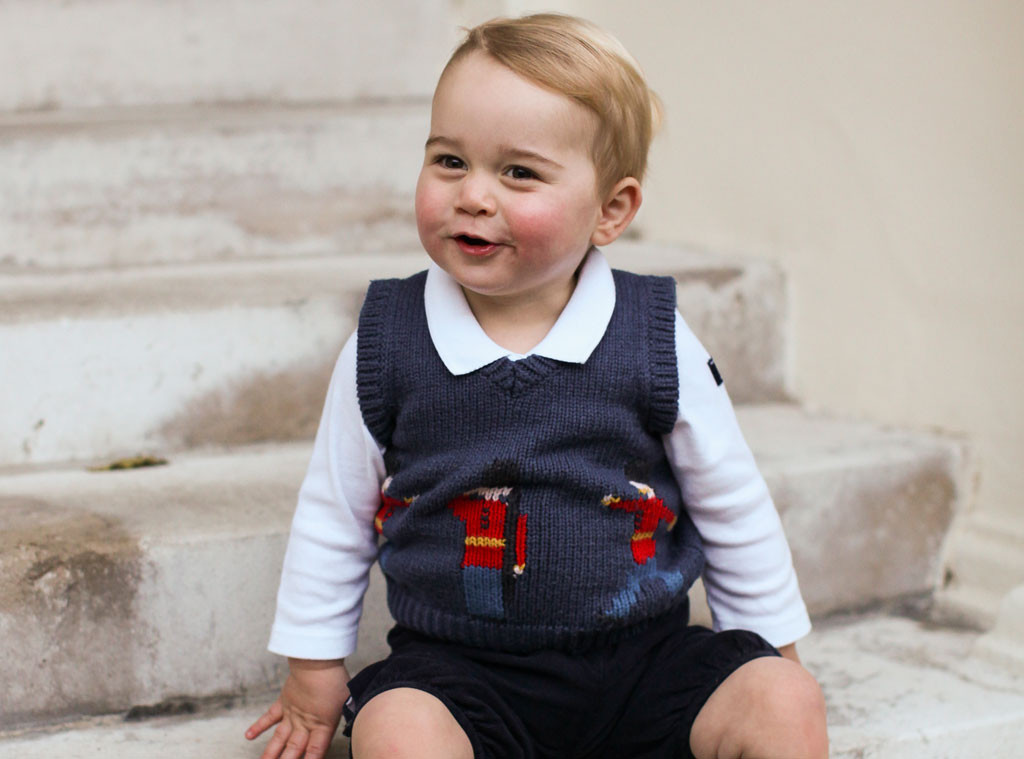 TRH The Duke and Duchess of Cambridge/PA Wire
With the birth of Kate Middleton and Prince William's second child expected any day now, it's time to reflect on the 21 months since their firstborn son, Prince George, burst onto the scene in a blaze of structured, well-mannered glory.
As far as Prince George Alexander Louis of Cambridge is concerned, he's led a perfectly normal life: Meeting the world at two days old, donning a designer classic for his christening, photo ops with the family dog, meeting the bilby named after him in Australia, looking for daddy in the china cabinet.
Pretty standard.
And for us civilians, every picture has been worth a thousand words (did you ever see so many people swoon at the sight of a sweater vest?), every tidbit of inside information has been a nugget to be savored.
But it turns out that, all along, Kate, William and George have been up to something highly irregular.
John Stillwell/PA Wire/Press Association via AP Images
"The biggest surprise, really, even though William and Kate are so private, is that he has been seen in public so rarely," CNN Royals Commentator Victoria Arbiter, whose father Dickie Arbiter served as a press secretary to Queen Elizabeth II, tells E! News.
Wait! We were supposed to be getting more Prince George in our lives and we've been denied? And we're just...Americans. What must his compatriots be feeling?
"Again, it comes down to balance," Arbiter continued. "The British public has not seen him in any official capacity yet. The christening, yes...but it was behind closed doors. They [the public] didn't get to see it."
If you want to get technical, "the Australians and New Zealanders, they are part of the Commonwealth," Arbiter acknowledged, speaking of the royal tour that George took with his parents last year, during which he visited the zoo, enjoyed a playdate, was showered with gifts and otherwise crawled off with the show.
"They are realm countries—they have been able to see George out on an engagement," she added, a small note of disapproval possibly underlying the observation.
But isn't it a little strange to have a set of expectations when it comes to a baby?
"I know it seems daft, he is 21 months old," Arbiter said. "You don't want to take him to engagements and such just yet. But I think there is going to be a point where the British public are going to say, 'Hang on a minute, why aren't we seeing George?'"
James Whatling-Pool/Getty Images
With debate raging in some circles (and nonexistent in others) as to whether Britain still needs a royal family in this day and age, maybe the seemingly inconsequential detail of how many times folks are privy to seeing the child who's third in line to the throne really does matter.
"Again, it comes down to balance," Arbiter says. "Yes, William and Kate, it is very sensible to keep George out of the spotlight for as long as possible, but you also are walking a tricky road—because the minute the British public becomes disinterested, that's when you start the slippery slope.
"Because if they are not relevant anymore and people are not interested, then what is the point?"
Or maybe that's the point exactly.
The world couldn't have been more interested when George's grandfather Prince Charles married 20-year-old Lady Diana Spencer in 1981 and Princess Diana spent the rest of her life in the shadow of that fascination, beloved by many but scrutinzed and judged by almost all.
While Kate isn't necessarily haunted by what happened to her husband's mother, Prince William has every reason to be.
Much has been made of the so-called "Middletonization" of Prince George, or the greater role that his mother's side of the family has had in his upbringing so far. Speculation about the royal family's role or lack thereof in George's life went so far as to prompt Clarence House to uncharacteristically insist in a statement that Charles has "an excellent relationship with his grandson."
But monarchal tradition is a thousand years old and Kate and William are very much 21st-century parents, as much as they possibly can be while still living their lives as the future king and queen of England.
Whether it's the seemingly obvious things, such as being in town for George's first birthday (both Charles and Diana were said to be very unhappy to be in Canada on an official visit when William turned 1, and Diana reportedly called her son twice daily whenever she was away) or spending less time away from home or, yes, having grandma Carole Middleton pull a fair amount of babysitting duty, in many ways they almost resemble normal people.
Anwar Hussein/Getty Images
"I think Kate is very much of her own parenting style and she does what works for her," Arbiter told E! News. "She was very fortunate she came from a family where her mother was home waiting for her when she came home from school, so she has a very good role model in terms of how to raise children."
Baby Prince William wasn't exactly paraded all over the place, but Diana's life as wife of the heir apparent did differ from what Kate is dealing with, 30 years later, in terms of obligation and expectations.
"Not only was Diana marrying a man, she was marrying a country. The pressure on Catherine is very different because she is not the wife of the heir to the throne, which comes with its own set of responsibilities," royals expert Marlene Eilers Koenig, author of the book Queen Victoria's Descendants, told NBC News in April 2012 while comparing Kate's first year as a royal to Diana's.
Terry Fincher/Getty Images
And just has been the case with her style (is there any more flawless and yet somehow relatable female celebrity than Kate?) and her role as wife and representative of Great Britain, Prince George's mum is doing mummyhood her own way.
"William and Kate don't have those same pressures" that Charles and Diana had, Arbiter says. "That alone enables them to be able to spend much more time with their children than what Diana and Charles were able to do. Diana had a much fuller royal calendar that she had to fulfill."
When it comes to the baby on the way, however, Arbiter predicts that Kate will do as Diana did in at least one very important respect.
Diana "was always very conscious that Harry not be left out," Arbiter recalls. On William's first day at Eton, "she took Harry with her so he would be in the photograph.
"They are a family of four," she adds. "I think, for William and Kate, that's the only area we are going to see the same sort of thing. I think they are going to be keen to there being no differences [for Prince George and his younger brother or sister], that these children are going to be raised the same so there won't be any sibling rivalry other than who is better at soccer, or standard stuff that kids fight about.
"I think that is going to be important to them."