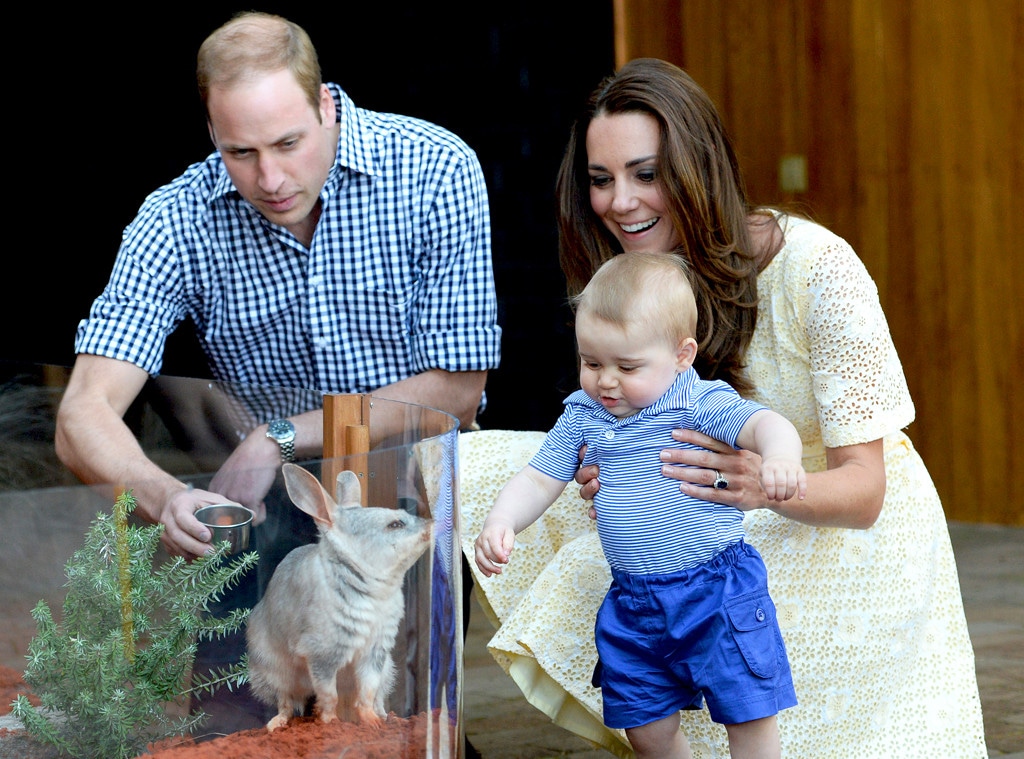 Pool/Samir Hussein/WireImage
Prince George, meet your bilby namesake, George!
The adorable 8-month-old, along with Prince William and Kate Middleton, made his second official appearance during the three-week tour and enjoyed an unforgettable visit at the Taronga Zoo in Sydney on Easter Sunday.
The third in line to the throne got up close and personal with the three-and-a-half-year-old creature as the royal family officially opened the new Prince George Bilby Exhibit. The nocturnal marsupial, which is indigenous to Australia and an endangered species, was named after the tiny prince two months ago.
An understandably excited George wriggled his arms and legs, and even squealed and gurgled when he spotted the bilby, which is also affectionately known as Australia's Easter bunny. Kate and William took turns lovingly propping up their beautiful boy so he could get a good look at George.
Chris Jackson/Getty Images
Prince George showed no fear as he tried to reach out to the rabbit-like animal.
"He's trying to grab his ear," Kate said as she advised a zookeeper to keep the bilby out of her son's reach. "He's got quite a strong grab actually." 
"If he gets it, he'll never let go!" William added as he kissed the top of his son's head.
Chris Jackson/Getty Images
After meeting the bilby, William and Kate unveiled a plaque that read: "A national gift from the Commonwealth Government to commemorate the birth of His Royal Highness Prince George of Cambridge."
Pool/Samir Hussein/WireImage
The baby prince adorably interrupted the zoo chief executive's speech with some enthusiastic squealing before accepting a generous gift: a stuffed toy bilby to commemorate his visit to the Sydney landmark.
Chris Jackson/Getty Images
George was also given a yellow car sticker that said, "Wild child on board," and he promptly stuck it in his mouth and tried to chew it.
"Munch, munch, munch," his dad quipped.
Pool/Samir Hussein/WireImage
While munching on the sticker, George threw the cute stuffed animal on the floor, as the crowd laughed.
Chris Jackson/Getty Images
"He does love it honestly," said William.
The trio also visited the Australian Nightlife House to view other nocturnal animals, including an echidna, spinifex hopping mice and feather-tailed gliders before emerging to have a good look at the bilby.
Chris Jackson/Getty Images
The Duke and Duchess of Cambridge changed out of their formal and elegant Easter Service looks and opted for some more comfortable attire for the afternoon excursion. Kate donned a primrose yellow eyelet frock from an independent designer, while William wore a blue checkered dress shirt and dark jeans. George was comfortable in a Rachel Riley striped Jersey polo T-shirt and navy pocket shorts.
Chris Jackson/Getty Images
The royal couple fed some kangaroos an avocado snack and gave the giraffes some fresh carrots, before seeing other wildlife at the Australian native animal show, including a friendly koala, a pink galah bird and much more. They also saw the zoo's wide collection of birds fly around the crowds at Taronga's ampitheatre.
Later, William and Kate ventured on to the stage to touch some of Australia's native animals, including two spiky echidnas. They also met a koala named Leuca and gave the adorable marsupial a friendly stroke.
Danny Martindale/WireImage