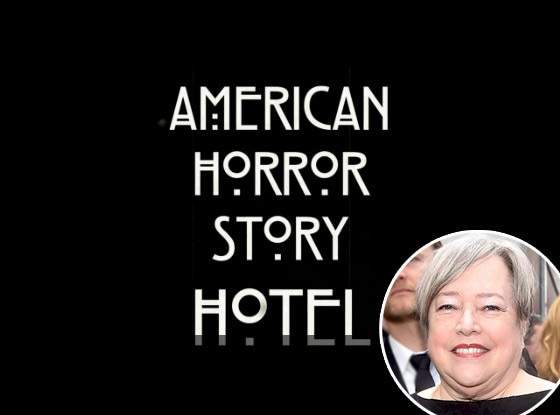 FX
Kathy Bates is checking into the American Horror Story: Hotel. The Emmy and Oscar winner has joined the cast of the upcoming fifth season.
Series co-creator Ryan Murphy announced her return—and her role—in a simple tweet: "Kathy Bates is running the Hotel. #AHSSeason5," he tweeted.
Bates joins the previously announced Lady Gaga, Matt Bomer, Cheyenne Jackson, Wes Bentley and Chloë Sevigny. She previously appeared in American Horror Story: Coven and American Horror Story: Freak Show. When asked about her Hotel involvement, Bates was coy. But now you are free to rejoice!
As for her new costar, Lady Gaga, Bates recently joked with E! News that she decided to put Gaga's picture in front of her treadmill for inspiration. "I'm a big fan of hers, my jaw dropped when I saw her on the Oscars," Bates said.
One person we know for sure won't be part of the main cast (but maybe a guest star?) is Jessica Lange.
"Yes, I'm done," Lange told the audience at PaleyFest. "We've had a great run here. I have absolutely loved doing these four characters that I've had the opportunity to play. In all the madness, I've loved the writers, my actors, Ryan and the whole, I mean, insanity of it, shooting here, shooting in New Orleans, the stories, everything."
AHS: Hotel is set to debut in October.