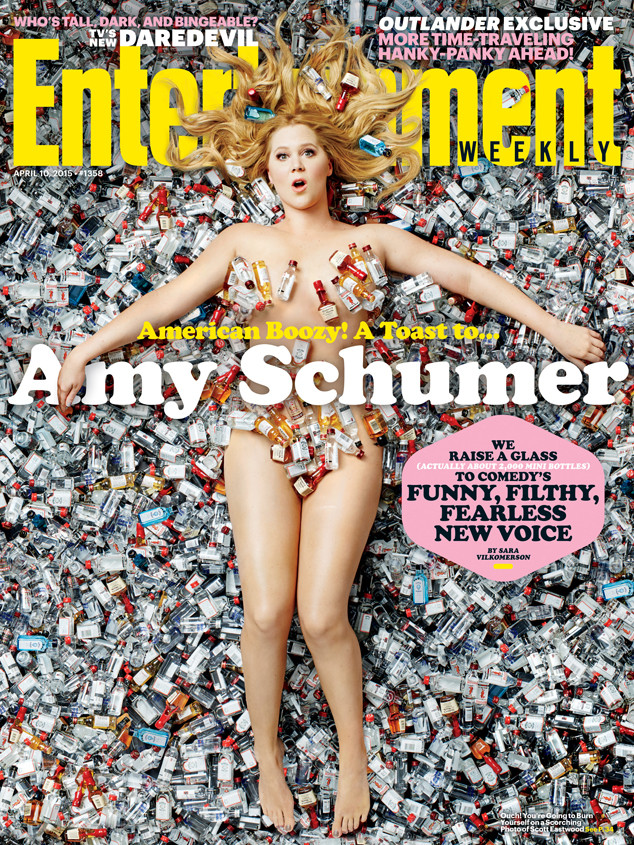 Courtesy Entertainment Weekly/ROBERT TRACHTENBERG
Amy Schumer, our personal role model and the queen of our hearts, is on the cover of Entertainment Weekly this week, naked and covered in mini bottles of alcohol in a boozy ode to American Beauty. She looks foxy as hell, of course, but we are a bit worried about her safety during this photo shoot as one wrong move means shards of glass all up in her naughty bits. Naughty Shards, we think is the medical term.
(Yes, we know they were probably plastic but just…let us have the Naughty Shards joke, OK?)
Anyway, minutes after her cover went live on Twitter, the 33-year-old Trainwreck star posted a photo of what looked like an image from that same photoshoot on a computer screen to her own Twitter account. She captioned the image: "And here it is without airbrushing."
As far as alleged airbrushing jobs go, it was tame in comparison to say, Target giving a bikini model a rhombus vagina. Schumer still looked like herself, save for what looked like some skin smoothing and general touch ups (maybe?). We didn't study it too closely in the moment, which we now regret as Schumer has since deleted the "non-airbrushed" pic.
After removing the image, the comedienne tweeted her praise to EW for not airbrushing her.
I want to especially thank @EW for not airbrushing me. For real very cool. Thank you. Proud size 6 yo!

? Amy Schumer (@amyschumer) April 2, 2015
"I want to especially thank EW for not airbrushing me," she wrote. "For real very cool. Thank you. Proud size 6, yo!"
She also tweeted a thank you to the writer of the article, Sara Vilkomerson.
We hope that EW didn't pull any extreme Photoshop magic on her, because Schumer doesn't need it. But the cover doesn't look fake, so we're going to assume that there wasn't any airbrush mischief happening behind the scenes. 
In the article, EW predicts that this will be her biggest year yet, and we wholeheartedly agree. Our bodies are ready for a complete Schumer takeover in 2015.
(Originally published on Thursday, April 2 at 10:11 AM PDT)