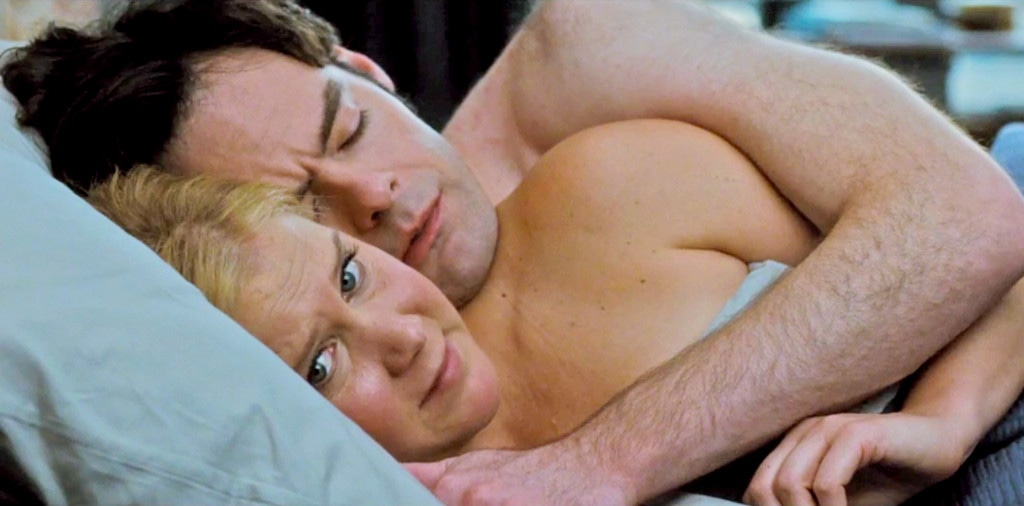 Universal Pictures
If it's one thing women love, it's being called "Jennifer Aniston's somewhat heavier, not-as-lucky sister who watches a lot of TV."
This guy really knows how to flatter the females.
The trailer for Amy Schumer's film Trainwreck dropped this week, and a guy who writes a blog called Hollywood Elsewhere decided his opinion on Amy's looks and weight needed to be heard. In a post titled "Apatow's Funny-Chubby Community Has New Member," Jeffrey Wells lumps director Judd Apatow's actresses into a category called "chubby, whipsmart, not conventionally attractive, neurotically bothered female comic."
Or CWNCANBFC, if you will.
Basically, Wells doesn't buy that someone like Bill Hader's character would be into someone like Amy Schumer's character. You know, now that we think about it, it does seem suspicious that a human male might like a pretty, smart, funny woman. 
"[Schumer is] obviously sharp and clever and funny as far as the woe-is-me, self-deprecating thing goes, but there's no way she'd be an object of heated romantic interest in the real world. And yet that's the apparent premise of Apatow's film. Schumer's wide facial features reminded me of a blonde Lou Costello around the time of Buck Privates, or Jennifer Aniston's somewhat heavier, not-as-lucky sister who watches a lot of TV. Don't look at me — I'm not the one who made her the star of a film about a plucky, free-spirited girl that a lot of guys want to bang. You know who would be better in a film like this? An actress who's nicely attractive, has the funnies and the soulful stuff besides? Jenny Slate."
Translation: "Hey, don't look at me! All I'm saying is a movie starring a funny female is fine…as long as she's really skinny and extremely gorgeous." But those countless movies and TV shows that star a chubby, slacker dude dating/married to a girl that is so insanely out of his league is completely accurate and true to life, right?
Anyway, Amy posted this tweet yesterday which we think is a response to this critic, and it's basically a perfectly representation of why we love Amy Schumer: 
"I am a size 6 and have no plans of changing," she writes next to the pic of her wearing nothing but some skivvies. "This is it. Stay on or get off. Kisses!"
Oh, we're getting on, Amy. And we are staying on.
Wells obviously got a lot of backlash for his "review," which we hope did not come as a surprise to him. On Friday morning, he posted an apology with a blog post titled "Sorrow Uncorks Everything."
"For what it's worth I'm sorry for the Amy Schumer sturm und drang of the last couple of days. She's a first-class talent and deserves more respect than what I gave her. I know I'm not thinking wrong but I'm probably saying it wrong from time to time. 'It's hard to grow up…it doesn't stop when you're 40…a hard row to hoe.' These words were shared a few nights ago by Ethan Hawke during a Charlie Rose interview, and they got to me. So I'm sorry, truly, for not dealing my cards with a little more compassion and gentility. I wasn't incorrect in saying that social attractiveness standards have changed over the past decade or so, largely due to the creations of one Judd Apatow and those who've climbed aboard his ferry boat. But I could have put it a bit more delicately and diplomatically. Then again that's not what the HE brand is about, is it?"
The lesson of this whole situation is: Amy Schumer? We'd totally hit that. And we would be honored if she let us.