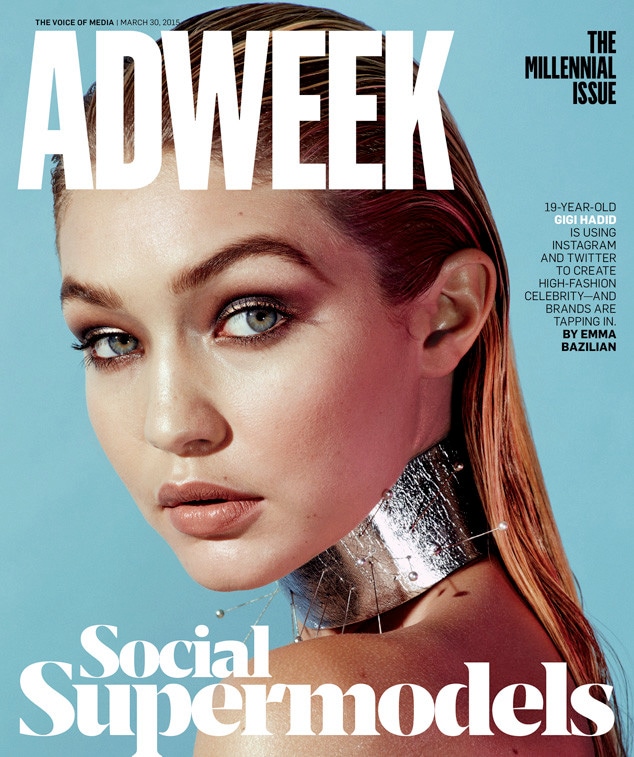 Alexei Hay/Ad Week
Gigi Hadid stuns again!
The teen supermodel is absolutely breathtaking on the latest issue of Adweek, which also features a white hot photo spread inside. The accompanying interview explores the rise of models whose success is also bolstered by a massive social media following (Kendall Jenner and Karlie Kloss are named alongside Gigi).
What did we find out about Hadid? Well, she's grounded—about her career right now and in the future.
"What people want to know is, OK, what's after modeling? And that's forcing us to think about those things [even earlier]," Hadid said. "It's not just OK anymore to model until you're 25 and then stop and be a housewife."
So what is in store for Gigi after modeling? The star thinks a broader career in entertainment could be in sight: "I'm an entertainer, and I think that I'll always be in that business," she revealed.
In one shot from the spread, Hadid appears to be sizing up her biceps, which, by the way, are defined from her frequent boxing workouts—as we learned from Ireland Baldwin.
"I watch Gigi, and I'm terrified of her. If I snuck up on her and scared her or something, she would kill me," Ireland quipped. "She's learning things that should be illegal, like crazy! [Kickboxing] terrifies me—I'm like a softy in the corner doing yoga while these girls are breaking boards with their heads."
Another snap shows Gigi's trim profile in a structured white dress with sexy side zippers.
And time to towel up! Hadid forgoes a skivvies shot to sport a spotted towel and head wrap, not to mention a luxe gold statement necklace.
For now, the 19-year-old is riding the wave of her enormous modeling success (she has a new campaign with Maybelline under her belt, among other big things) while working hard as a criminal psychology student at The New School in New York City.
"Who knows?" she said when considering her future. "I could always be a fact checker on CSI."