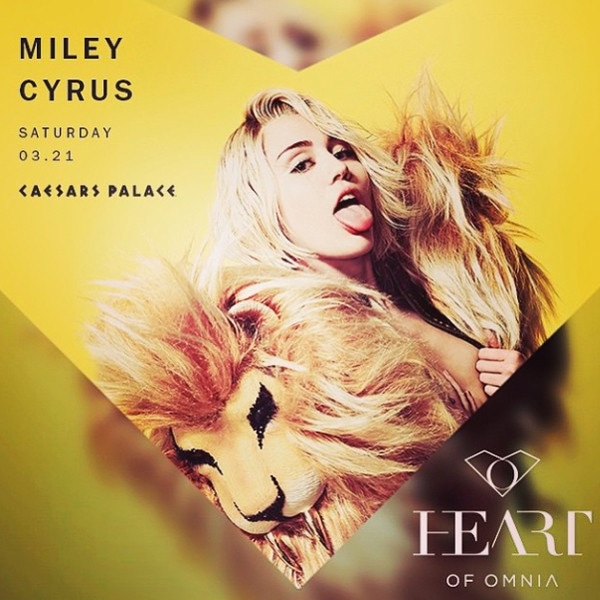 Instagram
Patrick Schwarzenegger may be back from his highly publicized Spring Break trip in Cabo San Lucas, but it doesn't look like he's been hanging out with girlfriend Miley Cyrus.
After spending time in Austin for a surprise SXSW appearance alongside Mike WiLL Made-It, E! News learns that the "Wrecking Ball" singer is heading to Las Vegas for an appearance at Caesar's Palace tomorrow.
Her jam-packed schedule comes on the heels of her beau being at the center of cheating rumors, and while we're told the duo are still together, there's still the question of whether or not Miley is dodging Patrick's calls? To put it simply, it's unclear.
One source tells E! News that's the case, adding that "Patrick is extremely frustrated because he's been actively trying to be very good and to make this relationship work. He's a really good boyfriend and has been great to Miley. The media has made this seem like he's been sketchy and a bad guy when he really did nothing. Patrick has been trying to reach Miley since he's been back, calling her over and over and she hasn't been answering his calls. He's very upset and is doing everything he can to try resolve things." 
However, another insider tells us a different story, explaining that Miley and Patrick have in fact been in contact since he returned from Mexico. Oh, the drama!
Meanwhile, Miley has been keeping her fans entertained with a variety of Instagram photos while in Austin, including pics of her flashing some Benjamins, hanging with her bestie Cheyne Thomas and flashing her booty (which demands the attention from all googly eyes everywhere).

Miley wowed fans at SXSW on Thursday with a surprise performance during the Mike WiLL Made-It & Friends concert, where she sang her hit "23" before belting out her hit party anthem "We Can't Stop." The two also teamed up with Future and Rae Sremmurd for "Throw Sum Mo," from the latter's album, SremmLife.
"This is Texas," Miley, who was clearly in good spirits with Schwarzenegger nowhere in sight, told the crowd. "I don't know how f--king high you are, but we're high as f--k up here."
Cyrus' relationship, on the other hand, continues to be up in the air. The pair made headlines after photos taken of Schwarzenegger cozying to a gal-pal in Cabo during his spring break trip, although the USC student has firmly denied the cheating speculation, telling his Twitter followers "he Would NEVER do anything" to Miley. 
Patrick is  "totally devastated and heartbroken," a source tells E! News of Schwarzenegger's state following the photo scandal. "He doesn't even know what to do with himself and just wants to hide from the world...He's so embarrassed and knows he screwed up."
—Additional reporting by Sara Kitnick