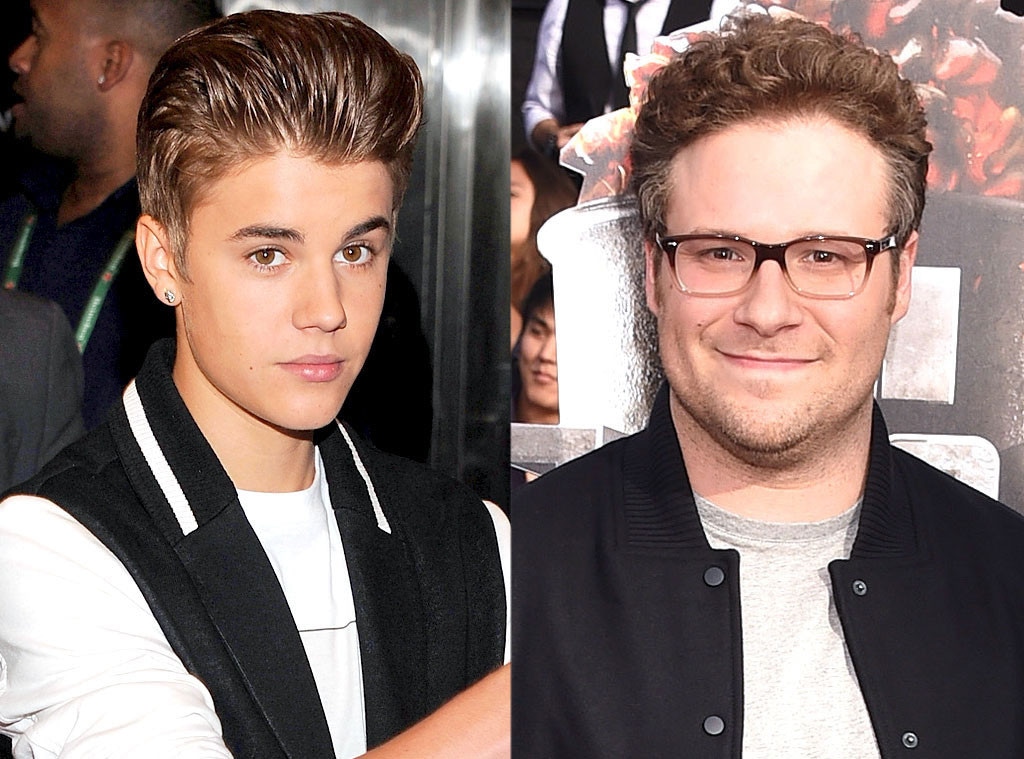 Getty Images
Now this could interesting.
Justin Bieber put in a special request on Twitter last night for his upcoming Comedy Central Roast: He wants Seth Rogen to get in on the fun. The Neighbors actor has been very open with his distaste for the singer, having previously said that he hates him.
"[Justin's] a good example of someone you meet, who you think you're going to hate, and then you get to hate him as much as you thought," he said. "You meet him, and he lives up to every one of your expectations of how you hope he will be."
The slamming didn't stop there. Rogen continued to rehash a story about when he and Bieber both appeared on a German talk show, only to further criticize him by referring to him as a "d--k" and "motherf--ker."
The feud came to a head on Twitter (where else?) when Rogen solidified his hatred by posting, "All jokes aside, Justin Bieber is a piece of s--t."
But now, it looks like Bieber is ready to take the Interview star head on by asking him to roast him during his special. In honoring their social media feud, Bieber made his request on Twitter.
"@Sethrogen all I want for my birthday is for you to roast me. I took the twitter bashing please make my bday and do it in person. Thanks," he wrote. He also made light of Rogen's radio and TV interviews when he followed up with another tweet that said, "@Sethrogen I would have emailed u but this is the only electronic communication with u that doesn't scare me. Hope to see u at the roast :)."
While we would assume that many stars who get roasted would be nervous to face the fire, we're kind of loving Bieber's all-welcoming attitude! Then again, he is going full-steam ahead with his apology tour, having posted a personal video on his Facebook page and stopping by the Ellen, so we imagine this is a major part of his plan.
"...I did a lot of things over the past few years that I'm not proud of," he told host Ellen DeGeneres. "I'm passionate about things and I'm passionate about being better and growing, so I think that this is going to be an awesome chapter in my life."
Comedian Kevin Hart will serve as Roast Master when it tapes March 14, but it won't air until March 30 at 10 p.m. only on Comedy Central.
Previous honorees (or roastees, if you will) include James Franco, Joan Rivers, Roseanne Barr, Charlie Sheen and Donald Trump.