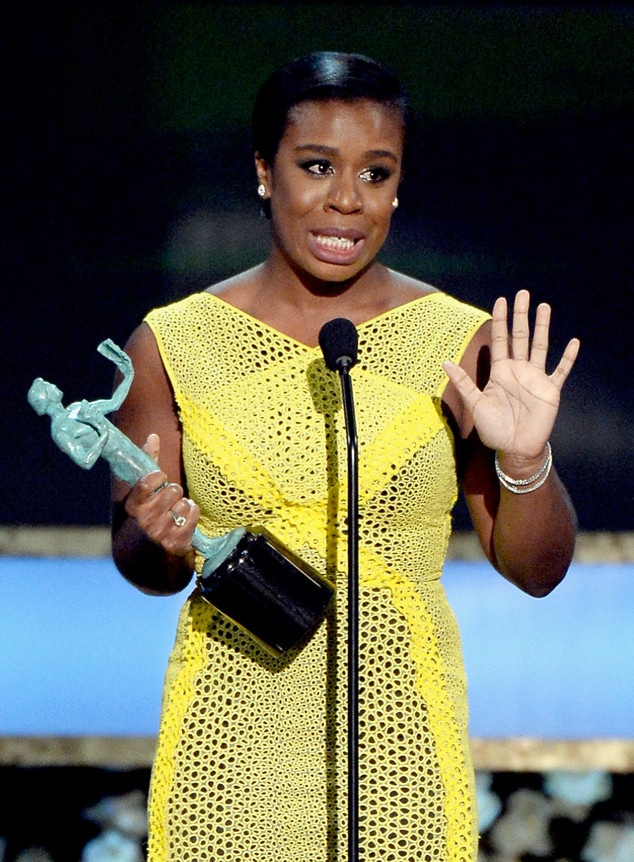 Kevork Djansezian/Getty Images
The red carpet has been rolled out and the stars have arrived in their finest attire for yet another anticipated show.
Awards season continues tonight with the 21st Annual Screen Actors Guild Awards at the Shrine Auditorium in Los Angeles, and as we watch some of the biggest names in the industry get acknowledged and honored for their work in television and film in the past year, we also give thanks to these memorable moments...
They're Actors: Those familiar with the SAG Awards know that the introduction is always a few A-listers talking about the first stages of their career and concluding with the famous line, "I'm an actor." Well, two stars especially stood out.
"Growing up in New York City, all I ever wanted to be was Scarlett O'Hara. Oh, well," Jennifer Aniston joked. Meanwhile, Zach Galifianakis simply questioned, "I'm an actor?" LOL.
Worst Display of Facial Hair: Sorry, Bryan Cranston. You're a fox no matter what, but we'd prefer if you ditch that Hulk Hogan-esque goatee.
Already Crying: Uzo Aduba's reaction to winning Outstanding Female Actor in a Comedy Series was absolutely adorable. There wasn't a dry eye in the room.
Indoor Accessory: Lenny Kravitz wore his shades inside because he's that damn cool. But his scarf took the night off.
Switcheroo: Modern Family is the usual pick for Ensemble in a Comedy Series, but tonight, that award went to Netflix's Orange Is the New Black!
Jared Leto's Gaze: He was practically staring into Lupita Nyong'o's soul while presenting the award for Outstanding Male Actor in a TV Movie or Miniseries, which definitely doesn't help shut down those romance rumors.
Kevork Djansezian/Getty Images
A Little Self Promotion: SAG Award winner Frances McDormand brought her usual lovable spunk to the podium when accepting her award, and took it upon herself to also do a little self-promotion. "This is a celebration, right? … It's also a proclamation and I'm proclaiming if you haven't seen Olive Kitteridge, you need to. "You can stream it, I don't know how," she said.
Family Fun: Debbie Reynolds was honored with the Lifetime Achievement Award tonight, which was presented by her famous daughter Carrie Fisher. So, of course, mommy cracked a couple jokes at her child's expense.
Viola Davis Is Everything: The actress won again for her role in How to Get Away With Murder and, once again, gave a speech that was worth a thunderous applause. Davis praised the show's creators and producers "for thinking that a sexualized, messy, mysterious woman could be a 49-year-old dark skinned African American woman who looks like me."
Steal: Based on previous award shows, many may have assumed Boyhood would take home Best Motion Picture, but that award went to Birdman, and the cast almost couldn't contain themselves! Naomi Watts tripped over Emma Stone's dress, Zach Galifiankis mocked Julianne Moore's acceptance speech by simply stating, "When I was on the As the World Turns," and the music tried to cut the speeches off, but they prevailed (which was good because there was still time left to fill)!
Kevork Djansezian/Getty Images