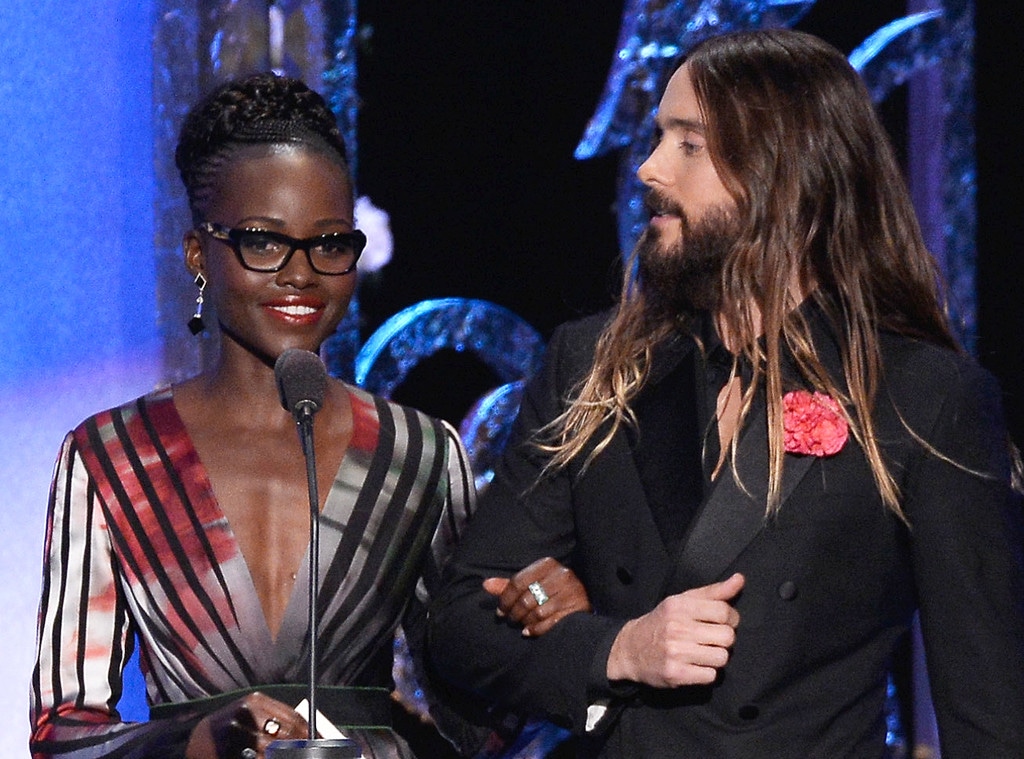 Kevork Djansezian/Getty Images
Well, this isn't going to help the ongoing romance rumors.
Lupita Nyong'o and Jared Leto took the stage together tonight at the 2015 SAG Awards to present the award for Outstanding Male Actor in a TV Movie or Miniseries, and we're just gonna say it—the chemistry was there. C'mon, you guys, don't even try to deny it.
First of all, while Lupita—who stunned in a multi-colored gown and her thick, black-framed glasses—began to read off of the teleprompter, Leto was completely focused on her instead of staring at the audience. We're not sure he even blinked. Sigh, if only the blue-eyed hunk would look at us like that.
He then tore his gaze off of the gorgeous actress and read his part of the script, but that wasn't the end of their eyebrow-raising connection.
After announcing that the winner, Mark Ruffalo, was not present to accept his award, Leto said the usual speech about accepting on his behalf, but while doing so, the long-haired stud wrapped his arm around Lupita and pulled her closer to him. And if you pay very close attention, you'll see Nyong'o nervously shake her head as if that simple act got her all hot and flustered.
Girl, we don't blame you.
The pair have been at the center of romance rumors ever since they were seen hanging out repeatedly early last year, however, the 12 Years a Slave star laughed off the speculation during an appearance on Ellen.
"Ah, but I thought Miley Cyrus broke us up," the Yale-educated actress replied, referencing another tabloid story involving the Dallas Buyers Club star and the pop star. "That was the last thing I heard."
"It's crazy, cause when I read these rumors, they're so detailed that even I start to question whether they're true or not. I know I've believed them in the past and now I guess I can't believe anything," Nyong'o said.
Actions speak louder than words, right?